Overview
Sometimes, you just want to get derailed. Trainwreck weed is a potent, sativa-dominant hybrid that produces a strong, cerebral and euphoric high that can hit like a locomotive. With a distinctive, citrus and even menthol and piney aroma, a zesty flavor, and a heavy covering of trichomes, Trainwreck is a strain that makes a strong impression when it pulls into the station. More of a daytime strain, Trainwreck will have you stepping out of the sleeping cabin to see where the day takes you.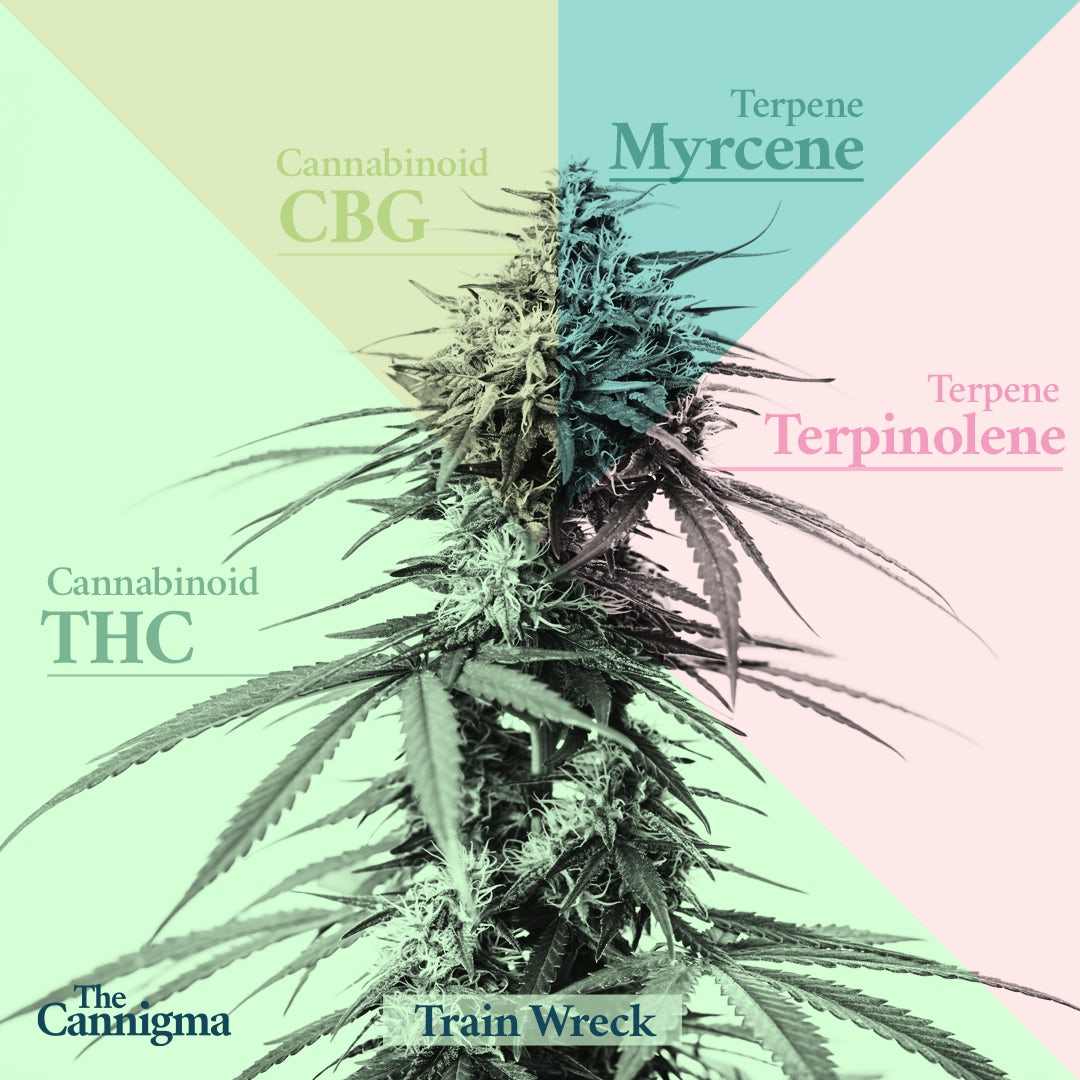 Cannabinoids
THC
CBG
Indica/Sativa/Hybrid
Hybrid dominant
Day/night
May help with
Terpene profile
Floral
Herbal
Spicy
Citrus
Lineage and general info
Your parents may be a trainwreck, but what are the actual parent strains of Trainwreck? Like the Orient Express, the origins of Trainwreck weed are cloaked in mystery, albeit significantly less intrigue.
Leafly describes it as a mix of Mexican and Thai sativa strains that were bred with Afghani indicas in northern California. The Humboldt Seed Organization states that "the birthplace of Trainwreck has been accurately identified," and traces the origin story to "an elite clone that was obtained from different Sativas and that was then kept in Arcata, Humboldt Bay, California."
PotGuide.com takes the story further, stating that Trainwreck is thought to be a combination of a lowland Thai variety "that was brought back to the US in an attempt to mimic Thai Stick," crossed with Mexcian Sativa and Afghani stock. The site states that the strain was perfected and became popular in Humboldt County, particularly in Arcata, where the "E-32" plant became the "mother" of the Trainwreck we know today.
The Seedsman blog story reads somewhat like the Fugitive: "word is, a couple of brothers from California harvested their crops early due to a train wreck that had occurred nearby and did not want the emergency crew to stumble unexpectedly upon their produce."
Seedman adds that whatever the story, most can agree that this very potent and popular marijuana first emerged in Humboldt County, sometime between the 60s and 80s.
History aside, Trainwreck is definitely a powerful weed strain that has a pungent, distinctive aroma of citrus and pine, and a similar flavor that lingers well after you exhale.
Appearance wise, Trainwreck definitely looks like a keeper, with light green buds that are covered in trichomes with lots of orange hairs scattered around, punching their way through the frost.
Cannabinoids and terpenes in Trainwreck
There are thousands of cannabis chemovars out there, and no real standards as to how to identify them — basically anyone can grow anything and call it whatever they want. In other words — there are better ways to choose a strain than on the name alone.
The chemical profile you see below is an average of laboratory tests for products called "Trainwreck" — so it's just an estimate of what you might find when you buy Trainwreck weed. It shows Trainwreck tests often suggest high-moderate THC concentration (averaging 16%) and high terpinolene (0.53%) — a combination often associated with energizing sativa-like effects.
Full chemical profile
Cannabinoids
Terpenes
Floral
Herbal
Spicy
Citrus
* The numbers in the tables are averages of data from multiple resources
** Terpenes are of pharmacologic interest at concentrations above 0.05%
How Trainwreck affects you
Based on user reports, Trainwreck often produces euphoria, happiness, upliftment and relaxation. This contradiction between the uplifting and relaxing reports, could be due to the difference of terpinolene (suggested as uplifting and energizing) and myrcene (suggested as sedative) levels in laboratory tests of Trainwreck products. Trainwreck can also sometimes cause dry mouth, dry eyes, dizziness and paranoia.
But really, marijuana affects people in different ways. The two main factors are your own biology (your endocannabinoid system, metabolism, age, weight, etc). and the product you choose (including its cannabinoid profile and terpene breakdown, and the delivery method used).
May help with
That being said, the above chemical profile could potentially help with conditions and symptoms such as:
Reported effects
May cause
Trainwreck growing tips
Trainwreck isn't an especially difficult strain to grow, though because it grows high and needs a lot of trimming, it can require more care than other strains.
However unlike many sativa-dominant strains, it has a short flowering time, as little as 8 weeks, and produces a high yield that can reach around 25 ounces per plant when grown outdoors. It prefers a warm and dry climate and should be ready to harvest in October, with some growers saying by the beginning of the month and others saying closer to the start of November.
Trainwreck is also known for being highly resistant to pests, mold, and mildew.
When growing cannabis, the right seeds can make even an amateur feel (and look) like a pro. With the naked eye, you'd be hard-pressed to tell the difference between regular seeds and those from a prize-winning strain. This is where buying from a trusted seedhouse comes in.
Yield oz/per plant
Yield (indoors) oz/SQF
Indoors
1.5
Yield (outdoors) oz/plant
Outdoors
25
Harvest time
Harvest time
October
Height (inches)
20-30
30-50
50-70
70-90
>90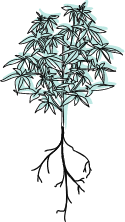 Related Strains
Trainwreck's parent strains are typically listed as a number of unknown Thai and Mexican landrace sativas, bred with Afghani indica. This mix can be seen in the fact that it is a sativa-dominant hybrid, but still retains some of the relaxing body high people often associate with indicas (though scientifically speaking this is due to the chemical makeup of the strain, not whether or not its classified as an indica or sativa).
Trainwreck's potent high and distinctive aroma and flavor have made it a favorite of breeders, who have used it and/or its genetics in the breeding of strains such as Silver Train (a cross with Super Silver Haze), Night Train (a cross with Jasmine), Neville's Wreck (a cross with Neville's Haze, and itself a parent strain of the very popular Ghost Train Haze), Cookie Wreck (a cross with cannabis powerhouse strain Girl Scout Cookies), Platinum Wreck (a cross with Platinum OG), Purple Wreck (a cross with Purple Urkle), and Blue Train (a cross of cannabis mainstay Blueberry and Nevil's Wreck).
Basically, if you see "train" or "wreck" in the name of the strain, there's a good chance it's related to Trainwreck. Just ask your budtender or do a little research to make sure.

Get Trainwreck seeds
Buy now
Thanks for your feedback!
Sign up for bi-weekly updates, packed full of cannabis education, recipes, and tips. Your inbox will love it.