You want proof that marijuana has gone mainstream? There's a weed subscription box for everyone, whether you're looking for a selection of accessories, specific products or actual cannabis delivered to your door.
When you sign up for a cannabis subscription box, you can expect to:
receive curated and personalized paraphernalia
replenish essential accessories, such as rolling paper or cones
get access to the latest products before your friends (usually at a better price than retail)
And the best thing: all this will be delivered directly to you at home, which is convenient as well as sometimes more discreet than going to a store.
However, the term "weed subscription box" is a little misleading because in most states, you can't get THC mailed to you. In states where recreational use still isn't legal, the boxes mainly consist of useful accessories based on your preferences.
With a cannabis subscription box you'll receive a personalized end-to-end experience, consistently, every month with tangible benefits that you can use everyday.
Here are eight companies that are doing it right, from curating the box and putting it together to packaging and delivery. They make it easy (and all have an easy cancellation policy), so you can puff with pleasure.
Please note that most of the products on our list that contain THC cannabis are only available in legal states, mainly California. If you live in a state where recreational cannabis still isn't legal you won't be able to purchase these products. We apologize for the inconvenience, and hope these products will be available in your area soon.
Here's a closer look at what the best subscription boxes have to offer: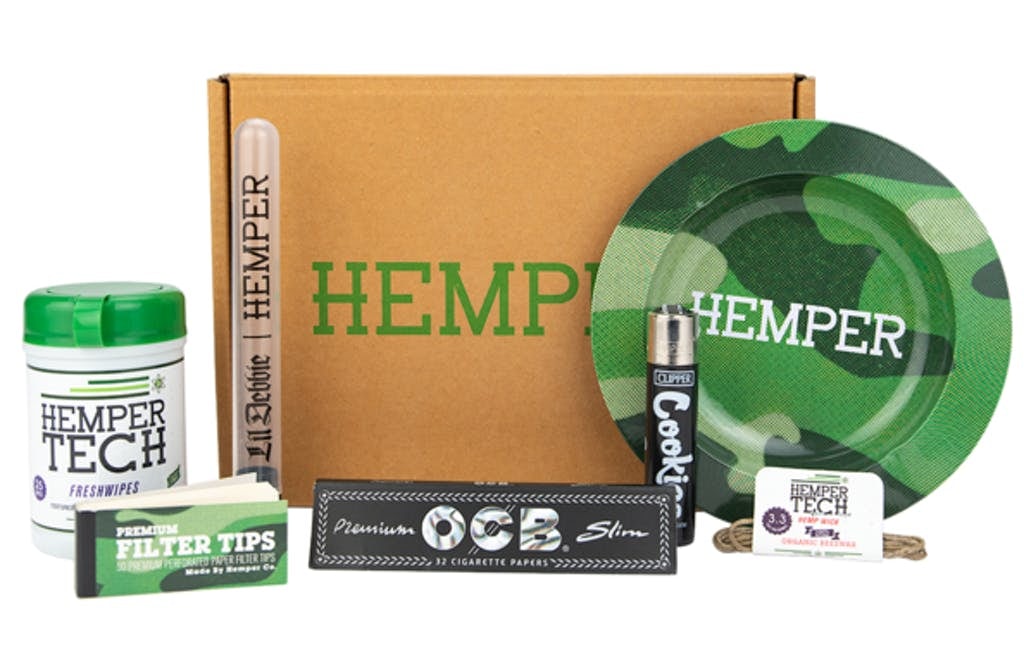 Product value: up to $100 in retail value and $60 in savings
Shipping: free shipping within the US (international shipments subject to additional fees)
Includes: depending upon the box, an assortment of rolling papers, filter tips, lighters, cones, glass bowls and dab rigs and bangers.
Box options include:
Hemper Core
Price: $9.99/month
Includes: 6 selections of smoking essentials such as rolling papers, lighters, filter tips, Hemp wicks, doob tubes, and a bonus 'mystery' item.
Hemper Pack
Price: $21.99/month
Includes: 7 selections of smoking accessories such as cleaning gear, odor eliminators, lighters, rolling trays, filter tips, rolling papers, and fan-favorite items from previous Hemper boxes.
Hemper Box
Price: $39.99/month
Includes: 15 items such as carp caps, quartz bangers, dab rigs, filter tips, peanut pipes, rolling papers, lighters, hemp wraps, glass bowls, and limited edition stickers.
Hemper Mystical Crystal Ball Box
Price: $59.99/month
Includes: 9 items including the Hemper Crystal Ball rig (which can come in several colors), rolling papers, pre-rolled cones, lighters, filter tips, hemp wraps, glass bowls and stickers.

Hemper delivers a balance between the essentials and new upgrade accessories. It is apparent that the company takes cannabis seriously with so many box choices. There's something here for everyone.
---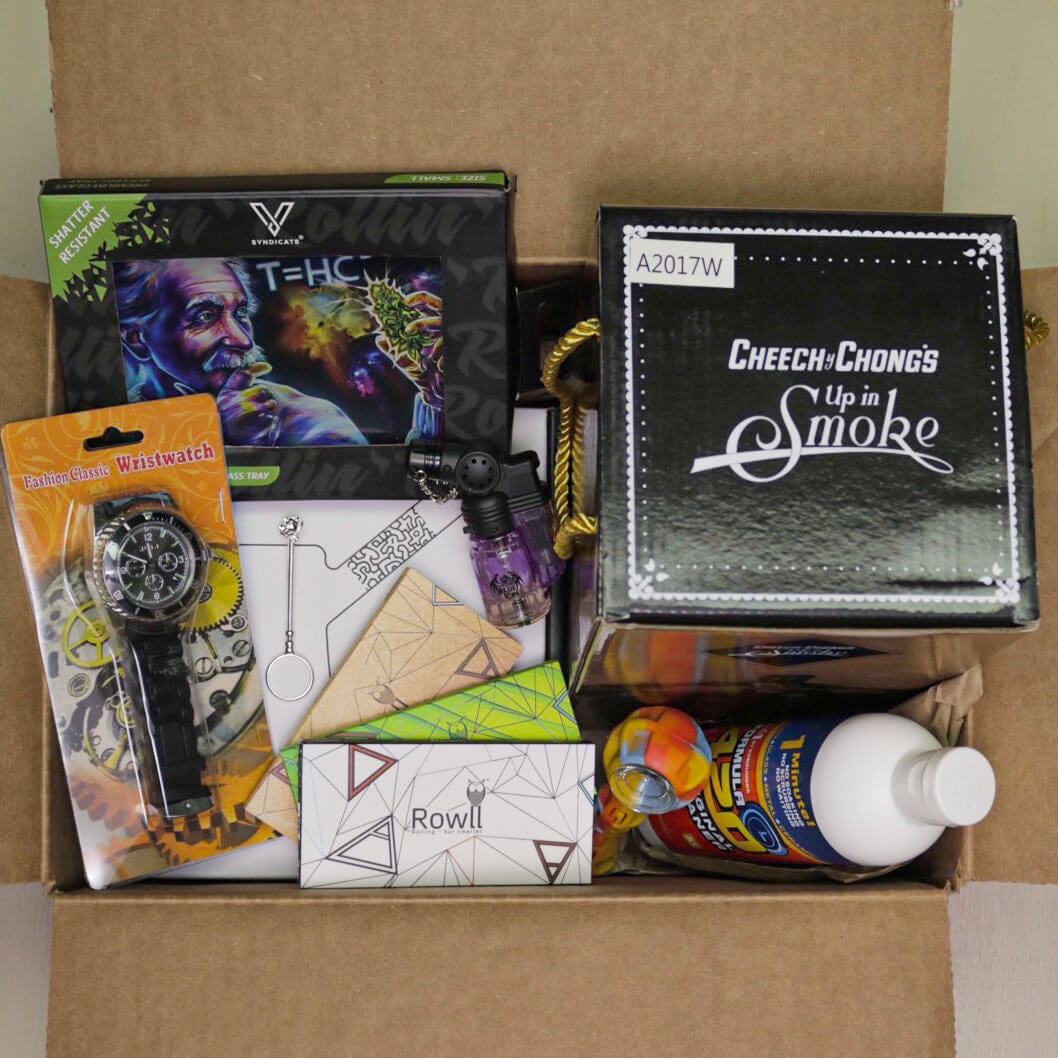 Price: ranges from $25 – $500 
Product value: each box contains products worth 2x the cost 
Shipping: orders over $100 within the lower 48 states receive free shipping, additional shipping charges apply for orders to Alaska, Hawai'i, and internationally. 
Includes: It's a mystery! Each box from World of Bongs is carefully curated with a selection of stoner-approved products, making it perfect for the stoner who has what they need, but still wants more. You can pick your price point, with boxes ringing in at a budget-friendly $25 all the way up to the ultimate indulgence of $500. The boxes are curated for either flower or concentrate smokers, and the value of the products always exceeds what you pay. Reviews of the boxes mention getting rolling papers, lighters, dab rigs, bongs, bowls, grinders, doob tubes, and more!
---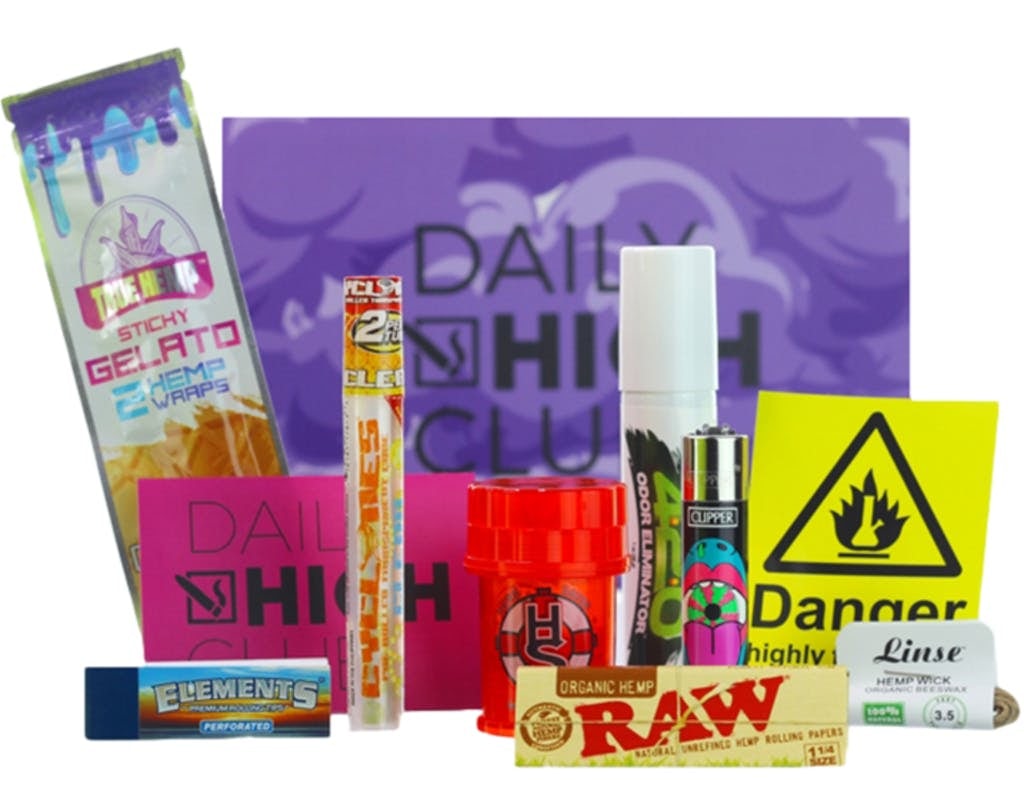 Price: from $9.99 to $29.99/month
Product value: up to $100 in retail value and $60 in savings
Shipping: free shipping within the US
Box options include:
Raw Essentials
Price: $9.99/month
Includes: Papers, filter tips, clipper lighter and assorted sticker
The Connoisseur V2
Price: The CONNOISSEUR V2 is $19.99/mo.
Includes: 7-9 products curated by smoking experts
El Primo
Price: $29.99/month
Includes: 10+ products, each themed month brings a thrill of discovery. Limited quantities.

With Daily High Club there's a package for everyone: one for those who like to be well versed in the art of smoking; one that stuffs a box to the brim with supplies; and one that ensures that you stay stocked up. Any way you look at it, you'll never worry about running out of papers again.
---
Price: $99/month
Product value: $225 worth of marijuana and THC products
Shipping: free shipping to Los Angeles and Orange County, California
Includes: 5-6 cannabis products with chosen preferences for flower, pre-rolls, vapes, edibles, Sativa, Indica or hybrids.

The Nugg Club box is great if you're looking for specific strains. Once you're in the club, you get access to shop wholesale products in a member's only, add-ons marketplace. The Nugg Club Box, made out of 80% recycled material and soy-based and non-toxic ink, is 100% recyclable.
When it comes to shipping, you an choose a delivery window and get live ETA updates. You must be home at time of delivery or $20 cancellation fee.
The great thing about this box is that you can cancel at any time.
Note: taxes are not included in the $99 purchase price; added at checkout; and can fluctuate based on delivery area.
---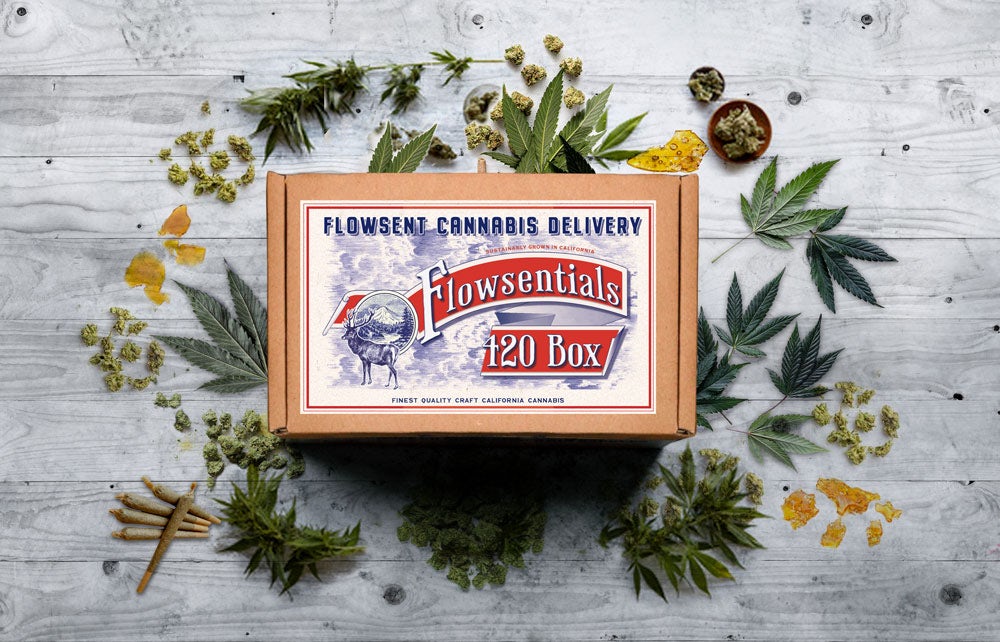 Price: $249/month
Product value: approximately 40% of retail value
Shipping: free shipping to Bay Area, California
Includes: flower, pre-rolls, concentrates, and other extracts, all sourced from California marijuana farms.
Box options include:
Keep Tahoe Green
Price: $249/month
Includes: 14 pre-rolled joints, 3-4 curated strains of California cannabis.
710 Racing Club
Price: $249/month
Includes: 3-6 grams of marijuana concentrates that can include diamonds, budder, shatter, sauce, and dab cartridges.

Flowsent is a unique marijuana subscription box for California residents that's all about giving you a personalized experience with artisan, locally-sourced products. Members also get access to benefits such as farm visits or Meet the Grower events.
---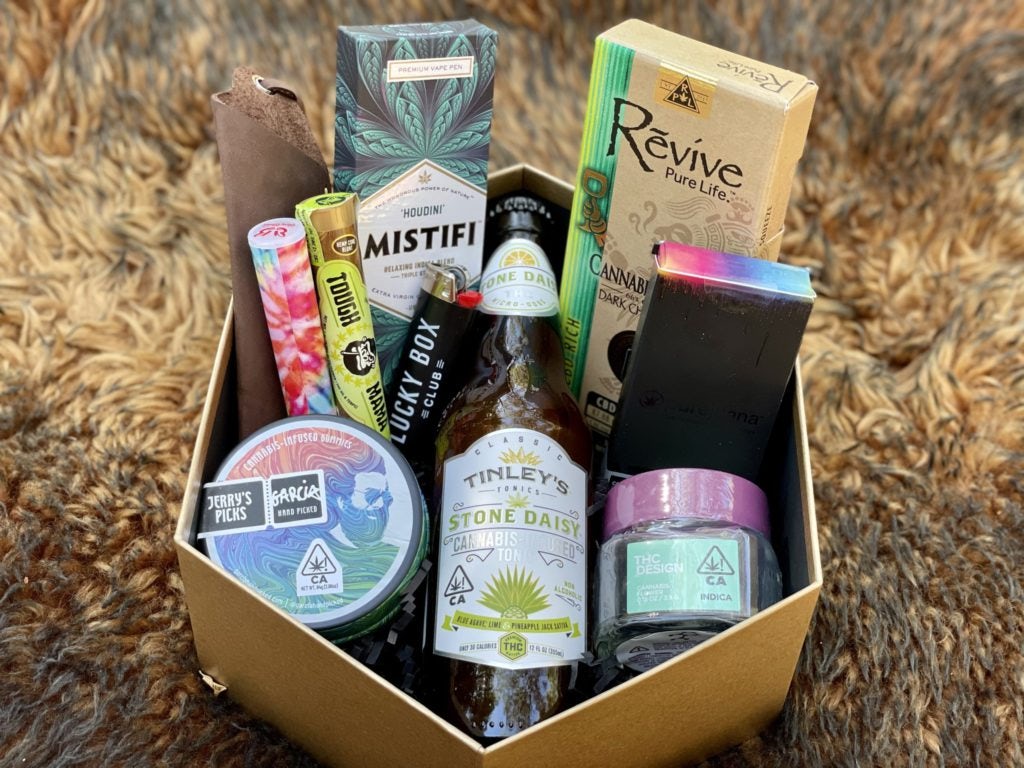 Price: from $160 for a seasonal box offered 4/year
Product value: $225
Shipping: free shipping within California
Includes: flowers, pre-rolls, vapes, concentrates, topicals and seasonal boxes include seasonal zine featuring product information and editorial content.

This California THC box takes the guesswork out of getting high. Each box is curated to a customer's profile, preferences and specific health and wellness needs.
You can customize your box by providing information on how often you consume cannabis; THC, CBD, or a mix of both or indica, sativa or hybrid preference; and any ailments in particular you hope to find relief from with the use of cannabis.
---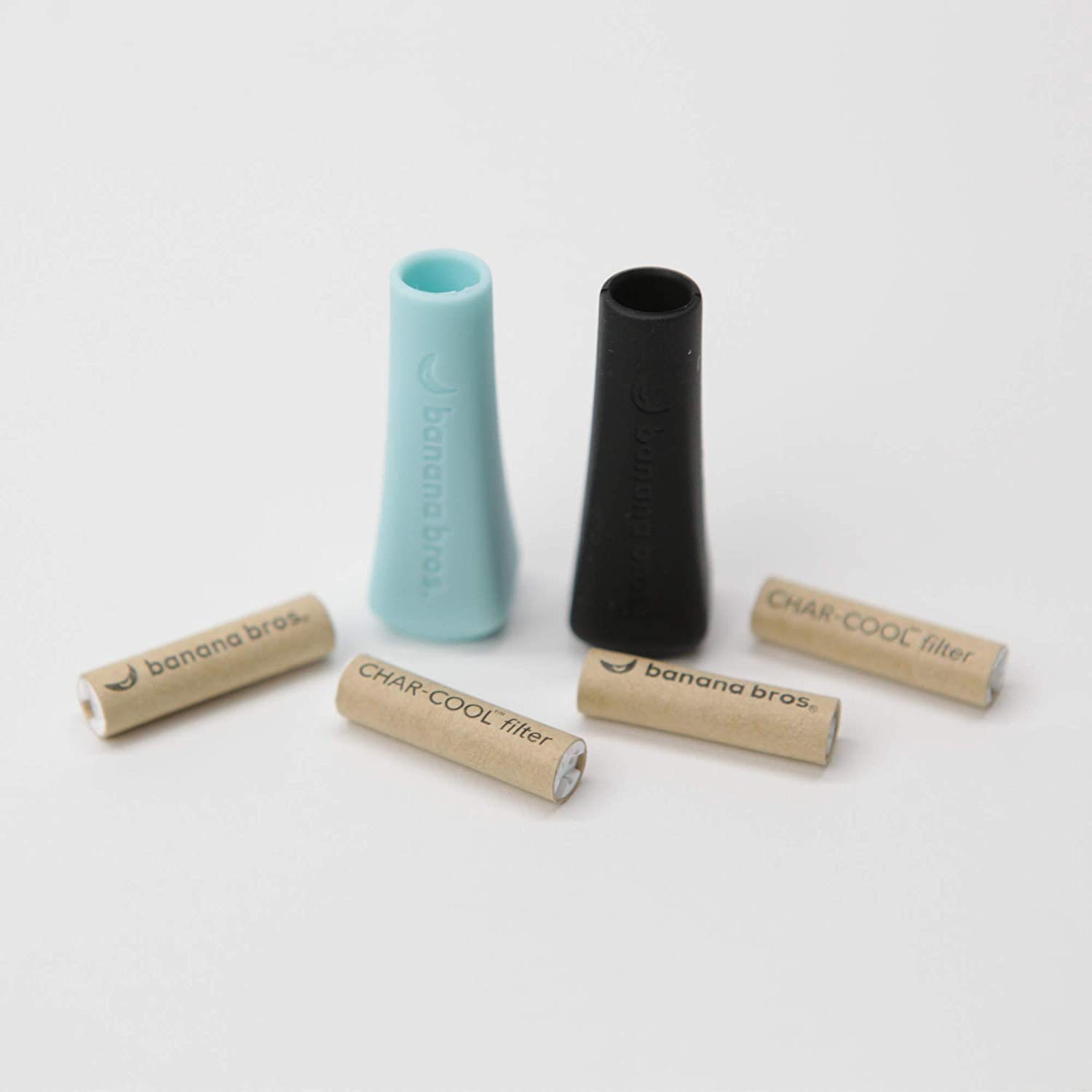 Price: $44.99/shipment of 120 count, $80.99/shipment of 240 count with a choice of every 30, 60, or 90 days
Product value: 10% discount off retail price offered to Cone Club members
Shipping: free ground shipping on orders over $75 in the US
Includes: premium cones created from 100% natural raw unbleached fiber (GMO-free, chlorine free, vegan-friendly and naturally clean)
Return policy: If something is wrong with the order, the company will make sure to correct it and send the right product.

The company tagline is "Makes it easy to take it easy," which pretty much sums up how they do things. A major perk is that you'll get a free JPAQ pre-roll travel case with your first order or 15% off any OTTO device.
---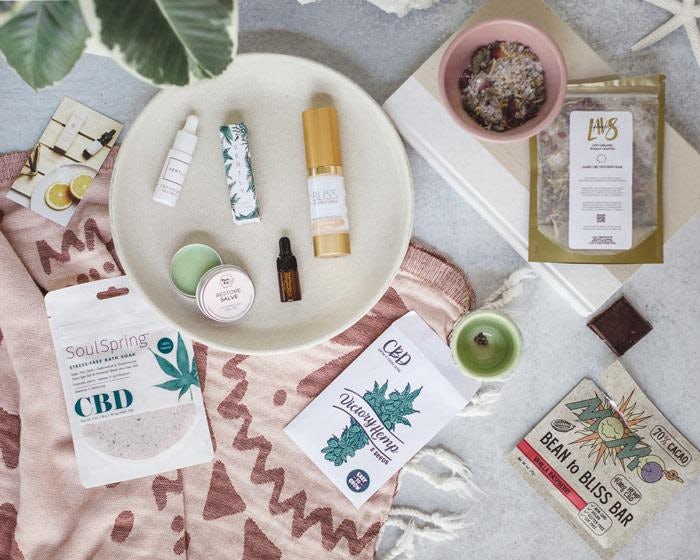 Price: $39.99-$59.99
Product value: $125
Shipping: price varies depending on location
Includes: 6-8 CBD and natural wellness products ($125+ value), digital user's guide; exclusive partner discounts, access to all third-party lab test results, first access to MJ Lifestyle videos and digital issues, early invites/discounts to MJ Lifestyle events, exclusive invite to MJ Lifestyle's private women's Facebook circle.

MJ Lifestyle's focus is on women's health and wellness, female-owned brands, and a community of makers, artisans and purpose-driven businesses.
---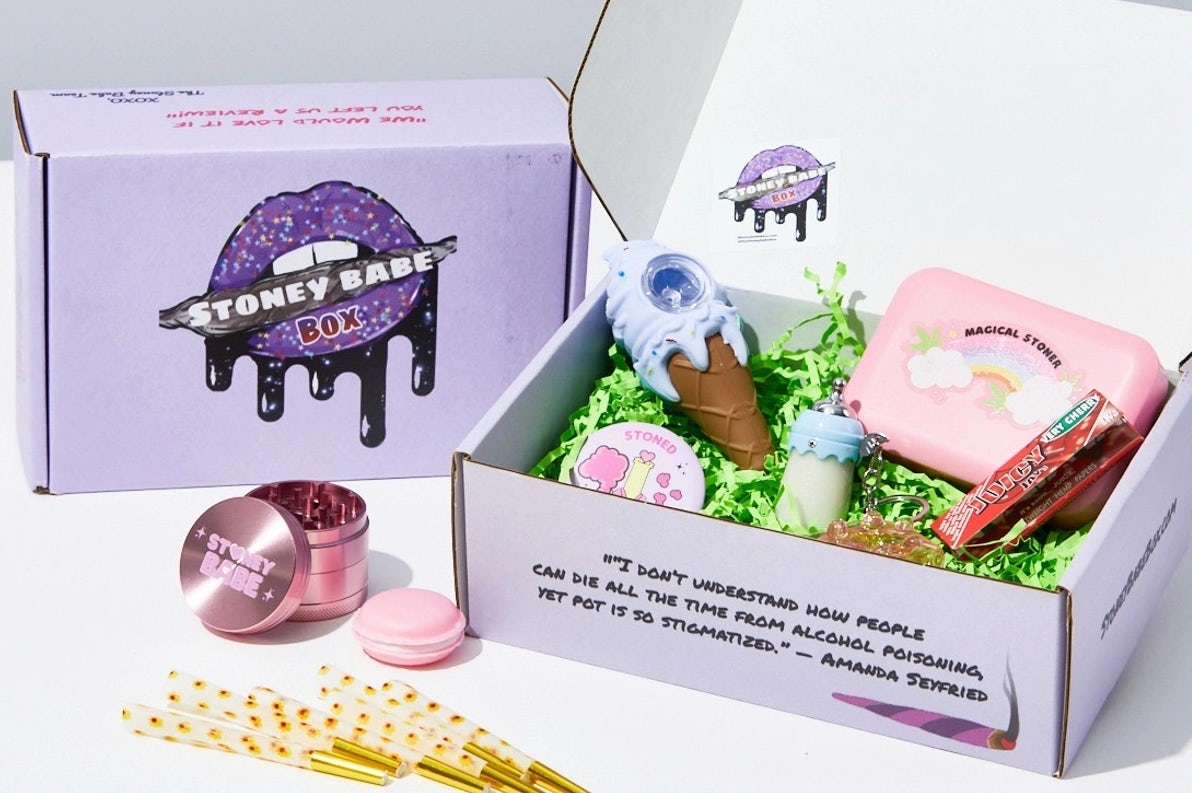 Price: 3 months ($35 per box); 6 months ($33 per box); 12 months ($30 per box)
Product value: $60-$120
Shipping: free shipping within the US (international shipments subject to additional fees)
Includes: Themed boxes have 5-10 girly smoker accessories such as grinders, papers, crystals, cones, pipes and cute jars. Each box contains artisan goods from small, women-owned businesses.

We love the bold, beautiful and girls point of view of this box. Cute, sexy and fun. And there's even a mystery box for discovery brands.
---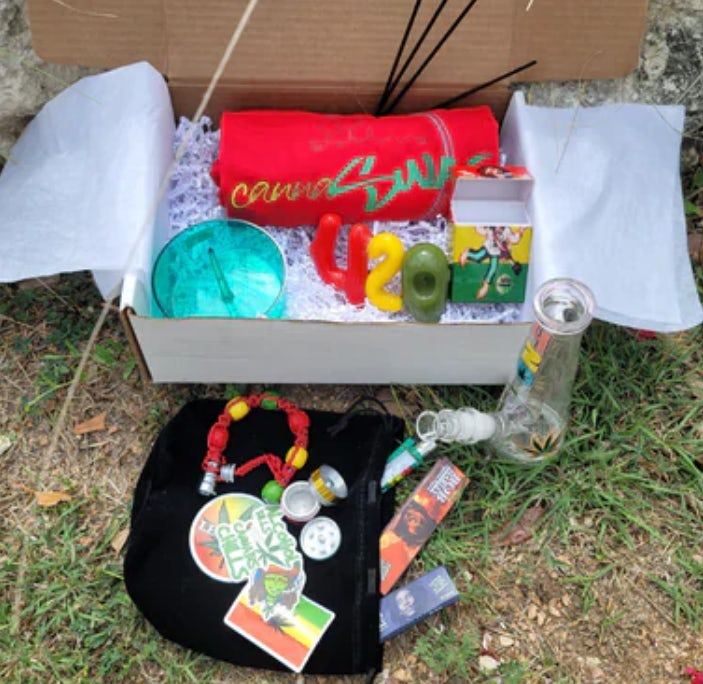 Product value: between $150 and $250 worth of product
Shipping: ships to all 50 states, price varies by location
Includes: depends on the box, includes weed attire, smoking papers, or accessories, stickers, lighters, incense, dab rigs, and more
Box options include:
Price: $39.99
Includes: 9 – 10 items, including two smoking devices, 3 – 5 accessories, and a shirt
Price: $79.99
Includes: 11 – 12 items, including dab rig/ pipe, two smoking devices, accessories, velvet bag, and a shirt
The founder of cannaSWAG started his own weed subscription box after he was disappointed in other services he tried. cannaSWAG is packed with value and lets you customize your box with your smoking preferences, choosing between smoking or dabbing pieces. You can also customize your clothing sizes so you only get items that fit and are relevant to how you like to consume cannabis.
---
How to get the most out of weed subscription boxes
Looking to save money? Opt for a box that bundles accessories you actually need and/or use on a regular basis, rather than on fun add-ons. You will never run out with a service that offers different frequency delivery options, so you can get your timing right.
Looking for efficiency? Opt for a box that provides new ways to consume. Want to try dabbing but don't want to spend lots of time figuring out what to buy? A dab-specific box may be an effective way to try it without having to make a big investment.
If you're looking to support small businesses, there are plenty of options. For example, you could go for an artisan box, such as those by Flowsent. Or you can choose a subscription box that you identify with, such as those that support women (MJ Lifestyle and The Stoney Babe Box) or pro- BIPOC companies, such as Nugg Club Box.
Thanks for your feedback!
Sign up for bi-weekly updates, packed full of cannabis education, recipes, and tips. Your inbox will love it.