Overview
What happens when you bring together a young farm boy destined for greatness and one of the most powerful jedis of the cannabis world? You get a powerful indica-dominant chemovar that produces a relaxing high that will have you coasting somewhere far, far away from the Dark Side. Skywalker OG (also known as "Skywalker OG Kush") is a high-THC strain with pungent nugs dusted in frosty, Hoth-esque trichomes that is great for couch-locking and watching the entire Star Wars trilogy until you crash between the cushions.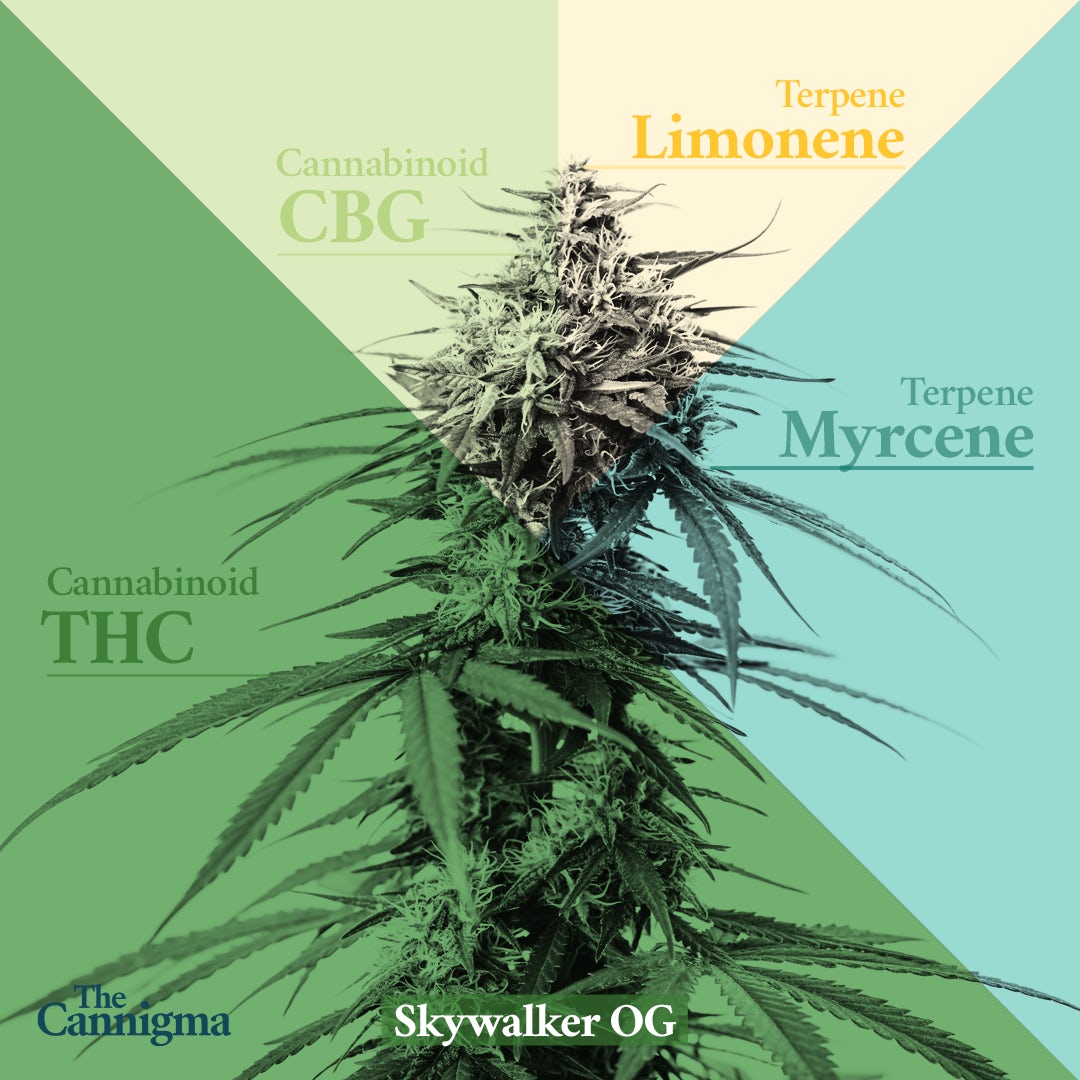 Cannabinoids
THC
CBG
Indica/Sativa/Hybrid
Indica dominant
Day/night
May help with
Terpene profile
Herbal
Citrus
Spicy
Woody
Lineage and general info
According to Lift & Co, the story of Skywalker OG begins in the far off galaxy of "Amsterdam." The Skywalker strain was originally bred by Amsterdam seed company Dutch Passion, which crossed a Mazar male with a Blueberry female, creating a fruity, tranquil indica that quickly became a hit.
But why stop there? Skywalker was later crossed with OG Kush, creating Skywalker Kush, which the team at DNA Genetics has released in seed form. The breeders refer to the chemovar as "a good yielding OG Kush variety" that tastes like OG Kush "with big dense flowers with lots of resin."
Other origin stories abound, including that Skywalker OG is a phenotype of OG Kush that was selected for its sativa-dominant traits, according to Medical Jane. Another tidbit emerges from Wayofleaf.com, that "the 'Skywalker' part of the name has nothing to do with tits ancestry" and that "during the initial spread of its popularity, the leading grower was called Luke; this was all it took for it to become known as Skywalker."
The strain has a potent aroma of diesel and spice and produces a strong body high and a legit stoney, euphoric feeling that will have your head in the clouds even if you never get off the couch.
The strain is predominantly indica — as much as 85% according to several sources — and produces that tranquil feeling that people associate with indicas, even if scientifically speaking, it's the chemical profile of the strain that determines how it makes you feel.
Cannabinoids and terpenes in Skywalker OG
There are thousands of cannabis chemovars out there, and no real standards as to how to identify them — basically anyone can grow anything and call it whatever they want. In other words — there are better ways to choose a strain than on the name alone.
The chemical profile you see below is an average of laboratory tests for products called "Skywalker OG"— so it's just an estimate of what you might find when you buy Skywalker OG.
Full chemical profile
Cannabinoids
Terpenes
Herbal
Citrus
Spicy
Woody
* The numbers in the tables are averages of data from multiple resources
** Terpenes are of pharmacologic interest at concentrations above 0.05%
How Skywalker OG affects you
Based on user reports, Skywalker OG tends to produce relaxation, sleepiness and euphoria, and could cause dry mouth, dry eyes, and dizziness. But really, marijuana affects people in different ways. The two main factors are your own biology (your endocannabinoid system, metabolism, age, weight, etc). and the product you choose (the cannabinoid profile, the terpenes breakdown and the delivery method).
May help with
That being said, the above chemical profile could potentially help with conditions and symptoms such as:
Insomnia
Multiple sclerosis
Dementia
IBD (crohn's disease and ulcerative colitis)
Reported effects
May cause
Skywalker OG growing tips
According to DNA Genetics, Skywalker OG flowering time is 9 weeks and the strain "gives you the chance to have multiple high yielding crops a year." The strain is considered of medium difficulty to grow, partly because it requires a lot of pruning and "topping" to encourage growth.
The strain grows high and can be cultivated indoors or outside. It prefers a dry climate with temperatures between about 68 and 80 degrees Fahrenheit.
When it's all said and done, Skywalker OG should reward you with a high yield of trichome-heavy herb.
Yield oz/per plant
Yield (indoors) oz/SQF
Indoors
1.8
Yield (outdoors) oz/plant
Outdoors
28
Harvest time
Harvest time
October
Height (inches)
20-30
30-50
50-70
70-90
>90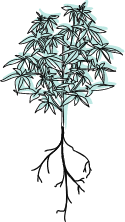 Related Strains
As one can deduce from the name, Skywalker OG bears a lot of the hallmarks of its parentage — including the potent-yet-balanced high of OG Kush, and the relaxing high of the indica-dominant Skywalker. The strain is popular enough to have been used to breed no shortage of strains, including Platinum Skywalker OG (a mix of Skywalker OG and Platinum OG Kush) and Bubba Skywalker OG (a mix of Bubba Kush and Skywalker OG) to name just two. Much like it was used to breed Skywalker OG, there are many strains that have been bred using Skywalker — such as Alien Skywalker OG and Purple Skywalker OG, and have similar effects to Skywalker OG.
Get Skywalker OG seeds
Buy now
Thanks for your feedback!
Sign up for bi-weekly updates, packed full of cannabis education, recipes, and tips. Your inbox will love it.