Overview
Don't let the name fool you — there's nothing genetically modified in this dynamite weed strain, just really good genes taken from two of the most popular cannabis strains available today. The GMO strain (aka "GMO Cookies" ) is a potent indica-dominant hybrid that combines a fuel aroma and sweet flavor with a high that is relaxing, euphoric, and just the thing to take your mind off all this mess, if only temporarily. Here's what makes the GMO Cookies strain so special.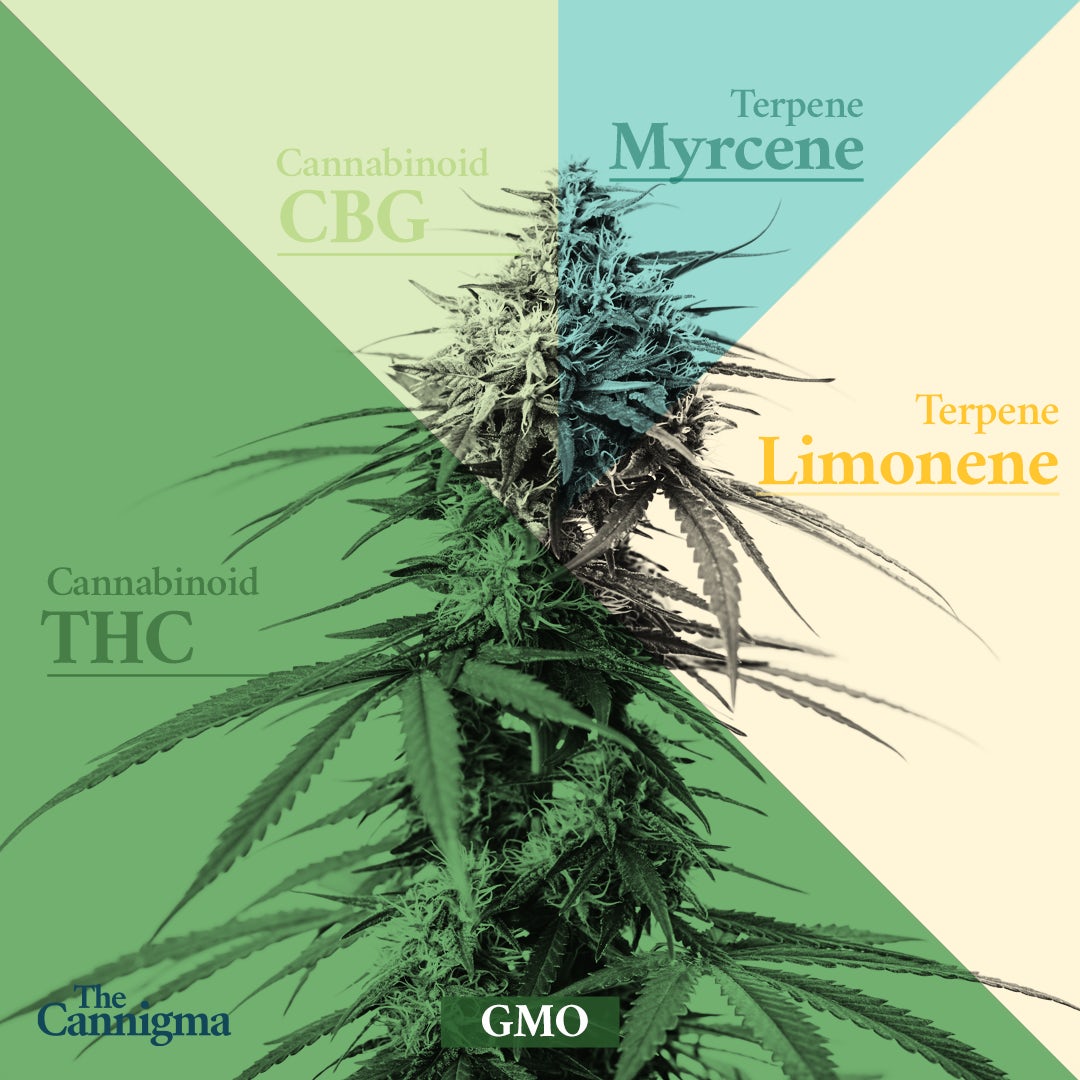 Cannabinoids
THC
CBG
Indica/Sativa/Hybrid
Indica dominant
Day/night
May help with
Terpene profile
Citrus
Herbal
Spicy
Earthy
Lineage and general info
The breeders at Divine Genetics are often hailed as the creators of GMO (which is also known as "GMO Garlic Cookies" or "Garlic Cookies" by dispensaries that don't like putting the word "GMO" on their products). On their website the breeders hype the strain in a rather strange way, saying "one bowl too many of this straichn is like dropping your brain in a wood chipper, slowing you down to half the pace of the rest of the world."
Obviously, you shouldn't try that at home, but it seems Divine Genetics is just being upfront about this heavyweight strain, saying "even when used in moderation, GMO can be disorienting for low tolerances, know your limits."
But not so fast, the origins of this strain, like countless others, is shrouded in mystery. Many other sources credit the Spanish seed bank Mamiko Seeds with inventing GMO cookies, as well as a breeder named Skunkmasterflex.
But what's this strain actually made of? According to Divine Genetics, "Chem Cookies" is a mix of Chemdawg and Girl Scout Cookies, two of the most acclaimed strains anywhere. Combine these together and what do you have? A strain that is "both pungent and sweet, gassy and spicy…and very dangerous."
The strain grows extra frosty buds that are somewhat dark green and purple, and replete with brilliant little orange hairs. And the high? It's not quite getting tossed into a wood chipper brain-first, but GMO is a high THC heavy-hitter that makes its presence known.
Cannabinoids and terpenes in GMO
There are thousands of cannabis chemovars out there, and no real standards as to how to identify them — basically anyone can grow anything and call it whatever they want. In other words — there are better ways to choose a strain than on the name alone.
The chemical profile you see below is an average of laboratory tests for products called GMO so it's just an estimate of what you might find when you buy GMO.
Full chemical profile
Cannabinoids
Terpenes
Citrus
Herbal
Spicy
Earthy
* The numbers in the tables are averages of data from multiple resources
** Terpenes are of pharmacologic interest at concentrations above 0.05%
How GMO affects you
Based on user reports, GMO tends to produce relaxation, euphoria and happiness, and could cause dry mouth, dizziness and dry eyes. But really, marijuana affects people in different ways. The two main factors are your own biology (your endocannabinoid system, metabolism, age, weight, etc). and the product you choose (the cannabinoid profile, the terpenes breakdown and the delivery method).
That being said, the above chemical profile could potentially help with conditions and symptoms such as pain, inflammation, insomnia, arthritis, multiple sclerosis, depression and obesity.
Reported effects
May cause
GMO growing tips
GMO Cookies is considered a moderately-difficult strain to grow, but those who persevere should enjoy an ample harvest of premium buds covered in resin.
GMO Cookies produces a powerful smell and if you have neighbors right next door, this isn't exactly the most discrete plant to grow in the backyard. It also requires an attentive hand, and regular frimming.
The plant requires a warm, sunny environment and should be ready to harvest by mid-October.
Yield oz/per plant
Yield (indoors) oz/SQF
Indoors
1.5
Yield (outdoors) oz/plant
Outdoors
21
Harvest time
Harvest time
Mid October
Height (inches)
20-30
30-50
50-70
70-90
>90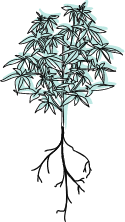 Strains related to GMO
GMO Cookies bears a strong resemblance to its parent strains in its at times diesel or earthy aroma, sour and sweet flavor, and not-too couchlock not-too climbing the walls effects. With its high-THC levels and its effects, it resembles some of the stronger hybrids, albeit the ones that still allow you to be energetic and highly-functional during your high. The strain also bears a resemblance to strains that it was used to breed, including GMO Kush (a mix of GMO and Topanga Canyon OG) and Han Solo Burger (a mix of GMO and Larry OG).
The terpene profile is similar to that of Sour Diesel, one of the all time most-popular strains and one that is widely-believed to have been bred using Chemdawg.
Thanks for your feedback!
Sign up for bi-weekly updates, packed full of cannabis education, recipes, and tips. Your inbox will love it.