Roughly half of US states that have medical cannabis programs allow telemedicine in one form or another. In some states, the whole process of getting a cannabis referral can take place online.
In others, you must see a doctor in person the first time you seek a cannabis license but renewals with the provider may be done remotely. During the COVID-19 lockdowns, even states where it isn't legal are temporarily allowing medical marijuana consultations and licensing to take place online.
➤ Get your medical card now with The Cannigma Medical
What can you expect from a telemedicine appointment?
In most regards, a telemedicine appointment to get a medical marijuana card is like any other telemedicine appointment. Your doctor will ask you questions about your medical history, your qualifying condition that may be potentially treated with cannabis, what other treatments you've tried, and any other relevant information. Some doctors in some jurisdictions might ask to see documents about previous evaluations, tests and prior therapies. Often you will be informed ahead of time if any qualifying documents are needed to give you time to prepare before the appointment.
How an online medical marijuana consult works
Most cannabis doctors who do online consultations usually have a website where you can send questions or make an appointment. These sites will offer access to relevant information before your appointment. Online clinics connect you with a doctor in your state who is licensed to recommend medical cannabis. Often, the websites will refund payment if you are not approved. Following your consultation, if approved and depending on your state, you will be mailed a state medical marijuana card, receive instructions on how to sign up online to retrieve your card, or get a PDF recommendation to download on the spot.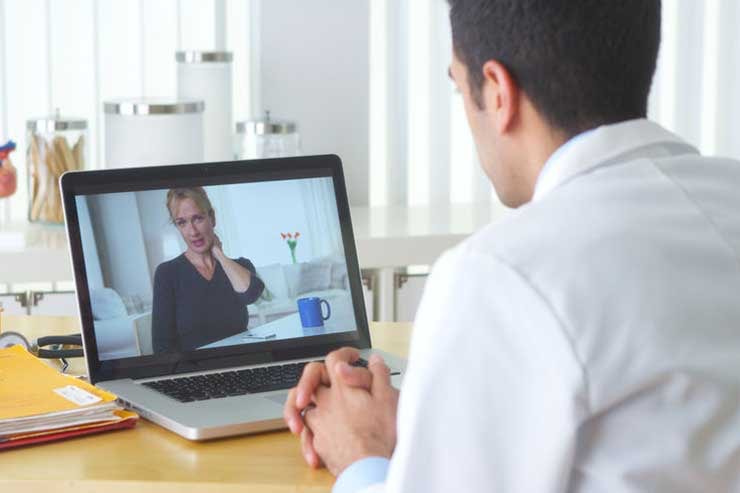 The benefits of getting your medical marijuana card online
The reasons you might choose to get your medical marijuana card online instead of an in-person clinic or doctor's office are mostly the same reasons for any other type of telemedicine.
Convenience
There's no need to travel anywhere, arrange transportation, or go to an unfamiliar part of town. This is particularly true for those with mobility issues or anyone living in a rural area with limited access to providers nearby.
Discretion
Even now that cannabis is legal as a medicine in 33 states and for recreational use for adults in 11 there are still many people who worry about being judged for using it. In some states, employers can still discriminate against medical marijuana patients even if they have a valid license to use it to treat a disease. Being able to remotely connect to a provider can alleviate the concerns of seeing someone familiar in a medical clinic. There is virtually no risk of running into family members, coworkers, or anyone else when seeking medical care.
Online prices
Just like most other businesses, not having to pay rent or support staff saves doctors money. That means they can charge less for their services, making online cannabis consults often cheaper than going to a physical clinic.
We've put together a quick list for anyone who'd like to see their online options to register for or renew their medical marijuana card online. For every state, we've highlighted what we consider the best online providers for medical marijuana cards, based mainly on price but also convenience and ease of use.
Just find your state, take a look at our recommendation, and you'll be on your way to a medical marijuana card in no time.
| State | Best Price |
| --- | --- |
| Arkansas | $149 |
| California | $50 |
| Connecticut | $200 |
| Florida | $169 |
| Georgia | $200 |
| Illinois | $200 |
| Iowa | $200 |
| Louisiana | $200 |
| Maine | $80 |
| Massachusetts | $199 |
| Michigan | $99 |
| Minnesota | $200 |
| Missouri | $149 |
| Montana | $125 |
| New Hampshire | $200 |
| New Jersey | $200 |
| New York | $149 |
| Ohio | $200 |
| Oklahoma | $129 |
| Pennsylvania | $199 |
| Rhode Island | $200 |
| Texas | $200 |
| Virginia | $199 |
Personal care
Just like seeing a doctor in person, you have a one-on-one appointment with a licensed physician whose primary job is to help you get the relief you are seeking. To achieve that, the telemedicine physician you see will treat you exactly as they would in person.
Secure
Telemedicine providers are bound by the same medical privacy laws and regulations as any other doctors and any reputable online cannabis appointment will use software that is HIPAA compliant.
The benefits of a medical marijuana card
Even in states where cannabis is legal for adult use, there are still reasons to get a medical marijuana license. In some states you can get a tax break on your purchases, in others you might enjoy workplace protections, and yet in others the limits on how much you can buy, purchase, or grow are higher than what is allowed under recreational use laws. During the coronavirus pandemic, some states required dispensaries to give priority to medical patients over recreational consumers.
➤ Get a medical marijuana card now
What conditions qualify you for medical cannabis?
Each state and country has different criteria for what conditions qualify a patient to receive medical marijuana. The differences range from states that allow a doctor to recommend cannabis for any condition they determine it can help, to the strictest states that have very short lists of severe and terminal diseases.
See what the qualifying conditions are in your state (or country):
Thanks for your feedback!
Sign up for bi-weekly updates, packed full of cannabis education, recipes, and tips. Your inbox will love it.