If you truly love edibles, then sooner or later, you're going to start making your own. And if you're making your own on a regular basis, then a decarboxylation machine – especially one that also infuses liquids – could be the perfect way to take your home edibles hobby to the next level. Effortless, precise, and easy to use, decarboxylation machines can make sure you nail this crucial step in edibles-making every single time.
Here are our picks of the best around:
The best home infusion machines: make edibles the easy way
Price guide:
★ = $1-$100
★★ = $100-$200
★★★ = $200 – $300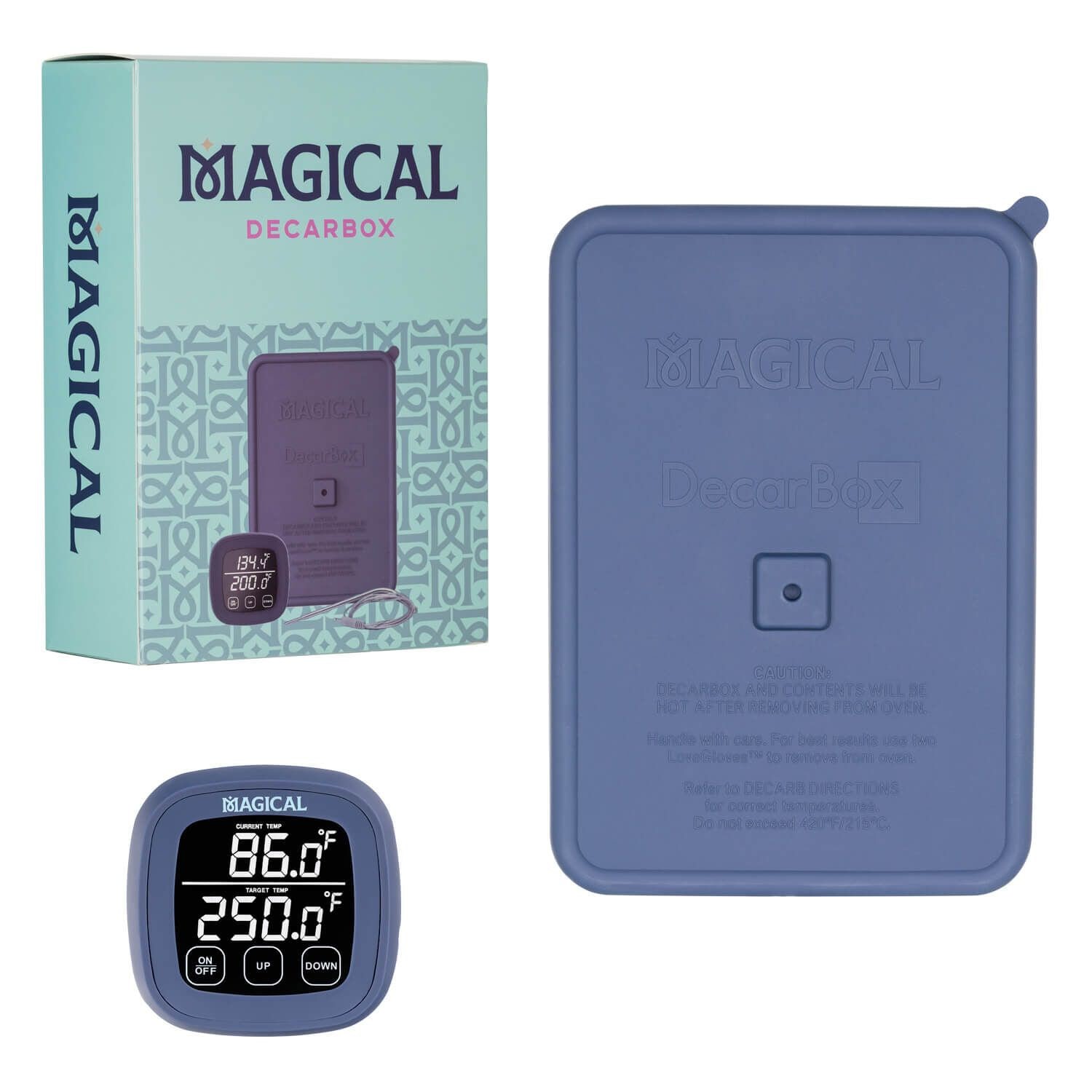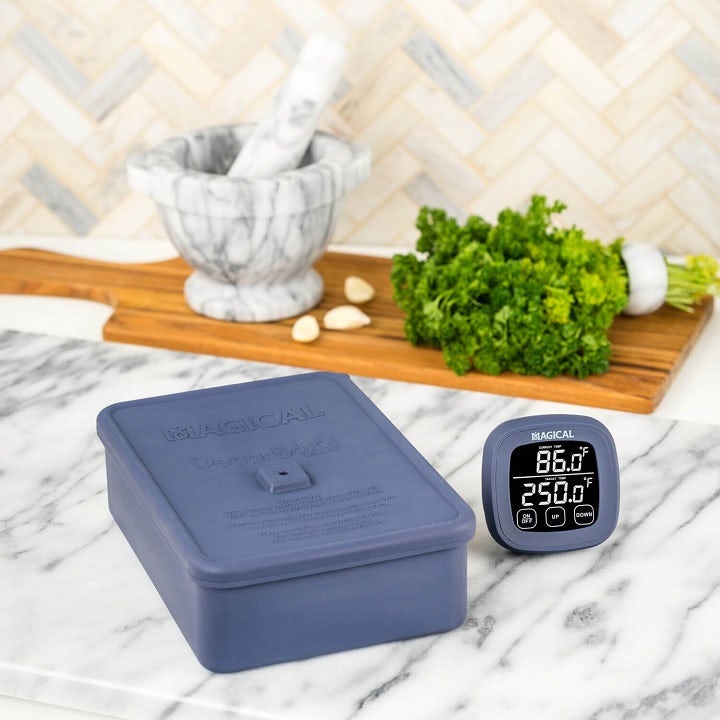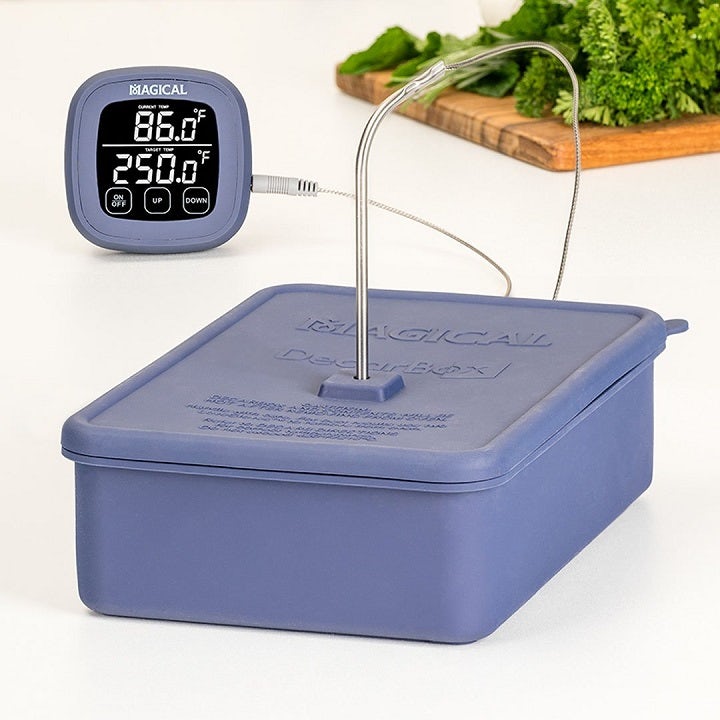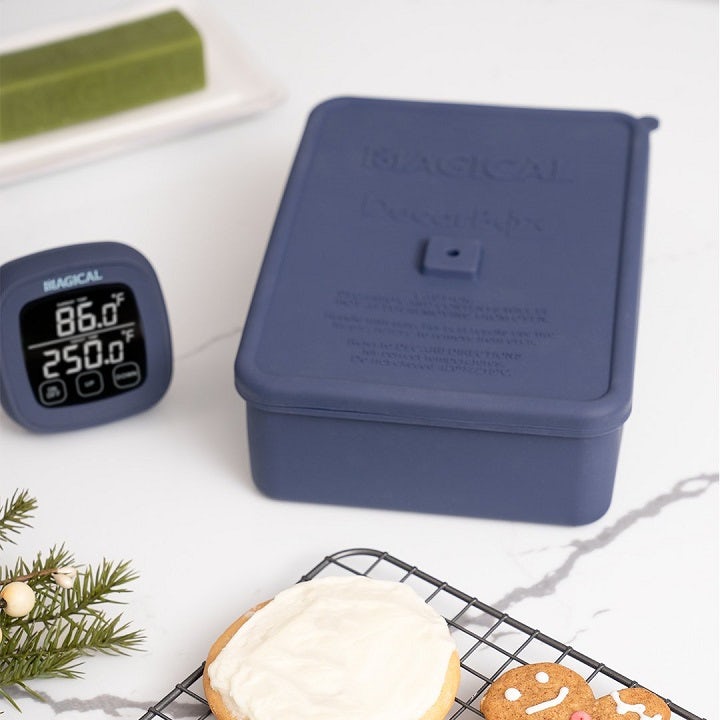 Size: 9.1'' x 6.6'' x 3''
Weight: 1 pound
Design features: External digital display to monitor temperature without opening oven, made of food grade silicon, completely oven safe
Time for decarboxylation: Around an hour to hour and a half
Price: ★
Not technically (or figuratively) a machine, the DecarBox by Magical Brands can nonetheless make decarboxylation easier and more reliable. The company is better known for making the Magical Butter Machine, an industry standard for home edibles making. With the DecarBox, the company has developed an affordable, safe and sturdy solution to making edibles. The box is made of food grade silicone and includes an integrated digital thermometer so you can keep close watch on the temperature inside the box without opening the oven. And better yet, the box can hold up to two ounces of weed.
---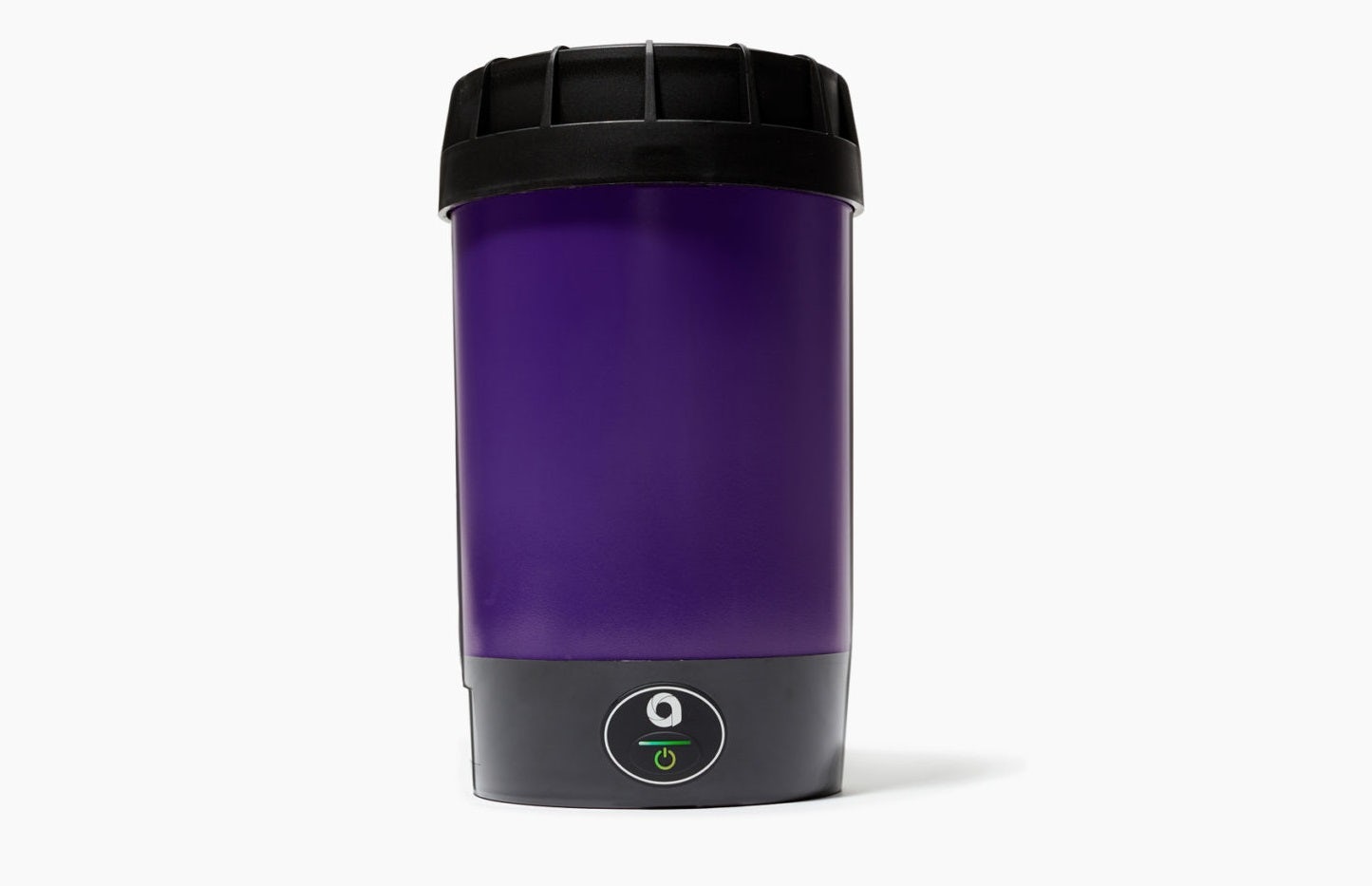 Size: 7.5'' x 4''
Weight: 2.18 pounds
Design features: Odor-less, can decarb up to one ounce of flower, very small and easy to clean
Time for decarboxylation: About an hour and a half
Price: ★★★
The Ardent Nova is about as simple and straightforward as it gets. Only about the size of a coffee grinder, this decarboxylation machine effortlessly (and odorlessly) activates weed with the touch of a single button, and can hold up to 1 ounce of flower or 5 ounces of kief. After activating, you can add the decarbed weed to oil and place the container in the machine to infuse. Ardent also makes the Ardent FX, an all-in-one decarboxylation machine and infuser, if you want to go all the way in.
---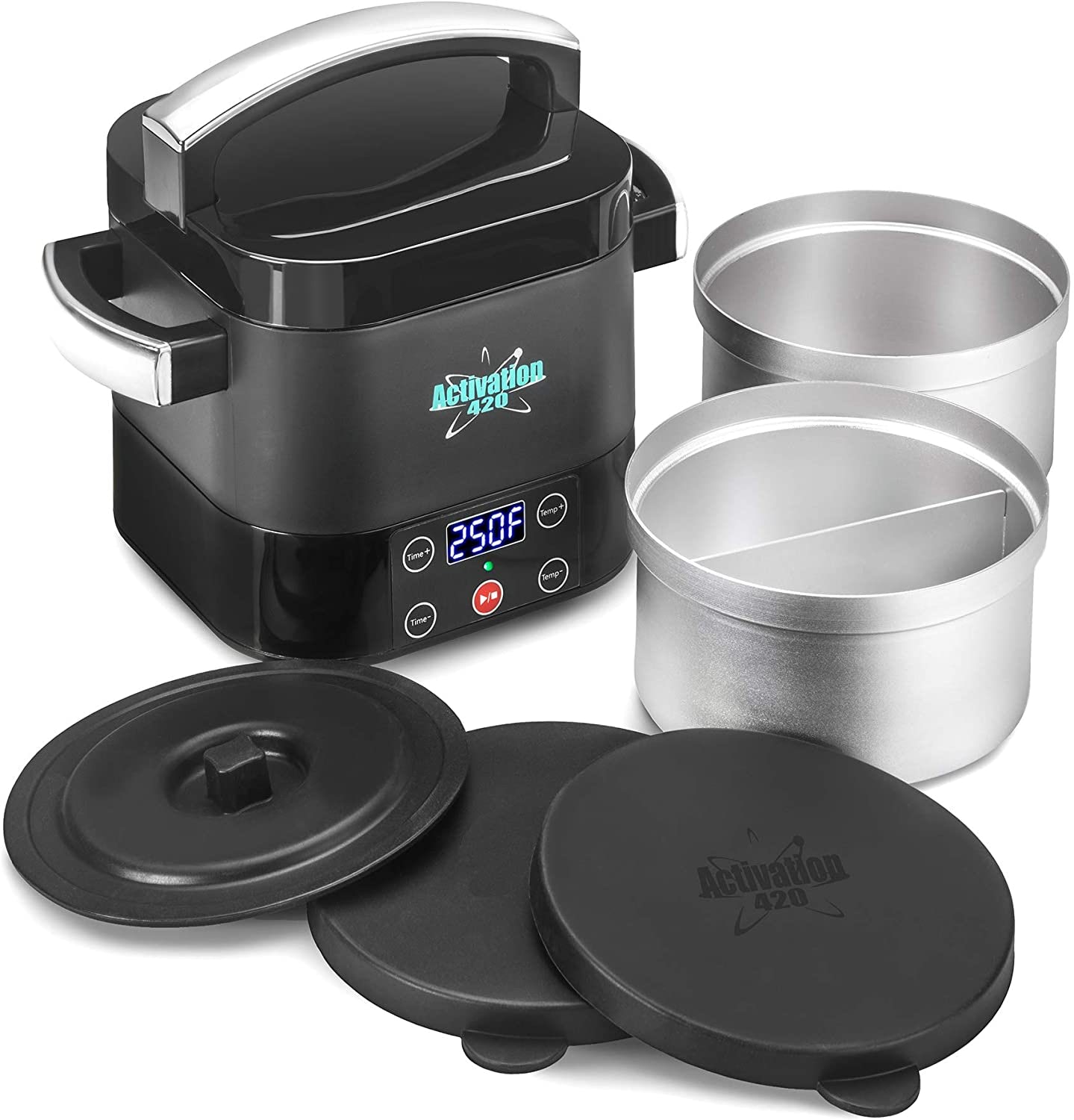 Size:

6'' x 8.25'' x 8''

Weight:

4.5 pounds

Design features:

LED digital control panel, canister can hold up to 2 ounces of cannabis flower, virtually odor free

Time for decarboxylation:

1 hour

Price:

★★
This fully-automated decarboxylation machine can activate up to two ounces of marijuana in one go. It also has a sturdy and professional build from top to bottom, with food grade aluminum alloy, silicone cooking lids, stainless steel decarboxylating canisters, and more. It is also exceptionally easy to use and is virtually odor-free, according to the company.
---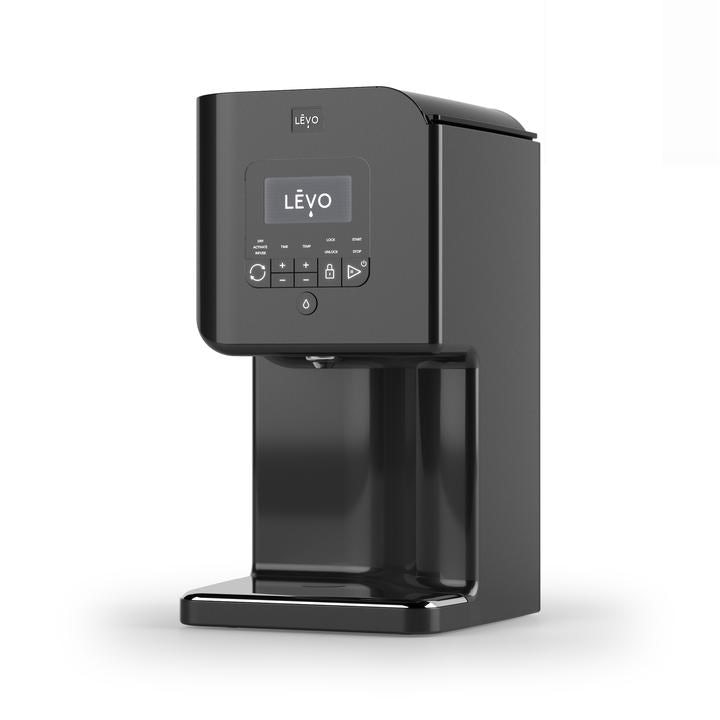 Size: 7'' long x 8'' wide x 13'' high
Weight: 11.68 pounds
Design features: Can be operated wirelessly through mobile app, has 3 settings: dry, activate, and infuse, dishwasher safe
Time for decarboxylation: 2.5 hours at 160-175°F (70°C to 80°C) to decarb and infuse olive oil at
Price: ★★★
Making edibles can be a mess at times, but with the LEVO II, things should always be spic and span – and also look good too. Available in five stylish colors like "honey cream" and "pacific blue," the LEVO II looks every bit as sophisticated as it works. The machine has three stages of operation: drying, activating, and infusing. Just load up the power pod with up to a quarter ounce of herb and select the "activate" setting. After it's done decarbing, you can add whichever liquid you're infusing to the reservoir, and you're only one step (and one button) away from a great infusion.
---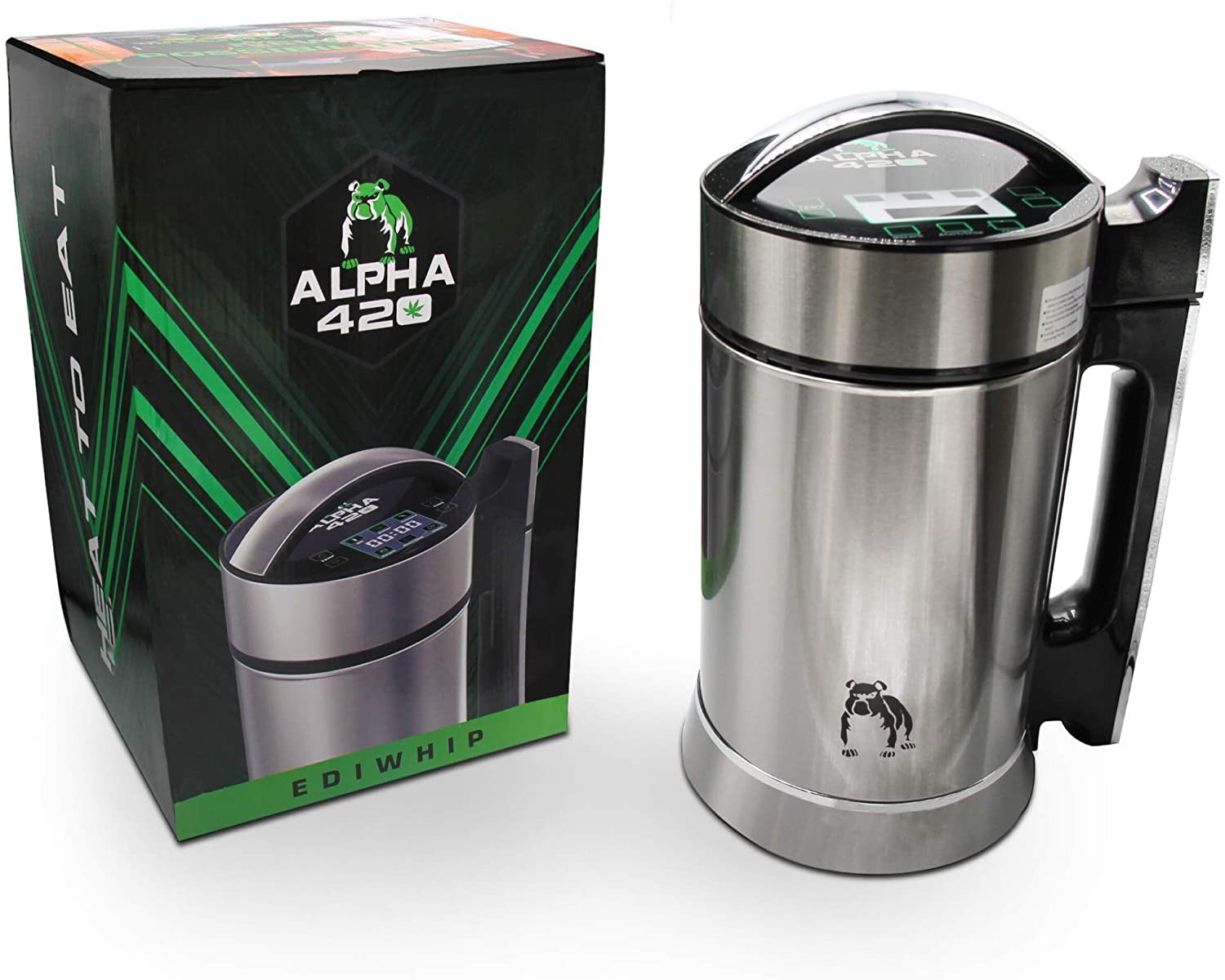 Size: 15.5'' x 10.1'' x 10.1''
Weight: 7.78 pounds
Design features: Decarb up to one ounce, also infuses fats, four separate pre-settings: 1.5 hour decarb, 1 hour oil, 2 hour butter, 4 hour tincture
Time for decarboxylation: 1.5 hours
Price: ★★
The All in 1 is just that – an all-in-one decarboxylation and infusion machine that is just about the size of an electric tea kettle. The machine hits and maintains temperatures with precision, and includes the built-in "EdiWhip," which stirs, heats, and extracts infusions by way of an immersion blade and precision thermostat.
---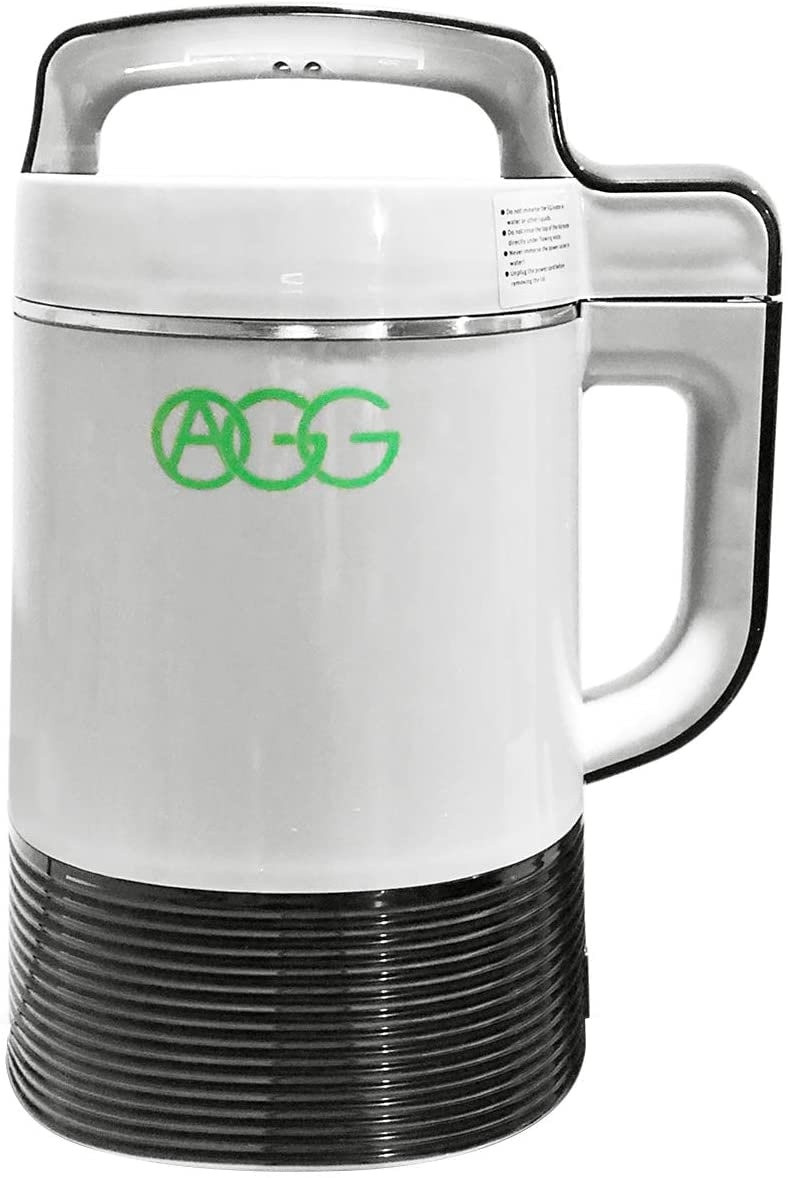 Size: 13.9'' x 9.2'' x 8.9''
Weight: 0.494 ounces
Design features: Converts up to ½ ounce of herb, includes electric motor for mixing infusions, four pre-programmed settings: decarb, oil, butter, tincture, chocolate, and clean.
Time for decarboxylation: Around an hour
Price: ★★
Built like the coolest thermos you've ever seen, the Active Gear Guy infuser machine has a built-in decarb setting so you're all set to get from point A to point "Ayyyyy these edibles are great."
The machine includes an electric motor for mixing infusions, as well as four pre-programmed settings: decarb, oil, butter, tincture, and chocolate, as well as a "clean" setting, which makes the whole process even easier.
---
What is a decarboxylation machine?
Home decarboxylation machines take care of one of the more essential – and often overlooked – steps in making edibles, helping you take some of the confusion out of infusion.
Decarboxylation machines take care of decarbing the weed and infusing the fat usually in the same cycle. Typically, they only require adding the cannabis and the fat, setting the temperature and timer, and then going to find a comfortable place to sit and wait.
Is a home decarb machine worth it?
Decarboxylation machines can also take some of the guesswork out of making edibles, and can make up for a home oven that's not all that precise or has just seen better days. While they are an extra expense, they can be worth it in terms of making sure your weed is properly decarbed for making edibles.
How the decarboxylation process works
Perfectly sourced cannabis, a brilliant and even mirthful recipe, and the best ingredients you could find sound like the perfect combo for some dynamite edibles, but there's still one step missing.
Decarboxylation is a crucial chemical process in making edibles. It involves heating up the cannabis so that the cannabinoid THCA is converted to THC, which makes it so that the cannabis will produce an intoxicating effect when eaten. Without decarboxylation, you're just going to have a tasty edible that may be healthy, but won't get you high.
With a decarboxylation machine, you should never miss this step.
DIY decarboxylation
The good news about decarboxylation is that if you're on your own it's still quite easy. Just grind up some cannabis flower and bake it on an oven sheet for about 30-45 minutes at around 220-245°F (105-120°C). Remove from heat, air out your kitchen, and you're all set.
Uses of decarbed weed
Decarbed weed can be used in a limitless assortment of edibles recipes, but technically speaking, you don't even need to use it in a recipe. With decarboxylated cannabis, you can just take about a teaspoon or so and make some effortless edibles like these:
sprinkled on a slice of toast with butter and jam
mixed into a fruit smoothie
sprinkled into some yogurt and granola
stirred into some tea or coffee
use as seasoning on a salad
open some oreos and sprinkle decarbed weed inside and close them
mix it into a marinara sauce
Thanks for your feedback!
Sign up for bi-weekly updates, packed full of cannabis education, recipes, and tips. Your inbox will love it.