A rosin press is a device that you use to extract rosin from cannabis or hemp flower. Because the extracted rosin is so concentrated, it contains very high levels of cannabinoids.
A rosin press works by applying heat and pressure to the cannabis or hemp flower, which then results in a concentrated oil substance emerging from the press. The rosin is then consumed by vaping, dabbing, or smoking it.

Rosin presses come in 5 different forms:
manual
pneumatic
hydraulic
electric
hybrid
In general, rosin presses are expensive items, and are used by professionals, who really understand how the process works. However, there are more affordable options, such as those featured in this list, that are suitable for at-home use.
To help you make a more informed decision on which one to buy, this guide will give you a recommendation for each of the specific types of presses based on the ones deemed the most effective and best value for money.
Plate size: 4 x 4 inches
Weight: 74 pounds
Capacity: 14 grams
Price range: $850 – $1,200
To generate enough pressure on the cannabis or hemp flowers, a manual rosin press uses a hand crank or twist mechanism that you have to manually operate. For this reason, they are mostly used by people at home for personal use, as they take a lot longer than electric ones, which means they aren't ideal for companies to use.
The most high-profile brand in the manual rosin press market is NugSmasher. The company makes a variety of different models that each contain different features and are sold at different price points.
The NugSmasher Original model is great value for money for the functionality that it offers. The press allows you to apply 12 tons of pressure to the flower you put into it, and the dual heated plates will then combine to start the extraction process. Users have been able to extract 14 grams of rosin per use, which is a good amount.
The NugSmasher Original is close to 18 inches in height and 9 inches wide, so it is quite compact. The only major con with this product is that at 74 pounds it's very heavy for its size.
The press is constructed from high-quality materials and is made in the USA. The company offers all buyers of their products a lifetime warranty, which helps make a large purchase less risky.
---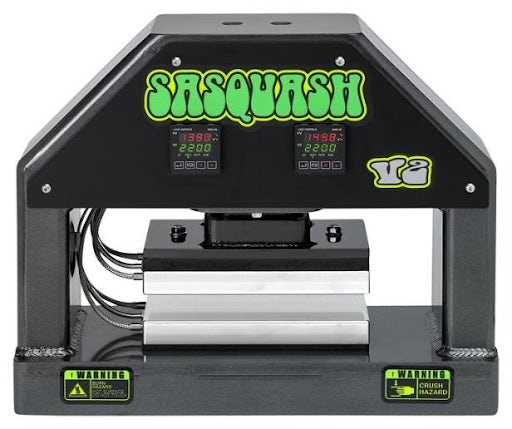 Size: 8 x 18 x 14 inches
Weight: 135 pounds
Capacity: 1 ounce
Price range: $3,400 – $4,000
If a manual rosin press isn't good enough for your needs, your next option is to purchase a hydraulic press. These presses are still operated by hand pumps, but the difference with purely manual presses is that while you're operating the hand pumps, hydraulic cylinders help to make this process easier by doing a lot of the work.
Hydraulic presses require you to purchase a hand pump, but you don't need an air compressor, so this makes them a lot more affordable than pure electronic presses. You can also use a foot pump or an electric pump, which makes your hydraulic press automatic.
Sasquash has been the market leader for some time and has produced a great range of hydraulic rosin presses, including their best one, the V2.
The Sasquash V2 produces 15 tons of pressing power and allows you to produce 1 ounce of rosin for each use. This means it's adequate for a small commercial producer or personal use.
To operate the V2, you have the choice of using a hand pump, a foot pump with an air compressor, or an electric pump. A lot of buyers start with a hand pump, but as they get more experienced using the machine (and they get the money), they upgrade to a better pump. Although the flexibility is good, the downside of buying a Sasquash V2 is the pumps are sold separately, which can significantly increase the amount you need to pay for your setup.
In terms of size, the V2 is 14 inches tall, 18 inches wide, and 8 inches deep, which makes it quite compact. The unit is powered by solid aluminum plates and weighs in at a hefty 135 pounds.
Overall, this product is well constructed and powerful, and you can upgrade to different pumps. It also comes with a lifetime warranty from the manufacturer. The major con of this product is the price and the fact you have to pay for pumps separately – there are cheaper models on the market, but the V2 still offers the best value for money.
---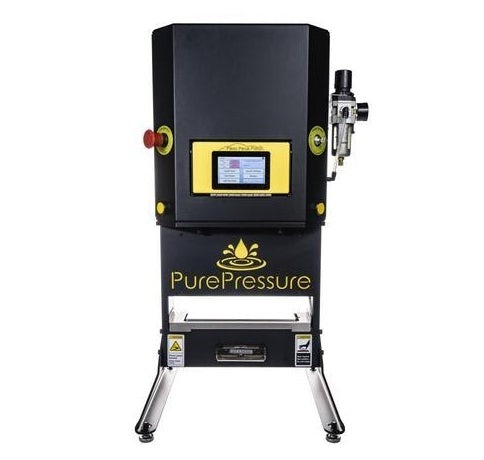 Size: 29.2 x 19.7 x 13.5 inches
Weight: 130 pounds
Capacity: 3.75 pounds/day
Price range: $6,995+
If a manual or hydraulic rosin press doesn't have enough functionality for you, your next best bet is a pneumatic rosin press. These presses don't require any hand pumping – you simply turn it on, and the machine does all of the work.
A pneumatic weed press is great for a commercial operator who needs to produce large quantities of rosin. Given that they require an expensive and heavy air compressor, they aren't suitable (or required) for most home producers.
The best pneumatic weed press on the market is Pure Pressure Pike's Peak V2. This machine is the market leader and is made by Pure Pressure, which has an impressive track record making high-quality machines.
The Pike's Peak V2 has only 5 tons of pressure but can process 20 grams of flowers or 35 grams of hash at a time. The whole process is fully automated through the integrated software installed in it. You can use the control panel to set up up to 30 preset settings to make it a lot easier to use in the future.
The major con of this product is the very high price, but as mentioned above, if you're using it to produce commercial levels of weed rosin, then the price could be considered a good investment. The machine is also quite hefty, so it will take up lots of space, but again, this isn't a problem for a commercial operator.
---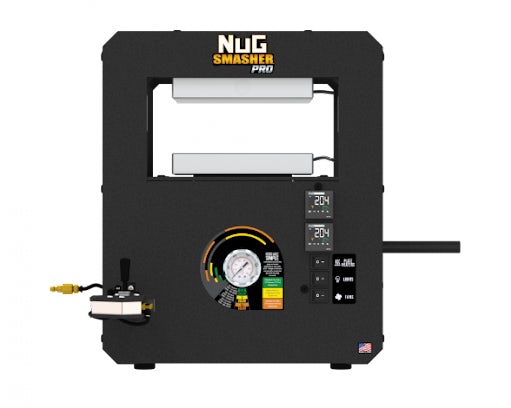 Size: 10 x 19.5 x 24 inches
Weight: 212 pounds
Capacity: 112 grams
Price range: $4,000 – $10,000
Hybrid rosin presses have hydraulic cylinders that help them to operate. You have the option of controlling them by a manual hand pump, a pneumatic pump, or an electric pump. This is obviously where they get their name from and makes them the rosin press type that gives you the most flexibility for how to operate them.
Most of the time, home producers won't need to buy a hybrid press, as the manual or hydraulic presses will most likely be good enough. Commercial producers, on the other hand, will benefit from upgrading to a hybrid rosin press.
The NugSmasher Pro is constructed from high-quality American steel and was designed by a team of top product designers who set out to produce one of the best performing rosin presses on the market.
This press can be simply set up, plugged in, and then turned on for use – making it one of the easiest rosin presses to use. It doesn't require an air compressor to be connected for it to operate, but you can attach one if you want to boost your production levels.
The NugSmasher Pro is easy to operate and provides many options for how you can use it. It is a little on the high side price-wise, but the features and flexibility of the product far outweigh the cost. For these reasons, it is the best hybrid rosin press on the market.
---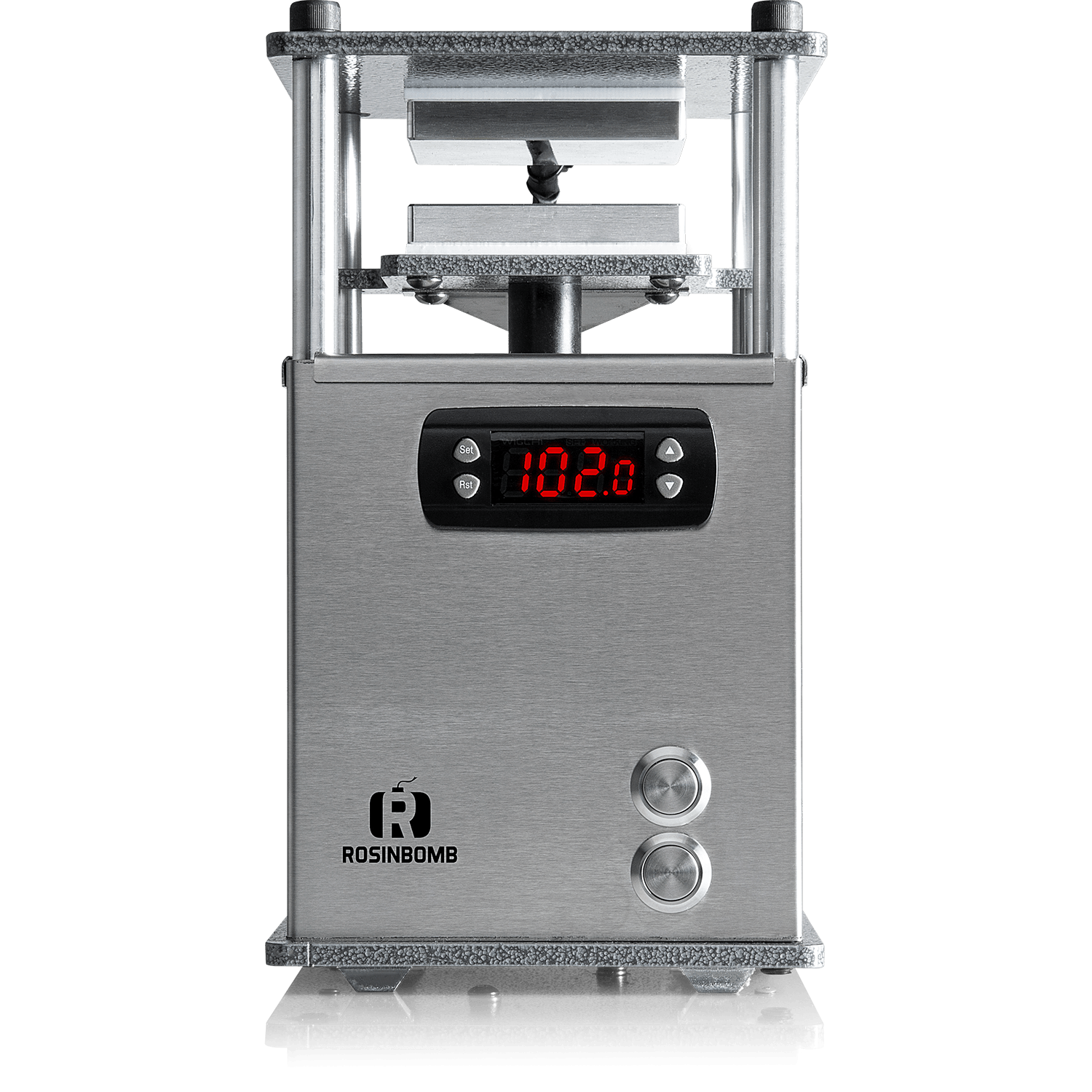 Size: 10 x 6 x 6 inches
Weight: 13 pounds
Capacity: 5 grams/day
Price range: $400 – $600
Electric rosin presses are relatively new devices and have already become quite popular options for people wanting to make their own rosin. They are simple to use and are powered by an electric pump that doesn't require an air compressor.
They are a great option for home producers who don't want to have to use a manual rosin press, and they are relatively affordable, especially when compared to hybrid and pneumatic presses.
Our top pick for an electric rosin press is the RosinBomb Rocket Electric Rosin Press. This small machine is affordable and compact and can be used by anyone with only a minimal amount of knowledge.
The rocket electric rosin is very lightweight at just 13 pounds, so it is easy to transport. Even though it's lightweight, it still manages to produce 1, 500 pounds of pressure when operating and can produce 5 grams of rosin per use – which should be more than enough for personal use.
Overall, this is a compact, affordable, and well-functioning device that you should consider checking out if you don't want to purchase a manual rosin press.
---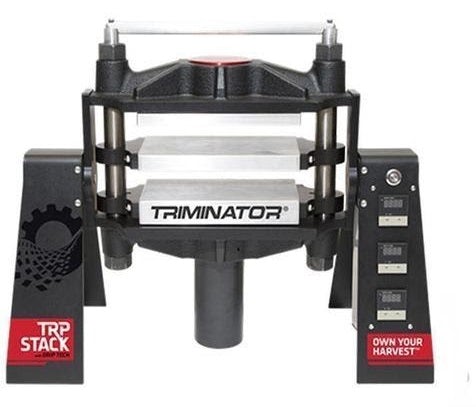 Size: 22 x 27 x 12 inches
Weight: 151 pounds
Capacity: 256 grams
Price range: $4,600+
If you're looking for a rosin press that can pump out huge quantities of rosin, the Triminator TRP Stack is the one for you. This press has 3 plates which is how it can produce so much rosin.
This rosin press is very powerful, with 25 tons of force, and is constructed from high-quality materials. It's the perfect machine for commercial producers who want to get the most production out of their investment in a rosin press.
---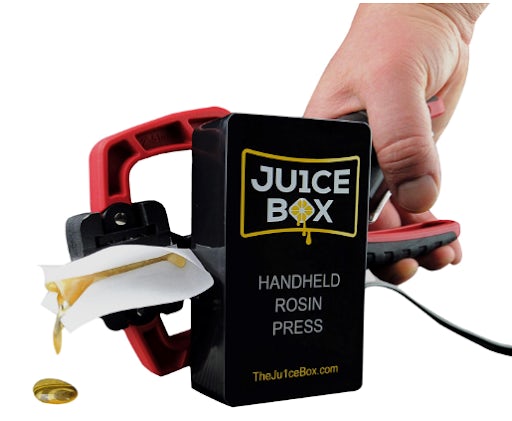 Size: 10.75 x 8.25 x 4 inches
Weight: 2.16 pounds
Capacity: 2 grams
Price range: $175 – $230
If you're looking for a hand-held press, The Ju1ce box Personal Rosin Press might be the perfect fit for you. This little machine is just 2 pounds in weight and can be used to produce 2 grams of rosin per use – which is heaps for personal use.
This device can heat up to 250 degrees Fahrenheit, which is more than enough heat to extract rosin. The sloped plates mean that rosin will be able to flow out correctly onto parchment paper. If you're looking for a cheap and functional hand-held rosin press, give this one a try.
---
Bottom line
Rosin presses can be used for both the personal and commercial production of weed rosin. To find the best rosin press for your needs, ask yourself some questions such as:
how much yield do you require?
how much do you have to spend?
is it for commercial or personal use?
how much flexibility do you want in how it operates?
Once you've answered those questions, you should be able to narrow down your choices.
Thanks for your feedback!
Sign up for bi-weekly updates, packed full of cannabis education, recipes, and tips. Your inbox will love it.