You aren't the only one who loves the discreet, sleek, and precise disposable vape pen experience. According to the latest numbers, the vape pen sector makes up a full fifth of all cannabis product sales in the US.
Yet, shopping for disposable vape pens online can sometimes feel like navigating through a minefield. There are thousands of options, but not all of them come from licensed, reputable brands. Because of the proliferation of disposable hash oil pens on the black market, finding a brand that tests the contents is daunting.
Plus, those cartridge contents are evolving. The best disposable vapes now focus on cannabinoid profile and terpene flavour sourced from whole plant extractions. That means looking for live resin vape pens over distillate.
Live resin options are shockingly hard to find in such a crowded marketplace, which is why we've pulled together a list of the best disposable weed pens currently available.
Please note that most of the products on our list that contain THC cannabis are only available in legal states, mainly California. If you live in a state where recreational cannabis still isn't legal you won't be able to purchase these products. We apologize for the inconvenience, and hope these products will be available in your area soon.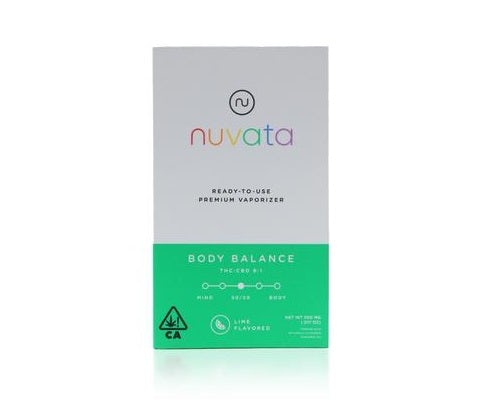 Price: from $40
Size: 0.5 g
Design: all-in-one, disposable
Special features: One of the tiniest vaporizers on the market; dual airflow design for smooth pulls; designed for recycling at participating stores
Nuvata describes itself as a tailored cannabinoid experience with three different live resin blends called Mind, Body, and Balance. They also create strain-specific live resin options, which change depending on seasonal availability, like GG4 (hybrid) and Sour Dubb (sativa).
This brand prides itself on delivering a smooth vaporizer experience with predictable results. That means seamless draws through a dual airflow design and live resin blends that create very deliberate effects.
While it doesn't reveal the secrets behind its unique blends, Nuvata ensures all its batches are third-party tested and represent a full spectrum of whole flower compounds, including minor cannabinoids and terpenes.
---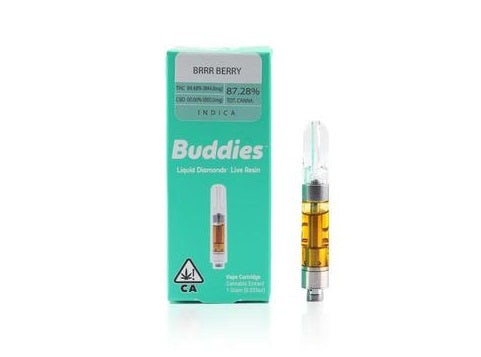 Price: from $30
Size: 0.5 g
Design: all-in-one, rechargeable
Special features: Uncut live resin, free from additives and contaminants; rechargeable micro-USB port for peace of mind; full-spectrum experience
Each iteration of the Buddies All-in-One Liquid Diamonds Live Resin pen comes from fresh flash frozen flower. This method captures all the natural flavours and cannabinoids available in the whole original plant.
Strains, often sourced directly from their own Buddies Farms, include a Purple Thai (sativa), Hippie Crusher (hybrid), and BrrrBerry (indica). Cannabinoid content is high in THC, ranging between 70 to 80 percent with minimal minor cannabinoids listed.
Although often classified as a disposable pen, Buddies helpfully has made their newest line of pens rechargeable via a micro USB cable. This feature means you'll never get stuck with juice in the pen but no more battery again.
---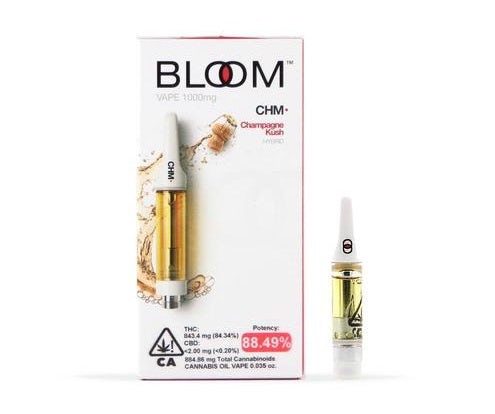 Price: from $25
Size: 0.35 mg
Design: all-in-one, disposable
Special features: Large battery to extend device lifespan; triple flow air intake for smooth inhales; ceramic heating elements to prevent overheating and terpene burn
Bloom is a brand that prides itself on innovation. This passion for innovation is apparent in its stand-out disposable marijuana vape pen design, which has dramatically extended the battery life as compared to other brands. More battery capacity means a much longer vape life span and no risk of running out of juice before finishing the cartridge.
Bloom has also revolutionized the technology behind its disposable pens, with a triple air intake to prevent clogging and a ceramic heating element to prevent burning.
Available in a variety of live resin extracts, including Alien Stomper, Lemon Mojito, Orange Sunset and Tahoe Fire, every pull is a memorable one. Cannabinoid content varies depending on the source material, but expect cannabinoid ratios from high-THC Cherry Berry (92.9% THC, 0.2% CBD) to moderate THC like Orange Sunset Surf (27% THC, 0% CBD).
---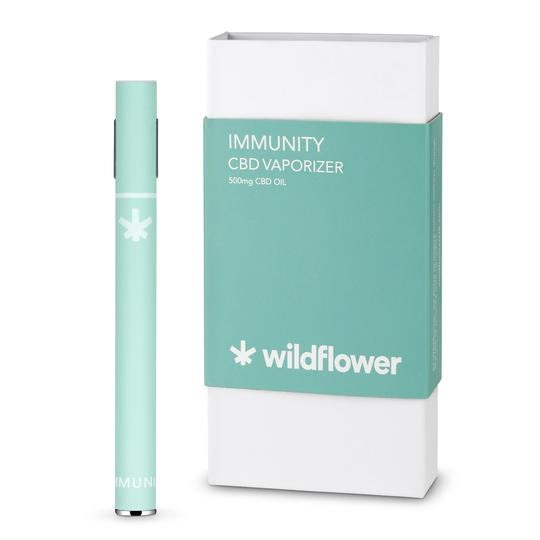 Price: from $25
Size: 0.15 mg
Design: rechargeable, separate cartridges available
Special features: Blends CBD with other botanical ingredients; vegan and cruelty-free; batch-specific lab test results and certifications of analysis are available online
The Wildflower Disposable CBD Vaporizer is one of the only reputable 100 percent CBD vaporizers on the market. Every batch is a beautiful blend of CBD and additional botanicals, targeting specific effects, including Aches and Immunity formulas.
The device itself is technically two pieces, an exclusive rechargeable Wildflower battery combined with your cartridge of choice. However, kits are available so you can launch into a session as soon as it arrives on your doorstep.
Wildflower also puts every batch through extensive testing and posts these batch-specific results online. So it's easy to look up your purchase, to check for lab test results as well as the certificate of analysis. It's a valuable layer of quality assurance.
---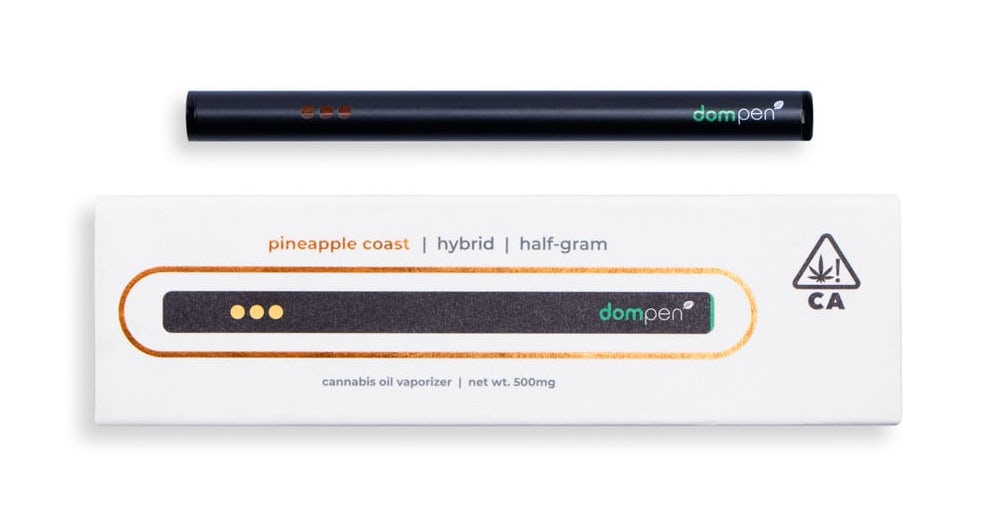 Price: from $30
Size: 0.50 mg
Design: all-in-one, disposable
Special features: Lowest failure rate in the industry; extracts made from premium designer strains; battery designed to outlast the cartridge to ensure every drop gets used
Dompen is one of the pioneers of the premium disposable THC pen model. It has designed hardware that works specifically with their extracts, including their strain-specific and live resin lines. Its live resin options include a sativa, indica, and hybrid.
Although it depends on the original whole flower profile, Dompen vape pens typically have high THC with minor levels of CBD. In addition, they contain a rainbow of terpenes, reflecting the strain-specific bouquet.
This brand has one of the lowest hardware failure rates in the industry, coming in at under one percent. They also helpfully publish test results for every batch online. Both facts demonstrate their commitment to customer satisfaction, quality, and safety.
---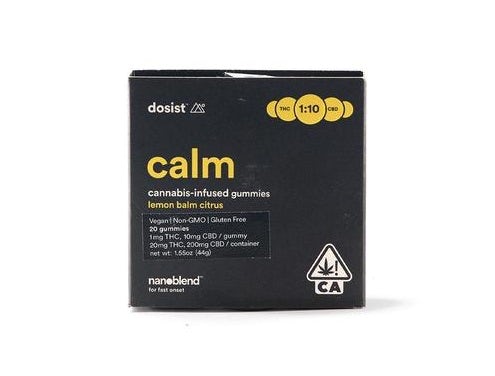 Price: $36 and up
Size: 0.25 g
Design: All-in-one, disposable
Special features: Delivers precision microdoses of 2.5 mg per inhale; consist and predictable between inhales; curated formulas for different applications
As one of the few CBD-focused disposable vape pens on the market, the 100 Dose Dosist option is ideal for a gentle, calming session. Every pen contains 250 mg of a unique cannabinoid formula for a total of 100 individual draws of 2.5 mg.
Dosist prides itself in its weed pen technology, as it ensures every draw delivers a precise amount of cannabinoids. This makes it one of the most controlled and consistent devices available.
This brand has also pioneered their secret extract blends of select cannabinoids and terpenes, designed to deliver specific effects. Their popular products include Bliss, Sleep, Calm, Relief, and Arouse. Many of their vape pens contain high levels of CBD, including Calm and Sleep.
---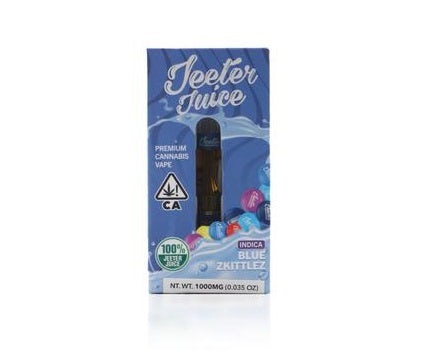 Price: $40 and up
Size: 0.5 g
Design: All-in-one, rechargeable
Special features: Recharging component included to ensure you get every last drop; innovative, straw-like mouthpiece design; extraction preserves all flavour and therapeutic biomolecules
Jeeter, a brand born and raised in South Florida, has created a line of Jeeter Juice Disposable Live Resin Straws. Made from specific strains like Apricot Jelly (79.6% THC) and GMO Cookies (73.64% THC), every straw is pumped full of bright, juicy flavors and lots of THC.
The live resin process preserves all the original flavors from each premium strain and all the therapeutic biomolecules. Because the brand chooses select strains for these live resin pens, the cannabinoid content varies depending on the raw material, but generally, Jeeter focuses on THC-rich strains.
---
What are disposable vape pens & how do you use them?
Disposable vape pens are ready-to-use and non-rechargeable cannabis vaporizing devices. As the name suggests, they are designed as a single-use item, which means they are smaller and more affordable than other vaporizers. Most of the designs mirror e-cigarettes — long and thin, like a ballpoint pen.
Although there are several different disposable vape formats, they all will have a non-rechargeable battery, a cartridge filled with the cannabis extract of your choice (0.5 ml, 1 ml, etc.), a heating element/coil, and a mouthpiece. In addition, some may come with an on-off button, while others may have an advanced design that kicks on in response to your inhale.
Every brand will work a little differently, but any disposable vape pen you purchase should come ready to use. That means you won't have to charge the battery before your first session.
Here's how to use one:
first put the mouthpiece to your lips and inhale slowly
if the device has a button, you may need to turn it on first or press it while inhaling (check the package instructions)
at the end of your inhale, pull the pen away from your mouth and slowly exhale
dose as needed to achieve the desired results
when the cartridge is empty, dispose of the vape pen according to your local municipality rules regarding cannabis and electronic devices.
Because it contains several different components, including a battery, it can be hard to recycle or properly dispose of. But check with your local dispensary. They could have a recycling program for vaporizers.
How long do disposable weed pens last?
This is a difficult question to answer because of the many different variables. The lifespan of your disposable vape pen will fluctuate depending on the brand, cartridge size, frequency of use, and the average length of inhale.
Generally, vape pens come in two sizes: 0.5 ml and 1 ml. Moderate consumers, who enjoy vaporizing at night to help get to sleep, may find their vaporizer lasts for several weeks before being pouched.
If you are a medical cannabis patient treating a chronic condition with ongoing daily use, this might translate into running a disposable vape pen dry in only a few days.
Because every brand is so different, to find out exactly how many doses your vape pen contains, it's best to review the FAQ section on their website.
Regarding expiration dates for disposable weed pens, most reputable brands suggest you consume within a year of production (or test date) to get the best flavour and longest battery life.
How to store a disposable vape pen
When you aren't using your disposable vape pen, store it in a cool, dry place. Extreme temperature fluctuations and high humidity can compromise the battery's integrity and even the contents of the cartridge.
Your disposable weed pens should be fine stored out of direct sunlight at room temperature in most cases. A stash box or a bedside table drawer are two perfect storage options.
Realistically, for anyone who goes through disposable vapes within a month, your vape pen should survive even slightly less-than-desirable environmental conditions.
Most importantly, avoid direct sunlight, high humidity, and extreme temperatures.
Pros and cons of disposable THC vape pens
Like anything, a disposable cannabis vape pen comes with positive aspects but also a few negatives. But despite some of their pitfalls, vape pens continue to capture consumer attention thanks to their extreme discretion and travel-friendly nature. Plus, with the rise of tastier, full-spectrum extracts, consumers are getting better overall experiences.
The largest issue with a disposable vape pen instead of a refillable device is the problem of trying to recycle the components. Depending on where you live, it may be impossible to recycle a multi-component device of this nature, which contains a regulated substance and an electronic aspect. While some cannabis retailers or vape brands have tried to develop recycling programs, these are limited in scope.
Pros of disposable vape pens
Discreet
Highly portable
No batteries required (no charging required)
Easy-to-control dose size
Consistency between products
Predictable effects
Cons of disposable vape pens
Disposable pens are difficult to recycle or properly dispose of
Highly processed compared with the whole flower
Single-use devices
Some brands publish limited information available on technology and contents
Black market rife with untested, unlicensed brands
Going beyond distillate, live resin disposable THC pens
Disposable vape pens are ideal for those seeking consistency between each puff, each cartridge, and every experience. Because they are easy to control, they are also an excellent option for anyone new to cannabis. You can experiment with dose size without too much risk of overdoing it.
Although many brands started out creating high-potency distillate extracts, these days, consumers are asking for full-spectrum live resin options. If you know where to look, you can find reputable brands curating beautiful experiences with live resin formulations.
From Dosist to Dompen and beyond, a growing number of licensed cannabis brands are developing long-lasting and tasty disposable vape pens.
Thanks for your feedback!
Sign up for bi-weekly updates, packed full of cannabis education, recipes, and tips. Your inbox will love it.