Overview
Sometime in the past decade, the cannabis world started to go ape for a new heavy-hitter strain, and then we all decided to glue ourselves to the couch en masse. Gorilla Glue #4, aka GG4 or just Gorilla Glue, is a sativa-dominant hybrid known for its extremely resinous and sticky buds (hence the name), very high THC level, and powerful high. Often imitated and seldom duplicated, here's why we're so stuck on Gorilla Glue.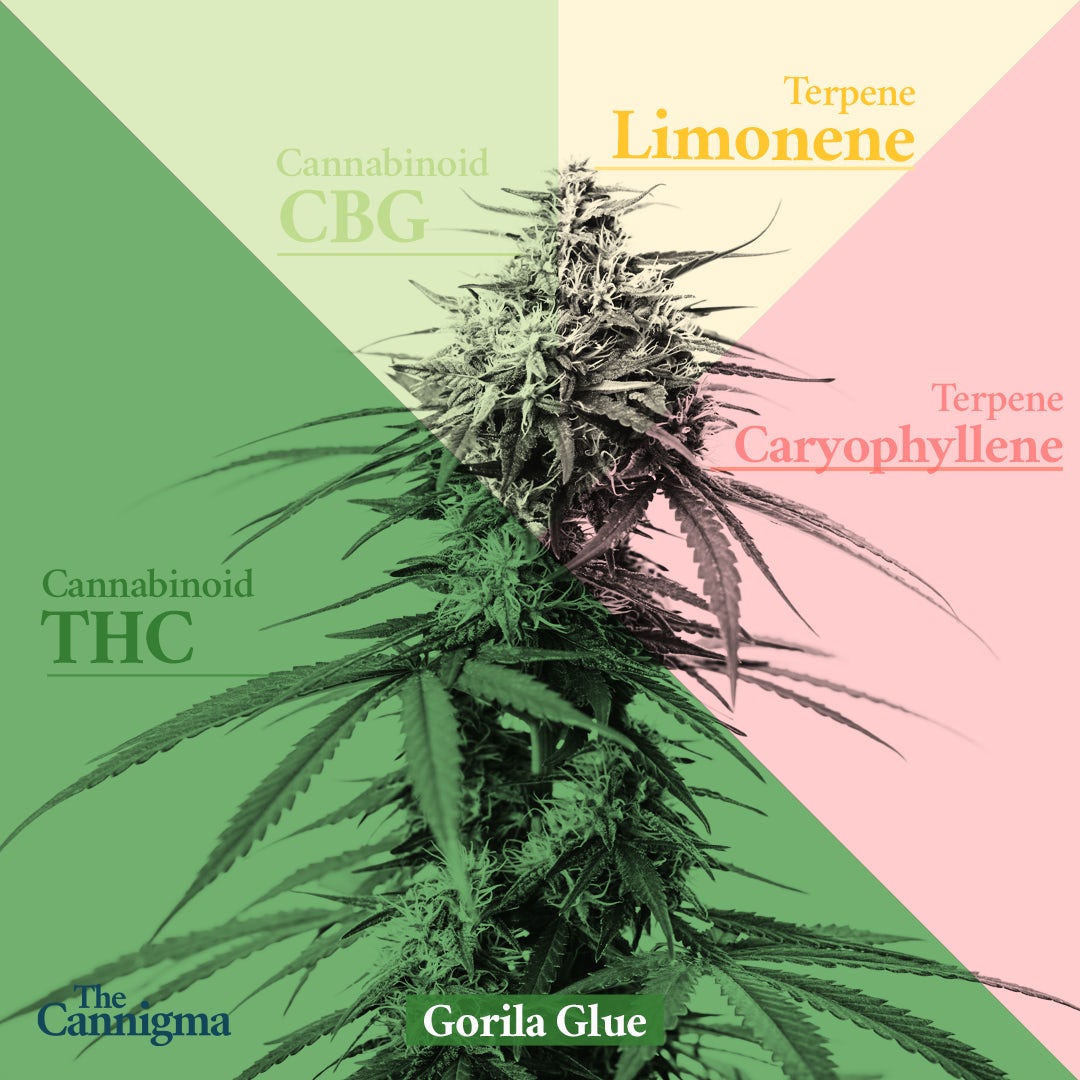 Cannabinoids
THC
CBG
Indica/Sativa/Hybrid
Hybrid dominant
Day/night
May help with
Terpene profile
Spicy
Citrus
Herbal
Earthy
Lineage and general info
Gorilla Glue, specifically Gorilla Glue 4 (GG4) is the creation of GG Strains, a breeder duo that describes itself as "two outlaws" who developed several cannabis strains and "the original breeders of the Original Glue (GG4) formerly known as Gorilla Glue 4."
(The strain is often called "Original Glue" or GG4, in order to avoid any sticky legal situations with the glue company)
They describe the strain's string of awards including the first place finish at the High Times San Bernardino Medical Cannabis Cup in 2014, and the High Times Cup in Michigan that same year — which the strain also won. Other titles in the year to come include the Highest THC and Best Flower awards at Spannabis 2018, and a selection as one of High Times' Strongest Strains on Earth for 2017.
Okay, you're thinking, we get that it's strong, but what else does Gorilla Glue weed have to offer? It has an aroma described as pungent, earthy, and sour, and a fresh, piney, and earthy flavor. It's a full-bodied, immersive smoke, and that's before we even get to the high.
Gorilla Glue #4 is most associated with a couch lock high — but it can be much more. The Cannabist described the high as feeling at first like a sativa head trip, that then turns into a "deep body stone to match a calmer concentration." The sensation is described as balanced but still very stony and fulfilling, content even. The picture is one of a high that combines the best of both worlds — relaxing and stony enough to put you in a tranquil state, while still retaining that cerebral high.
The review states that when you're sampling tons of cannabis strains "it takes something jarring, something so singular in effect to rise to the top. After self-medicating my entire adulthood, this undoubtedly qualifies."
Make no mistake though, Gorilla Glue is in many ways a classic couchlock strain that is definitely better suited for the nighttime, when the chores are done and it's time to get sticky.
The lineage of Gorilla Glue is quite complicated. It's most commonly described as a mix of Chem's Sister, Chocolate Diesel, and Sour Dub.
Cannabinoids and terpenes in Gorilla Glue
There are thousands of cannabis chemovars out there, and no real standards as to how to identify them — basically anyone can grow anything and call it whatever they want. In other words — there are better ways to choose a strain than on the name alone.
The chemical profile you see below is an average of laboratory tests for products called "Gorilla Glue" — so it's just an estimate of what you might find when you buy Gorilla Glue weed. Gorilla Glue is often tested with a high THC concentration (averaging 21.3%) and BCP as the main dominant terpene (0.61%), followed by limonene, myrcene and humulene.
Full chemical profile
Cannabinoids
Terpenes
Spicy
Citrus
Herbal
Earthy
* The numbers in the tables are averages of data from multiple resources
** Terpenes are of pharmacologic interest at concentrations above 0.05%
How Gorilla Glue affects you
Based on user reports, the Gorilla Glue strain often produces relaxation, happiness and euphoria. It may also cause dry mouth, dry eyes, and less often- dizziness. But really, marijuana affects people in different ways. The two main factors are your own biology (your endocannabinoid system, metabolism, age, weight, etc). and the product you choose (including its cannabinoid profile and terpene breakdown, and the delivery method used).
Potential treatment:
That being said, the above chemical profile could potentially help with conditions and symptoms such as
Reported effects
May cause
Gorilla Glue growing tips
Gorilla Glue #4 is a popular strain on seed markets, not only because it's such a well-known chemovar, but also because it can flower in only eight weeks and is a heavy yield strain. And as the name obviously attests, you'll be rewarded with (very) resin-coated premium weed, which is also great if you're looking to make concentrates.
It can grow easily indoors and outside, though it prefers a sunny and warm climate. Gorilla Glue #4 is also known for being resistant to pests and disease.
When growing cannabis, the right seeds can make even an amateur feel (and look) like a pro. With the naked eye, you'd be hard-pressed to tell the difference between regular seeds and those from a prize-winning strain. This is where buying from a trusted seedhouse comes in.
Yield oz/per plant
Yield (indoors) oz/SQF
Indoors
2
Yield (outdoors) oz/plant
Outdoors
21
Harvest time
Harvest time
Mid October
Height (inches)
20-30
30-50
50-70
70-90
>90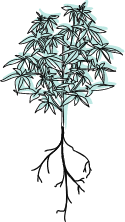 Related Strains
First things first, let's see from where this gorilla evolved. Chem Sis is a variation of Chemdawg, a very famous and well-regarded strain that was instrumental in the breeding of Sour Diesel and OG Kush. Chocolate Diesel — as the name may suggest — is a potent sativa strain that combines genetics from Sour Diesel and the landrace favorite Chocolate Thai. And Sour Dubb? A sativa dominant hybrid that is described as a cross of East Coast Sour Diesel and Sour Bubble.
Bottom line, it's a complicated family tree.
Because of its high-THC and high-resin content, Gorilla Glue #4 has been prized for its genetics by breeders. It has been used for breeding with some of the most popular strains in the world, such as in Gorilla Cookies (a cross with the blockbuster strain Thin Mint Girl Scout Cookies), Gorilla Zkittlez (a cross with the fruity fan favorite Zkittlez), and Gorilla Blue (a cross with Blueberry). But the list is long, and in the time it took you to read this article someone may have bred a new Gorilla Glue #4 cross.
Get Gorilla Glue seeds
Buy now
Thanks for your feedback!
Sign up for bi-weekly updates, packed full of cannabis education, recipes, and tips. Your inbox will love it.