Overview
While Ringo's Gift might bring to mind your favorite drummer or Beatle, this (very) high CBD strain is actually named after Lawrence Ringo, a legendary breeder known as "the father of CBD" in some circles. This strain was created by the Southern Humboldt Seed Collective, through breeding the high CBD strains Harle-Tsu and ACDC. According to the breeding company, it is a sativa-dominant hybrid "that is great for daytime use."
Now, when you hear about a collaboration between ACDC and Ringo this might not be what comes to mind, but with this strain you'll find CBD to THC ratios as high as 24:1, and a mellow, relaxing effect that makes it a very popular strain for people who are looking for medicinal effects without feeling like they got teleported to the Sergeant Pepper's photo shoot.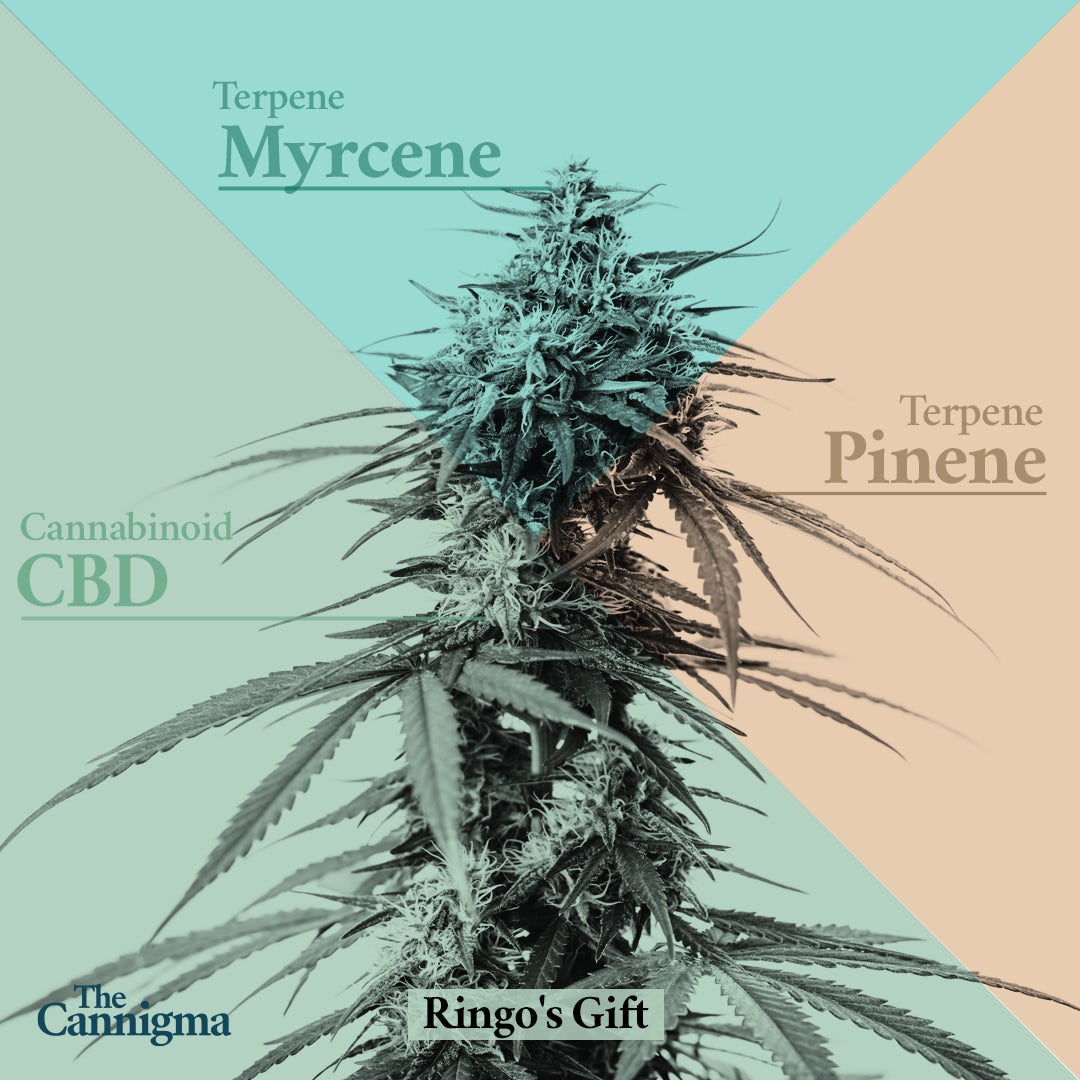 Cannabinoids
CBD
THC
Indica/Sativa/Hybrid
Sativadominant
Day/night
May help with
Terpene profile
Herbal
Woody
Spicy
Citrus
Lineage and general info
It's hard to talk about Ringo's Gift without talking about its namesake Lawrence Ringo, the late master breeder who spent decades growing cannabis in the "Emerald Triangle" in northern California.
Ringo launched the Southern Humboldt Seed Collective in 2010, creating the high-CBD strains Sour Tsunami and Harle-Tsu, among others. By breeding Harle-Tsu and the high-CBD chemovar ACDC, the collective was able to grow Ringo's Gift, a sativa-dominant strain that combines the benefits of Harle-Tsu, without the THC.
Some strains of Ringo's Gift can have 1:1 CBD to THC ratios, but it is most notable for the very high-CBD varieties that can have CBD to THC ratios as high as 24:1. It is described as instilling a sense of creative energy and a euphoric, uplifting sensation. 
That's a pretty mellow effect for a strain grown by a man who reportedly learned how to grow cannabis from a neighborhood Hell's Angels leader, but the cannabis world was a little different back then, especially in northern California.
The taste is described as spicy and minty, while the aroma brings to mind "walking through a pine forest."
Cannabinoids and terpenes in Ringo's Gift
A common misconception in cannabis culture is that you can choose your product by its name or by its sativa/indica origins. But truth be told, that's probably a byproduct of prohibition; in times when everything to do with marijuana happened under the radar, and with no regulation, people needed something to rely on, a system
to make informed decisions. But unlike some other plant-based products, there are thousands of cannabis varieties, each with their own chemical profile, which is in fact the main factor behind the effects of your weed (for both medical and recreational effects).
And since different chemical profiles can have similar names, or have opposite sativa/indica classifications, your best bet is to look at the chemical composition of the specific product you're considering. In particular, look for the main cannabinoids and terpenes.
To help you with this endeavour, we collected the main cannabinoids and terpenes in the cannabis chemovar Ringo's Gift, from a variety of testing labs. Please note that the Ringo's Gift in your dispensary could vary in its chemical composition — the following should just give you an approximation of what you can expect to find.
In any case the best way to choose your cannabis product is to look for its Certificate of Analysis and compare it with what science knows about the main terpenes and cannabinoids in it. This still doesn't guarantee that you'll get the effects you're looking for, but it will at least narrow down your possibilities.
Full chemical profile
Cannabinoids
Terpenes
Herbal
Woody
Spicy
Citrus
* The numbers in the tables are averages of data from multiple resources
** Terpenes are of pharmacologic interest at concentrations above 0.05%
How Ringo's Gift affects you
Depending on the chemical profile of your Ringo's Gift, you can expect different medical and recreational effects.
It could be potentially very beneficial for dementia as there's evidence for CBD, limonene, BCP and pinene as potential treatments for this condition. Other conditions that could benefit from the above chemical profile are, parkinson's disease, multiple sclerosis, epilepsy IBD (crohn's disease and ulcerative colitis), arthritis, stress and inflammation.
The above chemical profile shouldn't produce the "high" usually desired by recreational users, but it should be noted that in case of a higher THC content — one that reaches a 2:1 CBD-THC ratio — CBD can actually enhance the psychotropic properties of THC.
Reported effects
May cause
Ringo's Gift growing tips
Ringo's Gift is described as a moderately-difficult strain to grow, which can flower in as little as 6 to 9 weeks, though 9-10 weeks may be more likely. It can produce yields of around 13 ounces per plant outdoors or roughly an ounce per square foot indoors, and can grow to about six feet tall.
Like other high CBD strains, it takes some TLC, making sure to prune it regularly and feed it lots of nutrients and water. It is described as not very resistant to pests.
There isn't a great deal of material online about growing Ringo's Gift, which is not the most common strain out there. That said, on legendary cannabis grower Ed Rosenthal's website, it is described as being a strain that thrives in soil and should take about 9-10 weeks to flower, with a harvest time of mid-October. It also reportedly does well with temperature changes and is resistant to pests and diseases.
Its parent strains ACDC are very different when it comes to cultivation, with ACDC a difficult strain for beginner growers that requires close tending, mineral supplements, and careful attention to the temperature. Harle-Tsu on the other hand, is considered a moderately-difficult strain to grow, and one that probably shouldn't scare off beginning growers.
Yield oz/per plant
Yield (indoors) oz/SQF
Indoors
1
Yield (outdoors) oz/plant
Outdoors
13
Harvest time
Harvest time
Mid-October
Height (inches)
20-30
30-50
50-70
70-90
>90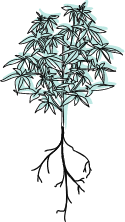 Related Strains
Ringo's Gift is closely-related to its parent strains — ACDC and Harle-Tsu — both of which are high CBD low THC strains. With its much lower THC count it's closer to ACDC, which is also a sativa-dominant strain like Ringo's Gift. Anyone who is used to hybrid high-CBD strains should find it a rather familiar chemovar.
It is also the parent strain for "the Gift", a CBD-dominant hybrid, and Pineberry, which is a cross of Ringo's Gift and Early Resin Berry.
Thanks for your feedback!
Sign up for bi-weekly updates, packed full of cannabis education, recipes, and tips. Your inbox will love it.