Overview
Take two of the most popular and highly-acclaimed high CBD strains, cross them together and you have Canna-Tsu, a hybrid strain that packs a high percentage of CBD into every flower, and is known for its soothing, relaxing properties. Canna-Tsu is an almost perfectly balanced indica-sativa hybrid, that produces a low — but still significant — percentage of THC and is loaded with terpenes.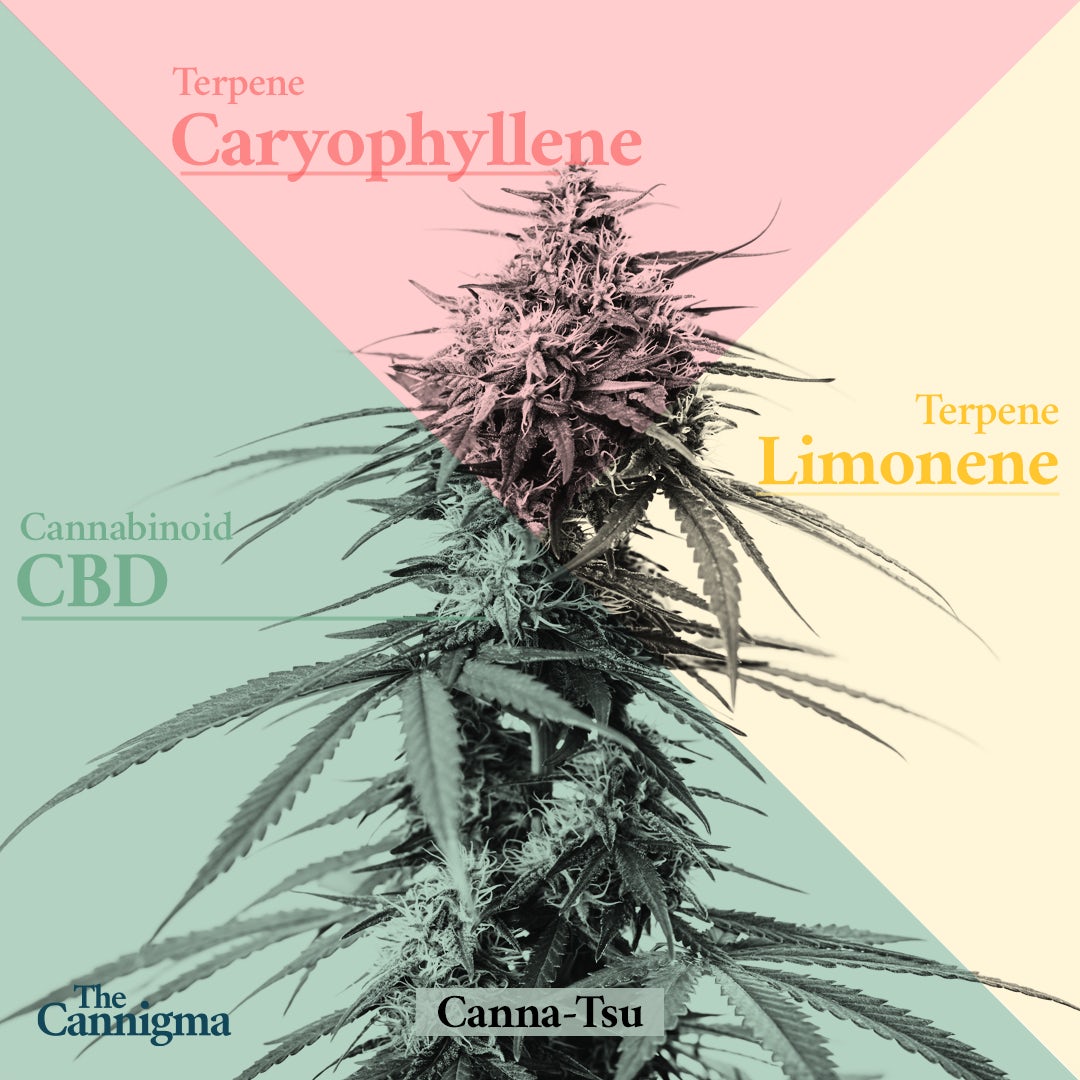 Cannabinoids
THC
CBD
Indica/Sativa/Hybrid
Hybrid dominant
Day/night
May help with
Terpene profile
Spicy
Citrus
Earthy
Floral
Lineage and general info
The Southern Humboldt Seed Collective is often credited with breeding Canna-Tsu. The collective is also known for creating a number of other highly-popular high-CBD, low-THC chemovars, such as Harle-Tsu and Ringo's Gift.
According to the collective, Canna-Tsu was bred by crossing a male Sour Tsunami plant with a clone of Cannatonic, one of the most famous high CBD strains. The collective states that 50% of all Canna-Tsu plants grown should be rich in CBD. 
Unlike some high-CBD strains like ACDC or Catatonic which are virtually bereft of THC, Canna-Tsu is known for actually having a modest amount of the psychotropic cannabinoid. This is perhaps one reason why it's a highly-sought after high-CBD strain.
Canna-Tsu is known for having an earthy, sweet flavor, and a strong citrus aroma. This combined with the not-insignificant level of THC helps make smoking Canna-Tsu a relaxing, immersive experience, without overwhelming you with too stony a feeling.
The buds tend to be rather small and dense, with a light green hue, orange hairs, and a nice dusting of trichomes.
Canna-Tsu is a balanced sativa-indica hybrid, though this characterization is quite subjective. Truth be told, there is no scientific evidence that the effects you can expect from Canna-Tsu – or any chemovar – are linked to whether it's indica, satvia, or hybrid.
Cannabinoids and terpenes in Canna-Tsu
The traditional way to choose your marijuana heavily relies either on strain names, or their sativa/indica origins. But both of these factors are ill-suited to determine how you'll interact with a given product. Sativa and indica are botanical terms, mainly describing the physical characteristics of the plant, but have very little to do with its active ingredients. It's virtually impossible to predict the chemical profile of any plant by looking at it.
The problem with strain names, on the other hand, is that essentially they don't mean much. There's no accepted definition regarding the chemical profile of Canna-Tsu, ACDC, Strawberry Cough, or any other cannabis name. Meaning any marijuana grower can cultivate a variety and call by whatever name he sees fit.
Fortunately, cannabis regulated markets are growing at a very fast pace, which means standards are being implied. In the meantime, you can learn about the properties of the main cannabinoids and terpenes in cannabis, and then use that knowledge to make more informed decisions while examining your product's certificate of analysis. Maybe you won't be able to predict exactly how a given product will affect you (because there are also other factors at play), but it will definitely help you narrow down the options.
The following are the main cannabinoids and terpenes (and their average concentrations) we found in third party laboratory tests of cannabis chemovars dubbed Canna-Tsu. This profile may not be exactly what you'll find next time you encounter a Canna-Tsu CoA, but it should be able to provide an estimation for what you can expect.
Full chemical profile
Cannabinoids
Terpenes
Spicy
Citrus
Earthy
Floral
* The numbers in the tables are averages of data from multiple resources
** Terpenes are of pharmacologic interest at concentrations above 0.05%
How Canna-Tsu affects you
Depending on the Canna-Tsu you get and more importantly on its chemical profile, different effects can be expected. Based on the above profile, the CBD:THC ratio and concentrations might get you a little bit high (or even very high, depending on your tolerance). The variability in terpenes here is impressive. Limonene is thought to be an energizing and stimulating terpene, while BCP and myrcene are known for their calming and sedating effects. If you have access to the CoA, look for the dominant terpenes and try to see how you react to them (not forgetting the THC:CBD ratio though). This could also be helpful for your next time in the dispensary.
The medical conditions and symptoms that could potentially benefit from Canna-Tsu depend heavily on the dominant cannabinoids and terpenes. The range of different conditions that could benefit from the chemical profile above is genuinely impressive: depresion, dementia, parkinson's, epilepsy IBD (crohn's disease and ulcerative colitis, arthritis, stress, pain and inflammation. One particularly interesting condition that this strain could help is obesity, due to the rare combination of limonene-humulene-CBD. These are one of the only cannabis compound combinations that is thought to treat obesity.
Reported effects
May cause
Canna-Tsu growing tips
While it isn't the easiest chemovar to grow, Canna-Tsu doesn't require an expert grower and it's also known for being highly resistant to mold, mildew, and diseases. It grows short and bushy, which means it should be a little easier to maintain.
Canna-Tsu prefers a dry climate, so if you live in a humid or wet area, you might want to consider growing indoors. If growing indoors, make sure to keep a close eye on the humidity levels.
Yield oz/per plant
Yield (indoors) oz/SQF
Indoors
1
Yield (outdoors) oz/plant
Outdoors
11
Harvest time
Harvest time
Late October
Height (inches)
20-30
30-50
50-70
70-90
>90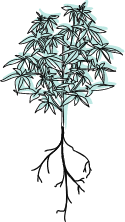 Related Strains
Canna-Tsu is most closely-related to its parent strains — Cannatonic and Sour Tsunami — and the sour, citrusy flavor and aroma should be especially familiar to fans of Sour Tsunami (and those with some experience with Sour Diesel, New York Diesel and the like). Like the strain Harlequin, Canna-Tsu manages to produce a high percentage of CBD along with a small — but still significant — percentage of THC, so anyone who likes high-CBD strains that can also produce a mild, tranquil, and not-too-potent high should find a lot to like in Canna-Tsu.
Thanks for your feedback!
Sign up for bi-weekly updates, packed full of cannabis education, recipes, and tips. Your inbox will love it.