Overview
Don't let the name fool you — this is a cannabis strain you probably won't forget. A potent sativa-dominant hybrid, Amnesia produces an energetic high that can leave you feeling warm and fuzzy, and maybe even forgetting some of whatever's been ailing you. This potent, flavorful strain has been a favorite in the cannabis world for more than two decades and has spawned no shortage of strains with "amnesia" in their name.
A puff or two and you'll see why.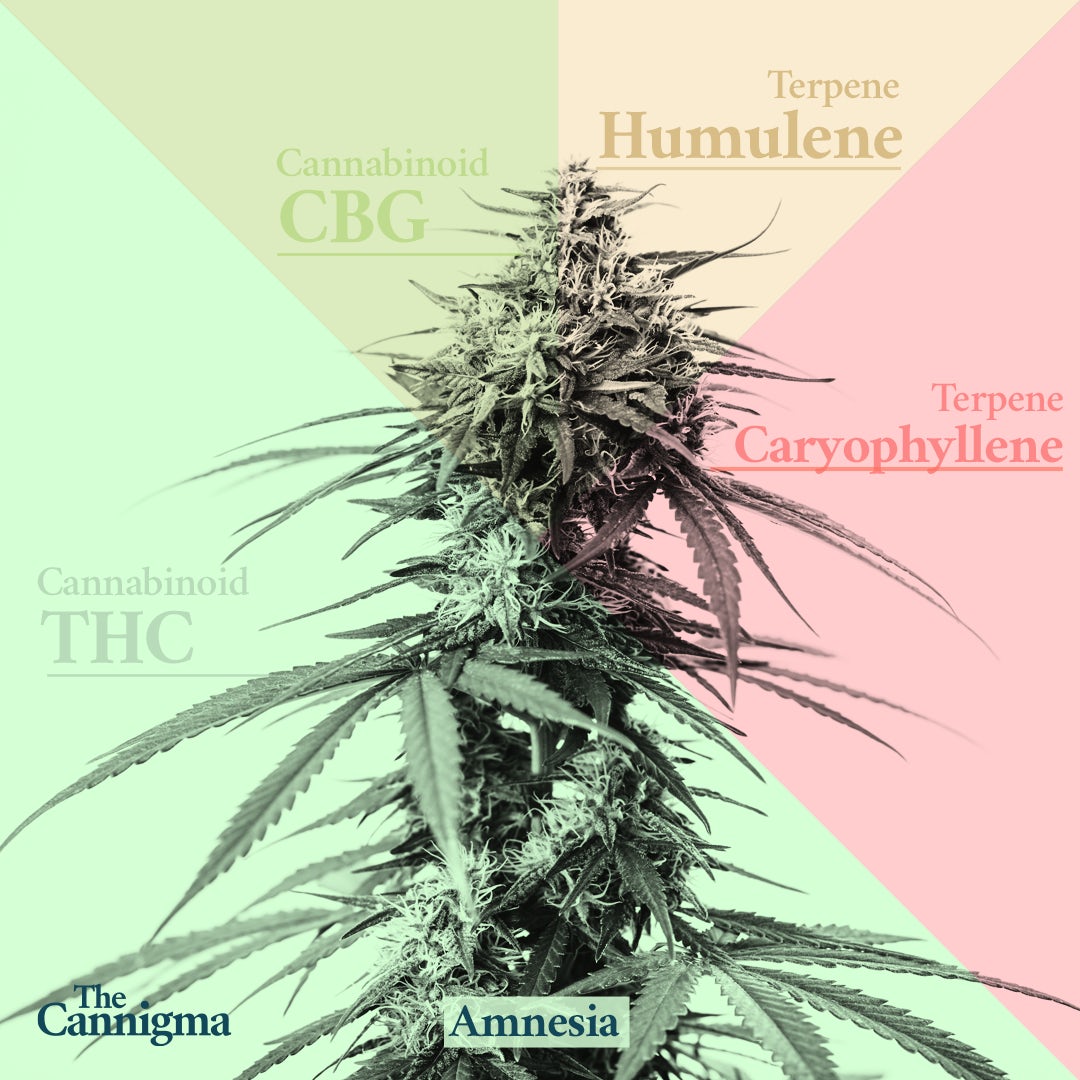 Cannabinoids
THC
CBG
Indica/Sativa/Hybrid
Hybrid dominant
Day/night
May help with
Terpene profile
Spicy
Earthy
Floral
Floral
Lineage and general info
Amnesia has been a star in the cannabis world since the late 90s, with many crediting the Dutch seedbank Super Strains (which bills itself as "Home of the Amnesia") as the first breeder of the chemovar. According to Super Strains, the plant was first created by the company (then called "Hy-Pro Seeds") in the mid-90s in the southern part of the Netherlands, after which it became "winner of the most important cannabis cups year after year."

Other origin stories state that Amnesia was first grown in California by breeder David Paul Watson by crossing Bubble Gum with Super Silver Haze, and this pairing has been accepted by many as the parentage of the strain. Super Strains, for their part, refer to the strain Enemy of the State as "the mother of Amnesia," while others state that its parentage includes Cinderella 99, Skunk #1, and Jack Herer.
It's said to be a pretty evenly-balanced hybrid, though the effects are more those commonly associated with sativa strains. It produces an energetic, cerebral pick-me-up sort of high that's best for when you've got a full day ahead of you, and not so much when it's movie night and the couch beckons. It should be noted though, that there is no scientifically-proven evidence to show that you can tell how a strain will affect you solely based on whether it's an indica or sativa.

Cannabinoids and terpenes in Amnesia
The century-long prohibition on weed has resulted in — among other things — a lack of cannabis research. Meaning most cannabis consumers don't even know what's inside their cannabis, and misconceptions such as indica and sativa varieties being sedative and uplifting (respectively), or the use of strain names, are rife.

Usually when you look at a product you assume its name could serve as an identifier. For instance, you'd expect that a can of coca cola in New York would have more or less the same ingredients as a can of coca cola in Paris, and more importantly, the same experience. This isn't the case with weed. Basically, any one can grow any variety of cannabis and call it Amnesia, there's no standard or trademark on it, no definition for how much THC, CBD or any other cannabinoid or terpene should be in it.

For this reason, we've gathered laboratory tests for cannabinoids and terpenes in cannabis strains called Amnesia, and presented the averages of the most dominant compounds. Rather than trying to define the Amnesia chemovar, we want to give you an understanding for what you can expect. In the end, if you really want to hone in on the cannabis you're going to use, you'll need to look at its certificate of analysis (CoA), and educate yourself about the cannabinoids and terpenes in it. Asking other people about their experience with the same product from the same breeder can also help.

Full chemical profile
Cannabinoids
Terpenes
Spicy
Earthy
Floral
Floral
* The numbers in the tables are averages of data from multiple resources
** Terpenes are of pharmacologic interest at concentrations above 0.05%
How Amnesia affects you
This combination of cannabinoids and terpenes suggests potential use for medical conditions such as pain, inflammation and arthritis. Of course, how exactly this chemovar will make you feel and what conditions it could help with is dependent on the chemical profile of the product you get.

When it comes to the type of high, it's hard to say for sure, but most of these terpenes are characterized as sedative. That being said, it's still unclear how they operate when taken together and if the synergy with THC would produce an uplifting or sedating effect. For instance, terpinolene could be sedative by itself, but uplifting when combined with THC.

In terms of aroma and taste, this profile is high in the terpenes BCP (spicy) and humulene (earthy), but also has some ocimene and terpinolene (both floral). So you can expect it to be spicy and earthy with a floral freshy touch.
Reported effects
May cause
Amnesia growing tips
According to Super Strains, growing Amnesia is easy, and the plant is "almost immune" to spiders and mites. The prolific breeders state that the plant has a flowering time of about 10 weeks and that it can grow tall — as much as 9 ft if grown outside. If you're growing outside, this chemovar prefers a dry, temperate mediterranaean type climate. 

Other sources state that the plant can take about 11 weeks to flower and that it grows a little shorter, just under 6 feet tall. It produces an impressive yield, making this strain something of a no-brainer for growers of even experience level who want to have a rewarding harvest without too many hiccups.
When growing cannabis, the right seeds can make even an amateur feel (and look) like a pro. With the naked eye, you'd be hard-pressed to tell the difference between regular seeds and those from a prize-winning strain. This is where buying from a trusted seedhouse comes in.
Yield oz/per plant
Yield (indoors) oz/SQF
Indoors
2
Yield (outdoors) oz/plant
Outdoors
4
Harvest time
Harvest time
October
Height (inches)
20-30
30-50
50-70
70-90
>90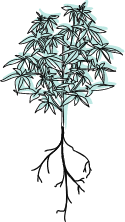 Related strains
This strain will most remind consumers of strong, energetic sativa strains like Jack Herer, with strong, citrusy flavors that bring to mind strains like Super Lemon Haze. While Super Strains states that the indica strain Enemy of the State is the "mother of Amnesia," it's quite a different strain both in terms of its flavor and aroma, and the relaxing high it produces. For the user, Amnesia bears a closer resemblance to another purported parent strain — Super Silver Haze — with its energetic high and citrusy flavor. Another highly popular strain – Amnesia Haze – is also a sativa-dominant hybrid that produces an energetic and potent high, as well as a strong lemon flavor that Amnesia fans will know well.
Thanks for your feedback!
Sign up for bi-weekly updates, packed full of cannabis education, recipes, and tips. Your inbox will love it.