At some point in the last few years, you may have noticed that fewer of your friends are twisting up (or passing joints) and seem to never leave the house without a vape at their side. Portable, easy to use, discreet, and packing a powerful punch — it's easy to see why vaporizers have become so popular in recent years.
When shopping for a vape, in addition to the price and battery life, buyers should keep in mind that most vapes use one of two types of heating: convection and conduction. Conduction physically heats the cannabis, while convection sends hot air through the cannabis, typically producing a better flavor and smoother vape.
We decided to put together a list of the best vapes of 2021 to have at your side as you face whatever this next year has in store. We rated these vapes along several key criteria:
Temperature precision & control
Vapor quality
Value for money
Ease of use
Battery life
Portability

Pros
High powered, produces thick vapor clouds
Durable build
Reliable, easy to use
Precise temperature control
Long-lasting, dual lithium battery
Can be used while plugged in
Cons
Rather large, bulky design and size
Pricier than many competitors
List of Specs
Convection and conduction heating
90-second heat up time
Around ten uses per charge
Charge time: About 2 hours
2-year-warranty
104°F – 410°F (40 – 210°C)
100% satisfaction guarantee
Haptic vibration alarm
Dual lithium battery
Auto shutoff (1 minute after use)
You might still be deliberating which of your friends you'd pick for your zombie apocalypse team, but there should be little debate which vape is the most reliable and best overall to have charged up in your pocket come what may.
The Mighty is very straightforward and easy-to-use, with a clear, simple digital display on the side and easy to use temperature controls. It heats up quickly and produces some of the thickest, most bliss-inducing clouds of any vaporizer. It also puts out a solid 90 minutes of vaping per battery charge.
About the size of a smartphone, the Mighty is a meaty, full-sized portable hybrid vape. This could be a bit of a turn-off if you're looking for a really small vape that won't take up much space in your pocket or one that has the look and feel of a deck of cards. But when holding the Mighty in your hand, the bulk and shape of it just feels well-built, sturdy, something people put a lot of time and effort into crafting. Basically, this is a serious vape.
The Mighty can hold about half a gram at a time and heat up, and be ready to go in about 90 seconds. That's not the quickest on the market, but once the mighty is locked and loaded, it produces some of the thickest, most bliss-inducing clouds of any vaporizer. It also has a very solid battery time of about 90 minutes per charge.
What customers say about the Mighty:
I've used it twice after receiving it today. It was quick, efficient, and easy.

Shannon O, United States
Smooth vapor, great battery life, and it stays cool in your hand.

Michael N, United States
It's really an amazing vaporizer but for the price I'm less than thrilled with the quality.

Ladytoker
---

Pros
Heats up quickly
Very sleek, cool design – with multiple color options
Long battery life
Four temperature settings
Easy to clean
Cons
Rather pricey for a small portable vape
The battery is not swappable
List of Specs
Conduction heating
20 seconds average heat-up time
8-10 sessions per charge
Oven size: 0.3 grams
10-year limited warranty
360°F – 420°F (182 – 215°C)
Charge time: 90 minutes
Bluetooth app
If it ain't broke, don't fix it is a great motto to live by, but when looking at the Pax 3, you can see how a tweak here or there can make a great vape even better.
The Pax conduction vape has been one of the popular vaporizers on the market for years now, and the Pax 3 builds on that legacy by adding a longer-lasting battery, quicker heating time, quicker charge time, and a Bluetooth app to let you remotely customize your Pax 3 to its fullest potential. Also, the device is easy to clean and operate and comes with a 10-year warranty.
The Pax 3 wins for portability because of its small size (4" long, 1" wide, and 1" deep) and lightweight (95 grams) build. It's the perfect shape to slip into your pocket and hit the trails for an afternoon hike or put in your coat pocket next to your keys after pulling a discreet vape at the bus stop. It also doesn't have an exterior mouthpiece sticking out to clutter things.
The Pax 3 doesn't have a swappable battery, and it can be pricier than some other small portable vape options, but its performance, looks, and ease of use more than make up for it.
What customers say about the Pax 3:
Great product design. Really nice and intuitive to use. Fast heat up, great battery life

Kyle B.
Love my new vape. Love the precise temp settings through the app. It's absolutely beautiful. Looks like someone remolded an iPod to vape herbs.

Christian A
Overall not ready to say. There are certainly a couple of things I don't like about it right now primarily the lack of a temperature display and more control, other than using the app. I generally like to partake when I am walking the dog and can't hold the leash, phone, and pax comfortably. App controls are a little ambiguous. I haven't had a good session with it yet, but will try again tonight.

Marc F.
---

Pros
Extra fast heat-up — as little as four seconds
Affordable
Small and easy to clean
Cons
Rather bulky shape
Small bowl
List of Specs
Conduction and convection heating
20 to 30 seconds heat-up time
About 15 sessions per charge
Oven size: 0.15 grams
2-year warranty (except for glass parts)
122°F – 428°F (50°C – 220°C)
Charge time: 3 hours
The Arizer Solo 2 vaporizer is a convection and conduction hybrid that advertises lightning speed — which should have you ready to inhale in as little as four seconds.
This compact vaporizer is an improvement on the original Arizer Solo, with a bright LED display for controlling the temperature and other options. The company has also improved the airflow, which along with the pure glass mouthpiece, provides some of the smoothest, tastiest hits of any vape.
We named Arizer Solo 2 the best vape for battery life because it gets about 15 sessions per charge (or around 150 minutes). Also, the vape can be used while it's charging, and its auto-shutoff function should help boost your battery life even more.
The Arizer Solo 2 is very straightforward and easy to use and consists of only two pieces that can be taken apart and cleaned in a snap. It's not the best size or weight for a portable pocket vape, and with the long glass stem coming out of the end, it's pretty hard to discreetly vape with the Solo 2. It also has a relatively small bowl. That said, it definitely gets our best parks for battery life and produces some great tasting vape clouds.
What customers say about the Arizer Solo 2:
The solo 2 has excellent build quality and it looks so sick in the mystic blue color and also feels very nice in my hands. The taste you get out of the solo 2 is amazing and the clouds are also really big.

Rayyan
It is one of the remarkable quality vapes and has a great performance with all types of herbs. I was recommended by the doctor to consume herbs for medicinal purposes and I am using Solo 2 as my first and every lasting device which helps me to consume herbs easily.

Tyler
It is showing pretty portable on the website but it's not at all. I have purchased my Solo 2 for traveling purchase as it has a good battery life of 3 hours but it's very bulky and not pocket-able at all.

Erin
---

Pros
Very compact
Extra smooth tasting vapor
Smartphone app
10-year warranty
Cons
Long charging time
Lots of small pieces that could be tricky to clean
High price – around $300
List of Specs
Conduction
Less than one minute to heat up
About 6-10 sessions per charge
Oven size: 0.5 grams
10-year warranty
175°F – 430°F (80°C – 220°C)
Charge time: 6 hours (3 hours with DaVinci Fast Digital Battery Charger)
The DaVinci IQ 2 is a sleek, small, all-metal exterior vape that can really pack a punch.
The IQ 2 is easy to use, with four smart path modes with preset temperatures that will gradually increase the temperature during an 8-minute session. It also comes with a sophisticated mobile app that can even time your inhalations and, depending on the strain of cannabis, tell you how much THC and/or CBD it estimates you consumed.
The all-zirconium ceramic vapor path and ceramic oven inside the device creates a smooth, tasty vape throughout each session. The oven can also be customized to hold more or less herb.
The vape takes a little less than a minute to heat up and should provide enough juice for 6-10 sessions per charge. The charge does take a while – about 6 hours – though you can get it charged in 3 hours with the company's fast battery charger (sold separately).
The DaVinci IQ2 is a bit pricier than a lot of the competition, and it's full of small pieces that can make it a bit of a pain to clean. Nonetheless, it comes with a 10-year warranty, a really easy and elegant user experience, and is the perfect size to join you wherever you're heading.
What customers say about the DaVinci IQ2:
It's an excellent device and it does the job as it is supposed to do. I really love the Smart path feature, which slowly raises the temperature over a 2-3 minute time period. That's a pretty great feature as it allows you to slowly get more out of your herbs before they are fully consumed. The vapor and flavor quality is also great.

Gabbi
The IQ is the best dry herb vape I have tried. Great flavor, easy to use, great controls and displays. However, cleaning is slightly more of a chore than I anticipated.

Thor
I couldn't get hits despite reading and watching numerous tutorials. I thought the Davinci IQ 2 was reliable, but it's not. Pretty bad experience with it so far.

Nico
---

Pros
Great tasting vapor
Can heat up in only three seconds
Very compact
Easy to clean
Quick recharge – around 45 minutes
Cons
Relatively expensive
Smaller bowl size
List of Specs
Convection
Heats up in around 5 seconds
About five sessions per charge
Oven size: 0.15 grams
2-year warranty
200°F – 500°F (93°C – 260°C)
Smartphone app
Charge time: 45 minutes
The Firefly 2+ took what was great about the Firefly 2 and kicked things up a notch, increasing the airflow by 33% so that it makes some of the richest, cloudiest vapor hits you can find.
One of the best features of the Firefly 2+ is the warp speed "dynamic convection" vaporizer that heats up and is ready to vape in about 5 seconds tops. It also makes use of a great mobile app for precision operation.
The vape is a cinch to take apart and clean, and it has a sleek, attractive design, and it isn't overly bulky.
If there are two main knocks against the Firefly 2+, it's the relatively high sticker price and the fact that the bowl is pretty small. Also, while the battery only takes about 45 minutes to charge, it also doesn't last as long as a lot of other vapes.
What customers say about the Firefly 2+
This is my first time buying a vaporizer, and I absolutely love this one. I didn't find there to be too much of a learning curve, as long as you follow the tips and tricks. The first pull I took was the cleanest and best-tasting hit I ever had. My only con is that the battery doesn't last very long, so a spare is necessary if away from home; otherwise, totally worth the investment.

Sharon
I am happy with the device as a working vaporizer. Took a little bit of time to get used to. Now that I got the hang of it, I'm getting big rips from

Urijah
There's potential here, but it's held back by its learning curve and terrible battery life.

Tyler
---

A lot of what makes the Pax 3 our selection for best portable vape can be seen in why it's also our best discreet vape option.
The Pax 3 is small and fits easily into the palm of your hand or pocket, and it heats up and is ready to go in a flash for a quick-draw vape hit. And because it only has one button, you can blindly flip it on in your pocket without looking.
Also, it doesn't have an obvious mouthpiece protruding out of it to gather attention.
If there's one knock, though, it's the fact that some of the odor can seep out of the mouthpiece/bowl after you're done vaping, though not much.
---

Pros
Affordable
Very durable
Can heat up in only 5-10 seconds
Very compact
Easy to clean
No battery or need to charge
Cons
Can be damaged if you heat it for too long
Smaller bowl size
Requires an external heat source (a lighter)
The DynaVap VapCap is, without a doubt, a vape like no other. More akin to an old-school metal one-hitter than an electric vape, it is a battery-free device that never requires charging and is perfect for microdosing cannabis.
All you need to do is palace your dry herb or concentrate inside the DynaVap, cover it, and then hold a lighter underneath the end of the DynaVap until you hear a "click" signifying that it's ready to vape.
When it cools down, give it another pass with the lighter until you hear the click, and so on.
The DynaVap isn't a great option for anyone looking for the bells and whistles (and features) of today's more involved vapes (like the Mighty or the Arizer Solo 2, and so on), but it's perfect for anybody who likes to dose a small serving of a couple of hits and get on with their day. The DynaVap is small, very durable, and easy to carry with you anywhere you go. It's also a cinch to break apart for cleaning.
Two drawbacks, though: You can damage the DynaVap if you heat it for too long (so pay attention for the click), and you'll always need a heat source (a lighter) on hand. That said, you won't ever need to charge your battery, so we'll call it even.
What customers say about the DynaVap:
This has completely changed the way I consume my herbs. It has made me switch over to vaporizing exclusively. Extremely satisfied with my purchase.

Marcel N
Small, efficient, potent, customizable, unwieldy, takes time to master. It's all true. Felt better starting with this *knowing* with some torch practice the Vapcap will perform, vs rolling the dice on liking a battery-powered vape.

David A
Not bad but looking for less draw resistance and effort in a vape

Alex L
---

When it comes to vaping, there's little the Storz & Bickel Mighty can't do.
The "Mighty Medic" bills itself as the first medically-approved portable vape, and it has received a certificate from TUV SUD indicating that it meets all of their relevant safety requirements. It has also received similar certification from Health Canada and from the authorities in Israel.
The medical version has all the same basis as the standard Mighty, and one can grasp how they would be of assistance to a medical patient. It comes with dosing captures to quickly and cleanly fill it with an exact dosage and also a disposable lip piece for the mouthpiece which can be used in order to reduce the risk of contamination in the interior of the cooling unit.
Mainly though, a medical patient can benefit from the fact that the Mighty is very reliable, very easy to use, and has a clear, straightforward user interface for controlling the temperature and just turning it on and off.
---

Pros
Perfect for entertaining
Very durable build
Heats up quickly
Cons
List of Specs
Convection and conduction
Heats up in one to two minutes
Oven size: 0.5 grams
3-year warranty
104°F – 446°F (40°C – 230°C)
100% satisfaction guaranteed
Mobile app
It would be remiss to cover only portable vapes, especially when you have the Volcano available for review. Brought to you by Storz & Bickel, the same company that makes the Crafty and the Mighty, the Volcano is nothing less than an icon, the forced air tabletop vaporizer that set the standard for vaporizers way back with its release in the year 2000, long before personal portable vaporizers became all the rage.
There are two types of Volcanoes available: the classic and the hybrid. The hybrid, billed by the company as "the reinvention of an icon," offers a rotatable tube system for inhalation, a handy digital display, and heats up much quicker than the classic version – though the company says you should set aside a minute or two, which is a good bit longer than most portable vapes.
It also makes use of a special Android app that you can control via Bluetooth. The Volcano Hybrid can be used for dry herb, waxes, and oils and is very easy to clean. It also comes with a new digital display to let you know the precise temperature you're working with.
The Volcano will set you back significantly more than just about any portable vape, but it is built to last with the type of fine craftsmanship and attention to detail that Storz & Bickel are known for.
What customers say about the Volcano Hybrid:
I finally bit the bullet on buying one of these after at least a decade of wanting one, so of course, I opted for the newer model. I'm glad I did, because the control you have plus the extra accessories really make it unbeatable.

Josh Mather
It rips through product super fast but the quality it gives is amazing and if you tinker with the setting you can make it so you're not wasting a lot of stuff that you put in so it's an amazing product just slightly pricey.

Pawel Trzezwinski
Received my item 3 days ago not happy at all rips through the material fast hardly any vape from the bag and the whip dosent seem to be getting as hot as it should

CP
---

Pros
Affordable
Attractive and easy digital display
Great tasting vapor
Fast charging
Quick heat up
Cons
Not the most discreet or pocket-ready size
No removable battery
List of Specs
Convection and conduction
Heats up in about 20 seconds
Oven size: 0.25 grams
3-year warranty
100°F – 430°F (37.7°C – 221°C)
100% satisfaction guaranteed
If you're looking for a solid, reliable, and great tasting vape that's easy to use – the Boundless CFX has you covered.
The Boundless CFX has a very quick heat-up time of about 20 seconds – but the battery also charges in only about 30 minutes and should last you at least ten sessions. Also, from the very first pull, you can expect very nice clouds of delicious vapor.
One of the best features of the Boundless CFX is that it isn't very testy – you can put a small or large load, loosely or tightly-packed, fine or poorly ground – and it will work well all the same.
The Boundless has a size that isn't the most pocket-friendly, which, along with its digital display, means it probably isn't your most discreet option, but it's one that is very easy and reliable all the same.
What customers say about the Boundless CFX:
I was looking for a portable that had a bigger oven, and the staff at POV recommended this item. It was everything they promised, and it was my go to vape appliance.

Daniel A
Having owned several vaporizers, I have to say that hands down the CFX is the best vaporizer for the value. It's simply one of the best-designed vaporizers I've used.

Captain Spastic
Didn't like it and couldn't get a good hit.

Dennis O
---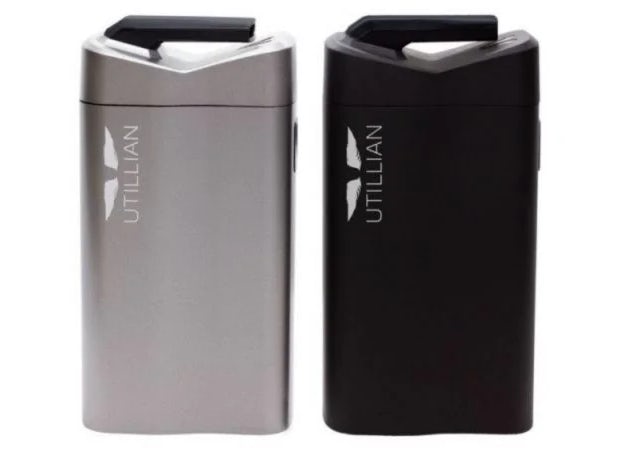 Pros
Affordable
Fits in the palm of your hand
Very easy to use
Glass mouthpiece produces a cool, tasty pull
Built-in airflow control
Long battery life
Cons
Single button interface may take some getting used to
Doesn't have the same heft as other vapes
List of Specs
60 minutes of battery per charge
Auto shut off after 7 minutes
Six temperature settings (356°F – 446°F (180 – 230°C)
60 second heat time
One year replacement limited warranty on all electronic components
Digital display
Airflow control
Convection heating
Oven capacity 0.3 grams
Reviews:
If you're looking to get into dry herb vaping but don't want to break the bank, the Utillian 722 vaporizer is a great affordable option that doesn't skimp on quality.
The vaporizer has a solid build and design for its price point, and has a nice, countered anodized aluminum body that looks almost like a liquor flask and fits perfectly in the palm of your hand.
The Utillian 722 features a glass mouthpiece to help provide tasty, cool hits, and an airflow control option on the bottom of the vape to help customize your vaping session. It also has just a single button to operate it, and six programmed temperature settings you can cycle through.
The vaporizer also provides a very respectable 60 minutes of use per charge, and automatically shuts off after 7 minutes to save battery life.
The bottom line? The Utillian 722 is a great option, especially for the price. The company didn't skimp on quality and produced a very solid dry herb vaporizer that goes above and beyond the price point.
---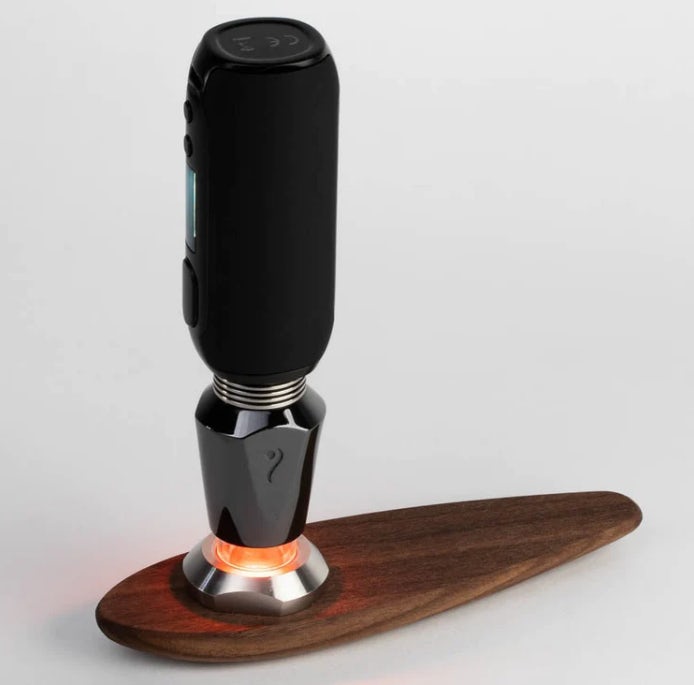 Pros
Sleek, modern design
Preserves terpene profile
Stays clean longer
Adjustable experience
Atomizer heats up quickly
Cons
Not the most affordable
Takes practice to use
Used best as a pair
List of Specs
True convection-only heating
Heats up in less than 30 seconds
Single battery charge can work for up to 25 sessions
Oven size: 0.2 grams
1-year warranty
Dynamic temperature control: 100°F – 450°F (37.7°C – 232°C)
Perfect for the cannabis connoisseur, the Terp Surfer and Neo Atomizer are the vape duo of the future.
Forget burning your throat and cleaning sticky resin out of your bowl. A sleek magnetic metal and wood design on the Terp Surfer is easy to clean and purposefully reminiscent of a surfboard, encouraging you to "surf" the full spectrum of flavors in your cannabis. Both the Terp Surfer and the Neo can be used independently, but they're best used together to preserve and highlight the full spectrum of terpenes in your weed, delivering an unmatched flavorful experience. The Neo allows for a customizable experience based on the power setting and also by how hard and fast you inhale.
This combination is best for experienced cannabis consumers, particularly flower lovers who appreciate the ritual of smoking but want to dive deeper into the flavor profile of their weed. The Neo can lightly vaporize just the terpenes off your herb on lower setting, or it can be used at the highest setting to give your weed a good toasting and create thick vapor clouds. It takes a few tries to hang the hang of using these pieces together, but once you have it down, there's no going back.
What customers say about the Terp Surfer & Neo Atomizer 
I'm a longtime old-fashioned toker, and it took a moment to get the hang of the Neo, but boy am I glad I stayed the course! The revelatory tasting experience, the bright high…the Neo and the Terp Surfer bring out the best in my humble homegrown herb.

Alice B
I'm very impressed with the design and engineering of the device as well. The single-button operation is great and swappable batteries are a plus too. I'd highly recommend this device as an addition to your cannabis consumption routine, it's a truly unique and wonderful experience.

Ethan O
---
How to use a weed vaporizer
Some dry herb vapes have some added bells and whistles or names we can't pronounce but most still follow the same basics. Here's how to use a vaporiser:
Grind up a small amount of cannabis flower, about the size of a jellybean or a couple of Tic-Tacs or whatever similar-sized candy works for you here.
Place the herb in the oven of the vaporizer and seal it.
Turn on the vape and set it to the temperature you prefer. At a higher temperature you should get a bigger hit with more vapor, but it may also burn off some of the terpenes, costing you some of the flavor of the cannabis. It can also be a bit more harsh.
Once you get to the temperature you want, place your lips on the mouthpiece and slowly and steadily inhale for about 5-10 seconds and then exhale slowly.
A couple things to keep in mind about vaping
It's not a pipe, don't power hit the vape
The idea is to "sip" the vape, gradually taking in the vapor in a steady, mellow motion. Also, vaporizers typically produce smaller clouds on the exhale than a well-hit pipe. Wait and see how you feel in a couple minutes and let that be the judge of how it worked.
Different temperatures and different effects
If it's your first time, consider starting at a low temperature and then gradually move up depending on the results. At the lower temperature you should get more of the flavor of the herb and a less harsh inhale. And if it isn't strong enough, you can always turn the dial up a bit.
How to clean a weed vaporizer
A key part of any long-term relationship with your vaporizer is making sure to keep it clean. Luckily, it's usually quite easy to do.
Take apart the vape
Turn off the vape and completely disassemble it. Then set all of the pieces out in front of you on a table.
Clear out the oven
Open the vape oven and gently dump out any lingering herb. The vape probably came with a cleaning brush which you can then use to further clean the insides of the oven.
Clean the mouthpiece
Get inside of the mouthpiece and clean out any built up gunk or small pieces of herb.
Throughout the cleaning process, you may want to consider using a solution to wipe down all surfaces with a cleaning solution. Isopropyl alcohol can be very effective, but it can damage plastic or wooden parts.
You can either place the disassembled pieces into an alcohol bath to soak and then clean and rinse them afterwards, or use a cotton pad or cotton swab with some alcohol to wipe down and dig out all the nooks and crannies.
Either way, you'll want to rinse well and then let the vape dry completely before using.
Also, after you have reassembled the vape, let it run at a high temperature for a few minutes to burn off any alcohol residue.
Why vape weed?
No smoke involved
Because vaping doesn't involve inhaling smoke, it is considered less harmful than smoking. Also, because there is no smoke, it won't leave that lingering scent on your clothes or hair.
More discreet
Vapes do produce an aroma, but it is far less strong than cannabis smoke. This coupled with the fact that it doesn't leave the smell of smoke on your clothes makes dry vaping a much more discreet option than a joint or a pipe.
Potentially better flavors and dosing
Vapes can allow users to nail their dose with a higher level of precision. Some can even allow the user to calibrate the amount of THC they want to inhale – down to a single milligram. In addition, because the herb isn't combusted, it will retain more of the terpenes and flavonoids potentially giving you a tastier experience.
No need for a lighter, more portable
If you've ever tried to stuff a pipe and lighter into your pocket, or a joint, then we know your pain. The pipe stinks up your pants (if not a whole lot more) and the joint can easily bend and break or spill loose weed in your pocket. With a vape though, you can easily slip it into your pocket and hit the road, making them a perfect travel option. Also, because they don't require a lighter, you never have to worry about a strong breeze, meaning you can easily take a few pulls on the beach or sit on your couch under the ceiling fan without any problems. Also, if anyone steals your lighter, it's really not a problem.
Thanks for your feedback!
Sign up for bi-weekly updates, packed full of cannabis education, recipes, and tips. Your inbox will love it.