Overview
You'd think a cannabis strain that has the same name as a sewer-dwelling killer clown wouldn't be the type to mellow you out, but you'd be wrong. Pennywise is an indica-dominant, high-CBD cannabis variety that still packs enough THC to get you high, with a nice and fuzzy feeling that could even have you dozing on the couch right after the paper boat scene at the start of Stephen King's It. Pennywise is a prized cannabis variety for users looking for the medicinal benefits of CBD.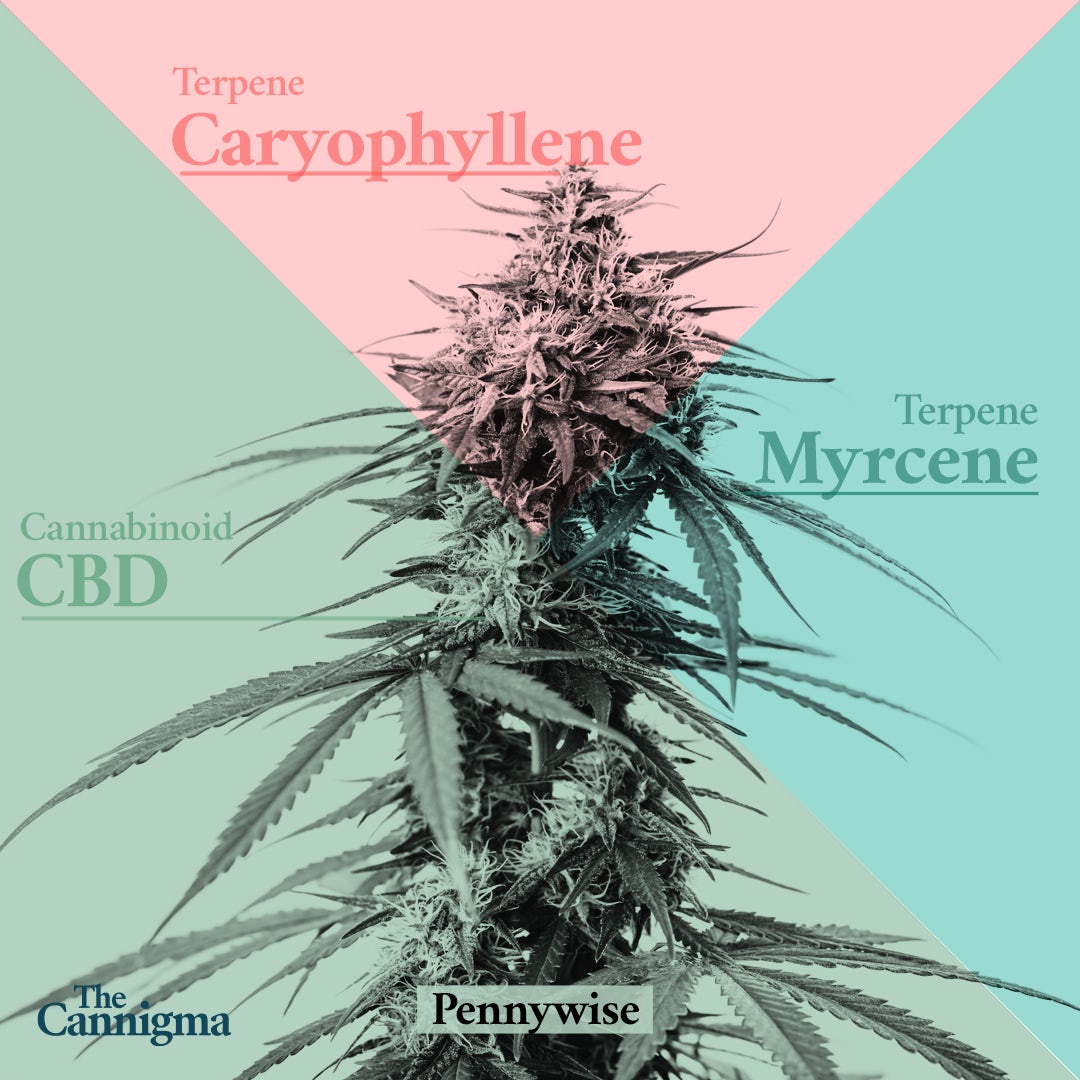 Cannabinoids
CBD
THC
Indica/Sativa/Hybrid
Hybrid dominant
Day/night
May help with
Terpene profile
Herbal
Spicy
Woody
Earthy
Lineage and general info
Not to spoil the fun, but the Pennywise name is not an homage to the Stephen King horror novel. It's actually derived from the parentage of the chemovar, which was bred by crossing Harlequin and Jack the Ripper, hence, a murderous clown. Harlequin is a highly-popular, sativa-dominant high CBD chemovar bred by crossing a number of landrace strains. Like its child plant, Pennywise, Harlequin is also known for moderate THC levels, not enough to zonk you out entirely but enough to feel a pleasant high. Jack the Ripper on the other hand, is a lively sativa-dominant hybrid known for a strong, cerebral high and a powerful, citrusy flavor.
Mix it all together and what do you have? A strain with a lot of the benefits of CBD and a nice high, that's great for late in the day when you're unwinding. 
Pennywise is thought to have hints of Jack the Ripper's citrusy flavor, with strong notes of pepper, coffee, and even bubblegum. The aroma is described as dank and earthy, and Pennywise is known for also producing thick smoke that could be a bit harsh. It's a strong sensory experience, and part of what makes it a memorable strain.
Pennywise is an indica-dominant strain, but that doesn't mean you can expect specific effects. Truth be told, the terms sativa and indica, when used to predict the type of effects a cannabis variety might produce, are actually quite subjective — there's not much science to it. Like with any strain, when it comes to Pennywise, the THC to CBD ratio, the terpenes count and the smell and flavor are all better ways to gauge if this is the right chemovar for you.
Cannabinoids and terpenes in Pennywise
There are thousands of cannabis chemovars out there, and no real standard when it comes to how each of them is defined. This means that anyone can grow anything and call it whatever they want. The cannabinoid and terpenes content of cannabis chemovars such as Pennywise has never been defined, so when you get your hands on some of this strain, it's hard to know what to expect.
The following is the average content of the dominant cannabinoids and terpenes in laboratory tests that looked at products named pennywise. Just to be clear, these aren't carved in stone — this profile is an estimation for what you can expect when looking for Pennywise.
According to the lab reports we found, Pennywise is a relatively balanced strain with similar levels of THC and CBD. Myrcene and BCP are the most dominant terpenes, followed by pinene and humulene in lower amounts.
Full chemical profile
Cannabinoids
Terpenes
Herbal
Spicy
Woody
Earthy
* The numbers in the tables are averages of data from multiple resources
** Terpenes are of pharmacologic interest at concentrations above 0.05%
How Pennywise affects you
There's some evidence that a higher ratio of CBD to THC (around 8:1 or higher), can result in CBD countering the effects of THC. But in lower ratios such as 2:1 CBD-THC, CBD can actually enhance the intoxicating effects of THC. So keep this biphasic effect in mind when you're examining the CoA of your Pennywise.
In terms of the type of high you can expect, really it depends on the dominant terpenes you're getting. Myrcene is thought to be very sedative, meaning that if your Pennywise is high enough in THC, it could produce a nice couch-lock thanks to the THC-myrcene combination.
When it comes to medicinal applications, depending on the dominant compounds, this chemovar has the potential to help a variety of conditions, most notably inflammation, arthritis, dementia and pain.
Other conditions include stress, Parkinson's disease, Crohn's disease, ulcerative colitis, insomnia, multiple sclerosis, arthritis, pain and inflammation.
Reported effects
May cause
Pennywise growing tips
There are four different phenotypes of Pennywise, and growers shouldn't be surprised if their plants come out looking quite different. The buds may be longer or shorter and more rounded, and some may be purple accented, or light green. All will still have the same chemical makeup though.
Pennywise is a rather easy chemovar to grow and can thrive both indoors and outside. It is resistant to mildew which can make it easier for beginners to manage. This is partly because of its Harlequin parentage, and partly because of its origin in hardy landrace strains that can stand up to natural adverse growing conditions.
Pennywise should flower in about 9 to 10 weeks, and you should expect a medium-sized yield of around 12 ounces per 3 feet by 3 feet indoors or about 16 ounces per plant if grown outside. The plant grows short to medium height, so it should not be the most conspicuous plant to grow outside.
Yield oz/per plant
Yield (indoors) oz/SQF
Indoors
2.5
Yield (outdoors) oz/plant
Outdoors
16
Harvest time
Harvest time
October
Height (inches)
20-30
30-50
50-70
70-90
>90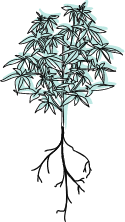 Related Strains
Pennywise is most closely-related to its parent strains – Harlequin and Jack the Ripper. Like Harlequin or the famous high CBD chemovar Cannatonic, Pennywise has an especially high amount of CBD while also providing a healthy dose of THC.
Not a trainwreck by any means, but a Goldilocks sort of "not too hot, not too cold" level of the strong stuff that can produce a nice, relaxing high with cerebral effects, while also providing the benefits of CBD. People who are used to smoking earthy landrace strains and lemony, full-bodied sativas like Jack the Ripper may also find the strain familiar.

Thanks for your feedback!
Sign up for bi-weekly updates, packed full of cannabis education, recipes, and tips. Your inbox will love it.