Overview
There are some legendary cannabis strains that feel like they were with us always — Acapulco Gold, Maui Wowie, Thai Stick, and cast across the arctic sky in a pastel smear above them all, Northern Lights. A powerful indica believed to be descended from Afghani and Thai landrace strains, Northern Lights is one of the most famous strains of all time and its powerful, relaxing high, great taste and aroma, and sticky, resin-coated buds have helped it win a litany of cannabis awards over the years, and have helped make it a cannabis culture mainstay for decades.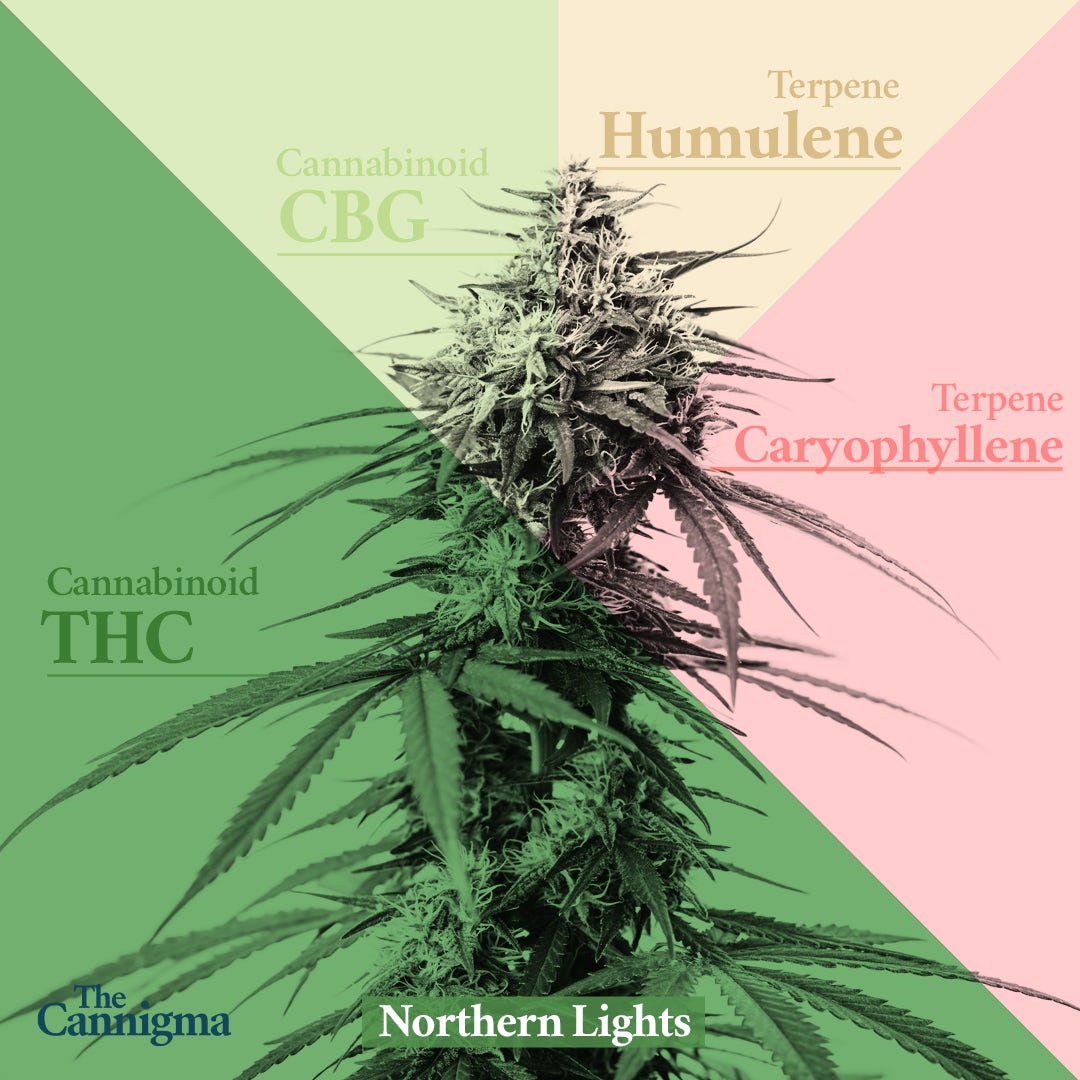 Cannabinoids
THC
CBG
Indica/Sativa/Hybrid
Indica dominant
Day/night
May help with
Terpene profile
Spicy
Earthy
Citrus
Floral
Lineage and general info
Few cannabis strains become a synonym for great weed, and fewer still have made a cameo in the Office. Northern Lights is named after the Aurora Borealis, the multi-colored light display you can see in the night sky in the far north.
But the actual origins of the strain itself? That's a bit harder to pin down, but it is most commonly-credited to the Dutch growhouse Sensi Seeds.
According to Sensi Seeds, the strain has Thai and Afghani landrace genetics and it is 90% indica and 10% sativa. Sensi Seeds describes it as having many of the mainstays associated with indicas — compact size, relaxing high, and a short flowering time.
According to the Cannabis Pharmacy though, Northern Lights was "originally grown by a farmer known only by his initials, G.M.," and that it is said to have originated in the state of Washginton. The book also says Northern Lights "has wrought an enormous legacy in modern cannabis," and that "at one point, it seemed that NL was the indica hybrid that had taken over the world. It was being used to breed a lot of cultivars in the Netherlands that were used to breed cultivars everywhere. Its compact size made it more discreet, though its strong smell led to a lot of cultivation raids."
Other stories abound, including that it was grown on an island near Seattle by a man known simply as "the Indian," and was taken by the cannabis breeder Neville Schoenmaker to the Netherlands somewhere in the 70s or 80s.
Northern Lights is known for producing resin-coated buds that are densely clustered, and at times can have a slightly purple hue. Its pungent aroma is described as earthy or piney, and it has a sweet, even fruity flavor. It is the classic "couch-lock" indica, and a go-to strain for people looking to kick back — and stay back.
Fast forward a few decades after the strain first hit the scene, and Northern Lights is pretty much universally known as a household name in cannabis, and "one of three fundamental breeding strains that have changed the face of global cannabis," along with skunk and haze.
Cannabinoids and terpenes in Northern Lights
We know today that choosing our weed by its indica or sativa genetics is not an effective way to gauge the array of effects cannabis can produce. Strain names are another common way to choose your bud, but here there's also a fundamental issue, in that they don't mean much. Unlike Budweiser or Heineken, no one has ever defined what Northern Lights weed is exactly. If you grow any type of marijuana in your backyard and call it Northern Lights, no one can really say otherwise.
But the good news is that, whether you use cannabis for fun or to treat a condition, the name isn't really relevant — what's important is the compounds in what you use. Cannabinoids and terpenes are what influence both the type of high and if what you take is more likely to help arthritis or Parkinson's disease, for example. This is why you should get familiar with the most common cannabinoids and terpenes in cannabis before you choose your chemovar (AKA strain).
We gathered test results from a variety of third party laboratories as well as information from websites such as Leafly and Weedmaps, to give you an idea of what you can expect if you get it. This is not a definition of what cannabinoids and terpenes will be present in any product called Northern Lights, and in the end, it's what's in your weed that will determine your experience, not its name.
Full chemical profile
Cannabinoids
Terpenes
Spicy
Earthy
Citrus
Floral
* The numbers in the tables are averages of data from multiple resources
** Terpenes are of pharmacologic interest at concentrations above 0.05%
How Northern Lights affects you
The average THC content is fairly high in this chemical profile, and the terpenes landscape is quite complicated, so you can expect a pretty intensive experience. Caryophyllene and humulene are thought to be sedative,limonene is considered to be energizing, and terpinolene has shown sedative properties on mice, but subjective user reports on marijuana varieties high in terpinolene suggested an energizing uplifting experience. So if you end up with the above profile, you have a surprise in store for you.
For medical conditions, again depending on the dominant terpenes and cannabinoids you actually get, this profile could be helpful for arthritis, Parkinson's disease, IBD (crohn's disease and ulcerative colitis), dementia, pain, inflammation and maybe even obesity. It's important to notice that most of the medicinal information about these compounds is based on preliminary research, so though they are considered safe to use, you should consult with a medical practitioner with a cannabis background when choosing a product.
Reported effects
May cause
Northern Lights growing tips
Why not go to the source? According to Sensi Seeds, Northern Lights is a relatively easy chemovar to grow, and experienced growers can expect a bumper crop — in some cases as high as high as more than 3 pounds per plant. That sounds ambitious, but Northern Lights is known for having a short flowering time of around 45 to 50 days, and can be grown well both indoors and outdoors — though it prefers long, hot summers, and a meditteranean climate, according to Sensi Seeds. Northern Lights is known for being disease resistant, and for growing compact, around 30-50 inches high, though outdoors it can grow between 60 to 80 inches high.
When growing cannabis, the right seeds can make even an amateur feel (and look) like a pro. With the naked eye, you'd be hard-pressed to tell the difference between regular seeds and those from a prize-winning strain. This is where buying from a trusted seedhouse comes in.
Yield oz/per plant
Yield (indoors) oz/SQF
Indoors
1.5
Yield (outdoors) oz/plant
Outdoors
2
Harvest time
Harvest time
Mid October
Height (inches)
20-30
30-50
50-70
70-90
>90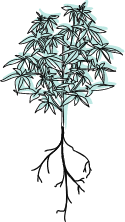 Related Strains
Northern Lights has been used as the parent strain for no shortage of strains of note. These include the award-winning Super Silver Haze, which is a cross of genetics of Northern Lights, Haze, and Skunk. Hash Plant, a stony indica with a hashy aroma, is a mix of Northern Lights and Afghani, and the legendary Chronic, which combines Northern Lights, Skunk, and AK-47 genetics. While stronger strains have been bred in the years since Northern Lights first hit the scene, this chemovar will be familiar to anyone who likes potent, relaxing marijauna.
Get Northern Lights seeds
Buy now
Thanks for your feedback!
Sign up for bi-weekly updates, packed full of cannabis education, recipes, and tips. Your inbox will love it.