Overview
Far above the lower 48, somewhere in the mountains and valleys of Alaska, lies the birthplace of a legendary strain — Alaskan Thunder Fuck (AKA Alaska Thunderfuck 5000) . The name of this sativa-dominant strain is a mouthful (though less of a buzzkill than its acronym, ATF) but even more notable is its potent, euphoric high, and beautifully frosty flowers. Let's head up for some Northern Exposure, and see what the Alaskan Thunder Fuck strain is all about.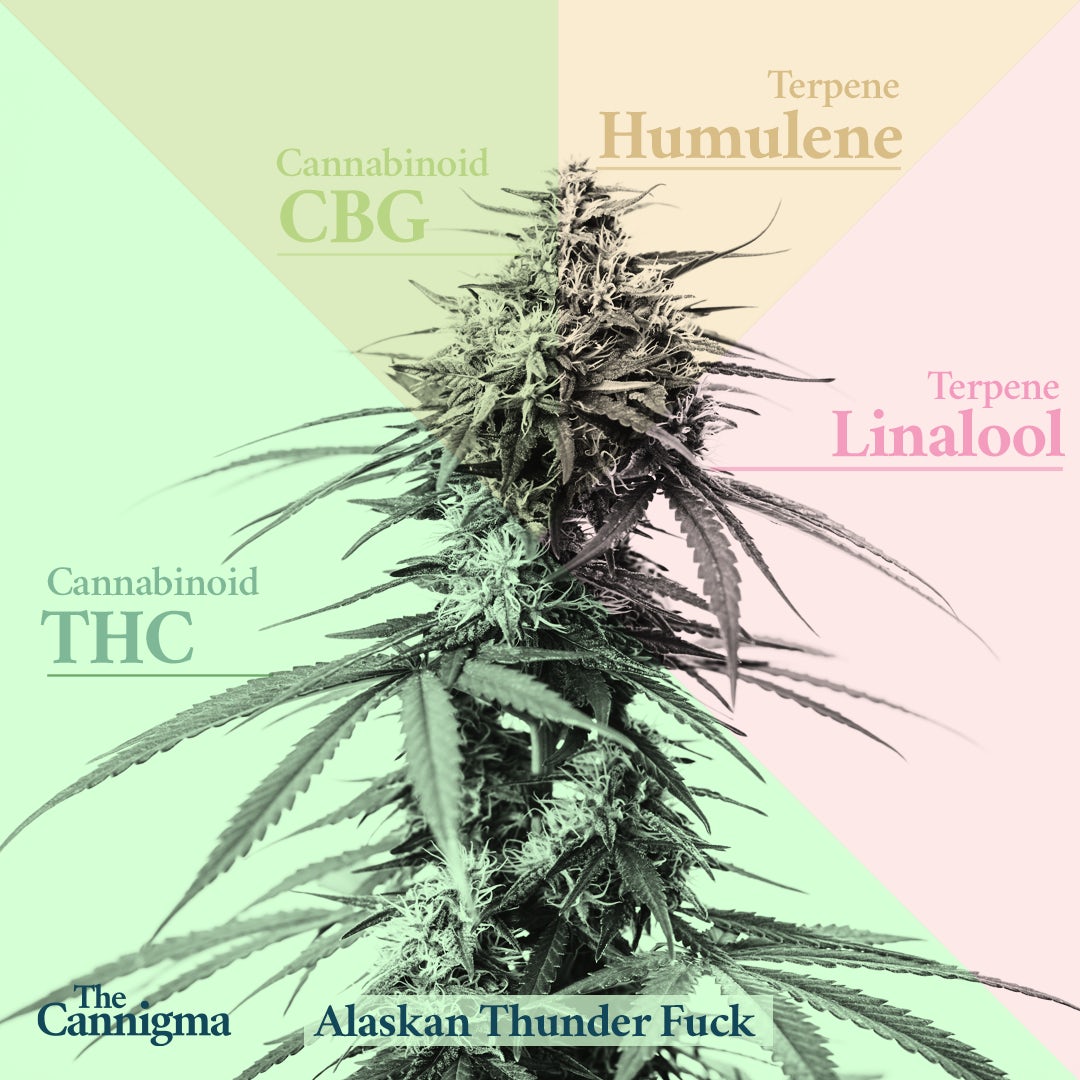 Cannabinoids
THC
CBG
Indica/Sativa/Hybrid
Hybrid dominant
Day/night
May help with
Terpene profile
Floral
Earthy
Herbal
Spicy
Lineage and general info
So where was Alaskan Thunder Fuck weed first grown? And is it native to the Last Frontier?
Apparently the exact origin of the strain hasn't been nailed down, but according to a 2017 article in the Anchorage Daily News, the chemovar — also known as Matanuska Thunder Fuck — has been a part of the cannabis scene in Alaska for more than 40 years.
The article states that "the strain's true story may forever remain a mystery" with many people saying that the name is synonymous with any type of high-quality Alaskan weed, and not a specific strain.
That said, the article asserts that Alaskan Thunder Fuck "originanted in the Matanuska-Susitna region, north of Anchorage," and that "one common story says that the person who started it all, a grower in the Valley, created his own hybrdid and named it MTF."
The article also quotes a High Times article from September 1974 that mentioned
"primo Matanuska Valley Thunderfuck" and listed it as the most expensive marijuana in Alaska, at $70 an ounce. An article from 1975 in High Times mentioned buds "the size of a malamute's paw … the weed burns slowly, evenly, showing its good breeding, and the taste is smooth and full, with an authoritative bite." It then quoted a man named Nordhoff who said, "This weed is so strong it grows through the snow to find the sun. Its growing period is only five months long, counting the snow time, and it grows eight feet high. Farmers in the Valley plant it alongside patches of cabbage so big it takes two men to carry them, tomatoes so big you have to cut them off with a chainsaw."
The Anchorage Daily News finally states that basically, the original strain might not even still exist, and quotes an Alaska State Trooper who posits that the name is used "as a marketing ploy."
A short film on YouTube interviews a cultivator named Ron Bass, who is certain that he got his hands on the actual legendary strain itself, as well as some old-timers who remember the strain from their younger days.
Whatever the actual story, Alaskan Thunder Fuck is typically described as a sativa-dominant hybrid that has fruity and skunky flavors, and a complex, often woodsy aroma. It is often described as having originated from a Russian ruderalis strain crossed with an unknown strain from Northern California, which was later bred with an Afghani strain.
If you can find it, you may notice the large, chunky flowers with tons of trichomes dusted across them.
Cannabinoids and terpenes in Alaskan Thunder Fuck
There are thousands of cannabis chemovars out there, and no real standards as to how to identify them — basically anyone can grow anything and call it whatever they want. In other words — there are better ways to choose a strain than on the name alone.
The chemical profile you see below is an average of laboratory tests for products called "Alaskan Thunder Fuck"— so it's just an estimate of what you might find when you buy Alaskan Thunder Fuck. Though often described as a sativa-dominant strain, the chemical breakdown we've identified is high in terpenes considered to be sedative, particularly because of the linalool and BCP.
Full chemical profile
Cannabinoids
Terpenes
Floral
Earthy
Herbal
Spicy
* The numbers in the tables are averages of data from multiple resources
** Terpenes are of pharmacologic interest at concentrations above 0.05%
How Alaskan Thunder Fuck affects you
Based on user reports, this strain tends to produce happiness, euphoria and upliftment, and could cause dry mouth, dry eyes, and dizziness. But really, marijuana affects people in different ways. The two main factors are your own biology (your endocannabinoid system, metabolism, age, weight, etc). and the product you choose (the cannabinoid profile, the terpenes breakdown and the delivery method).
May help with
That being said, the above chemical profile could potentially help with conditions and symptoms such as:
Pain & Inflammation
Multiple sclerosis
Reported effects
May cause
Alaskan Thunder Fuck growing tips
Alaskan Thunder Fuck is considered a moderately-difficult strain to grow, but part of the difficulty may just be getting your hands on it. It can grow well both indoors and outdoors, and grows larger outdoors — though it will need a cooler climate.
The strain is not especially resistant to disease, so it requires careful attention during the grow. The strain also grows tall, which is something to take into consideration, especially if growing indoors.
The strain produces a pretty high yield of around 32 ounces per plant, and about half that if grown indoors.
Yield oz/per plant
Yield (indoors) oz/SQF
Indoors
1.5
Yield (outdoors) oz/plant
Outdoors
32
Harvest time
Harvest time
October
Height (inches)
20-30
30-50
50-70
70-90
>90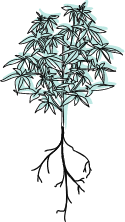 Related Strains
Alaskan Thunder Fuck hasn't been used to breed a brood of strains, but it can be found in the parentage of Chronic Thunder, a cross of ATF and Chronic. It is also in the parentage of Chocolate Thunder, a cross with Chocolope, which is a mix of Chocolate Thai and Cannalope Haze.
The parentage of ATF itself is typically described as a north American sativa mixed with Afghani, though the exact origins appear to be for the most part, a mystery.
Side note: The strain has no relation to Purple Alaskan Thunder Fuck, which is a cocktail that has no THC in it, though if you use enough Jack Daniel's you could get a very strong euphoric effect.
Thanks for your feedback!
Sign up for bi-weekly updates, packed full of cannabis education, recipes, and tips. Your inbox will love it.