Overview
Purple Kush's distinctive coloring is far from the most interesting thing about this popular strain. Thought to be a pure Indica strain, Purple Kush is considered one of the best bedtime cannabis options, and also accepted as helpful for pain (especially harsh migraines) and stress.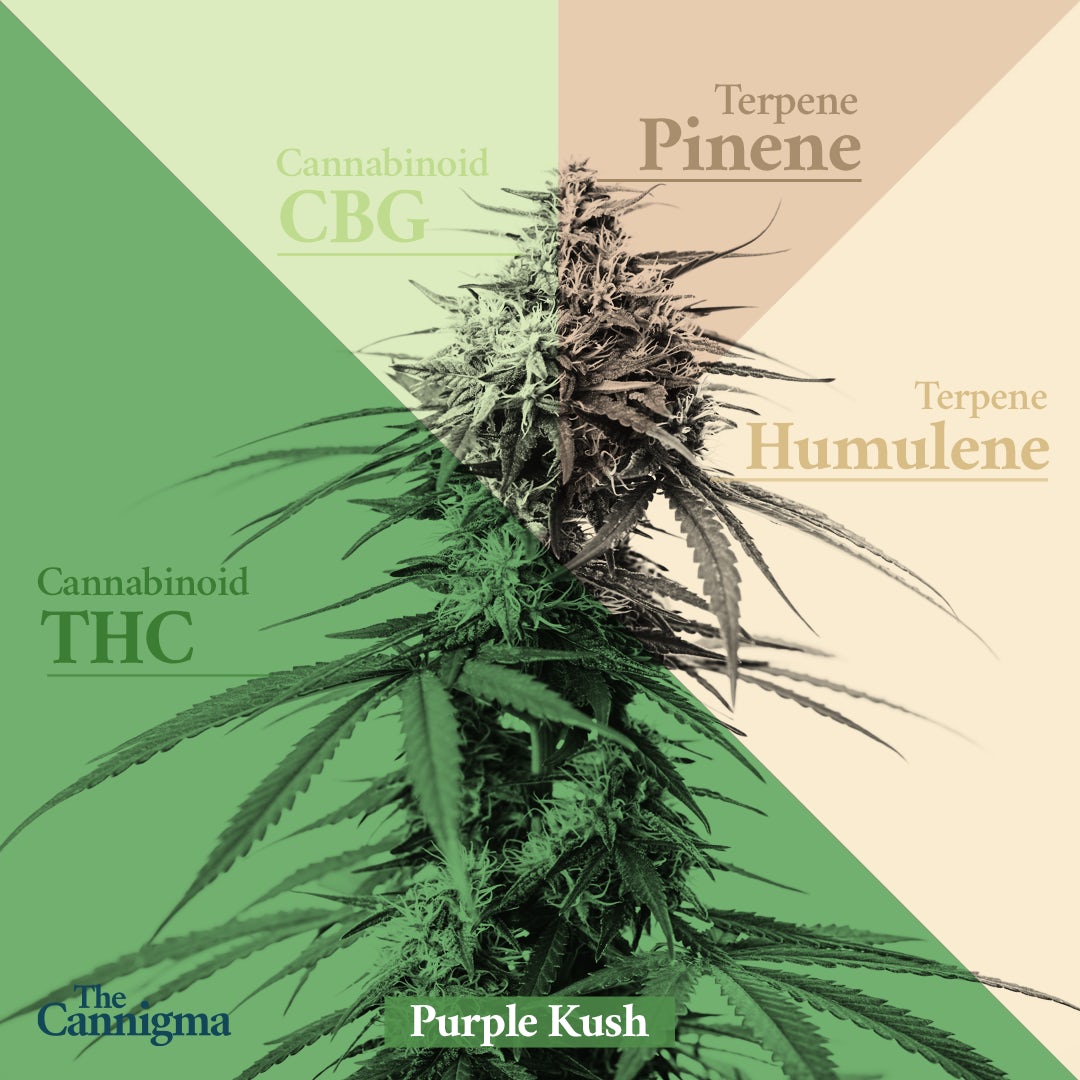 Cannabinoids
THC
CBG
Indica/Sativa/Hybrid
Indica dominant
Day/night
May help with
Terpene profile
Earthy
Woody
Spicy
Herbal
Lineage and general info
With an earthy aroma and a fruity, grape like, flavor, Purple Kush is among the most popular cannabis strains for before bed. This cannabis variety seems to get its purple color from its unique flavonoid profile, most likely involving anthocyanin (the same flavonoid present in blueberry, raspberry and black rice). First bred in the Oakland area of sunny California, this pure Indica variety is a crossbreed of Hindu-Kush and Purple Afghani, among the forefathers of weed strains. These strains originated in southeast Asia and arrived in the West in the late 1970's.
Purple Kush usually produces average sized flowers, and its buds are tightly packed. As such, it produces a lot of sticky resin, a characteristic of a lot of the descendants of Afghan varieties. This makes it an ideal candidate for making hashish or other concentrates.
Cannabinoids and terpenes in Purple Kush
Cannabis varieties such as Purple Kush are often referred to as strains or cultivars, but in fact the most accurate term would be "chemovars." Strain refers to bacteria and viruses , and cultivars is an abbreviation of "cultivated variety," one that has been intentionally created or selected and maintained by cultivation.
But it's virtually impossible to identify a cultivar's effect (uplifting, sedating, etc) judging by botanical traits such as height, shape and color. A chemovar is a "chemical variety," defined by its chemical profile. In short, this term uses levels of chemical markers such as cannabinoids and terpenes, to distinguish one cultivar from another.
Talking about the chemical profile of a given cannabis variety can be tricky. There's no standard definition for Purple Kush — or any other strain for that matter — from a chemical perspective. In theory any grower can cultivate any strain of cannabis with any kind of chemical profile, and name it however they wish. So it's difficult to definitively state the THC, CBD or CBG content of Purple Kush.
For this report, we gathered Purple Kush's chemical profile from a variety of third party certificates of analysis, seed banks and marijuana websites such as Wikileaf, Leafly and ILGM.

The numbers below can give you an estimation of what you could expect to find in a Purple Kush chemovar, but your best bet is always going to be looking for a certificate of analysis before you choose a cannabis product — this way you'll know for sure what's in it.
Full chemical profile
Cannabinoids
Terpenes
Earthy
Woody
Spicy
Herbal
* The numbers in the tables are averages of data from multiple resources
** Terpenes are of pharmacologic interest at concentrations above 0.05%
Purple Kush effects
Reported effects
May cause
Medical uses
Purple Kush weed is mostly used for stress, pain relief, insomnia, anxiety, depression, and to induce appetite, according to reports from users on various marijuana sites. Adverse effects can include dry mouth, dry eyes, dizziness, lethargy, paranoia.

According to Cannabis pharmacy, Purple Kush is often cited as most effective for insomnia — along with other purple marijuana varieties. Additionally, it cites the strain as particularly effective for acute pain and nausea induced by migraines.
Purple Kush growing tips
When it comes to cultivation, Purple Kush weed is considered to be moderately difficult to grow. Flowering time is approximately 8-9 weeks and it grows to a height of approximately 20-30 inches (50-75 cm). When growing outdoors, harvest time is late September, and it will require a dry climate. Yield is approximately 1.4 oz (40 grams) of bud per sq foot (indoors), and an average of 9 oz (255gm) per plant (outdoors).
When growing cannabis, the right seeds can make even an amateur feel (and look) like a pro. With the naked eye, you'd be hard-pressed to tell the difference between regular seeds and those from a prize-winning strain. This is where buying from a trusted seedhouse comes in.
Yield oz/per plant
Yield (indoors) oz/SQF
Indoors
1.4
Yield (outdoors) oz/plant
Outdoors
9
Harvest time
Harvest time
Late-September
Height (inches)
20-30
30-50
50-70
70-90
>90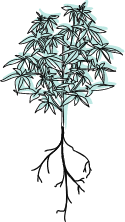 Related Strains
According to Leafly Hindu Kush and Purple Afghani are the parents of Purple Kush, and its known offspring are Purple Aurora, and Purple Killer.
Other strains that are thought to help with insomnia and harsh pain include Purple Urkle, Grand Daddy Purple and MK Ultra.

Get Purple Kush seeds
Buy now
Thanks for your feedback!
Sign up for bi-weekly updates, packed full of cannabis education, recipes, and tips. Your inbox will love it.