Overview
The Strawberry Banana strain, also known as Strawnana, is far from being the sugary fruit juice or smoothie that its name evokes, though it can be part of a complete breakfast — as long as you don't have a busy morning planned.
Fruity, flavorful, and oh so potent, Strawnana weed is a highly popular strain crafted by two of the biggest names in cannabis genetics, and it's all but guaranteed to put a smile on your face.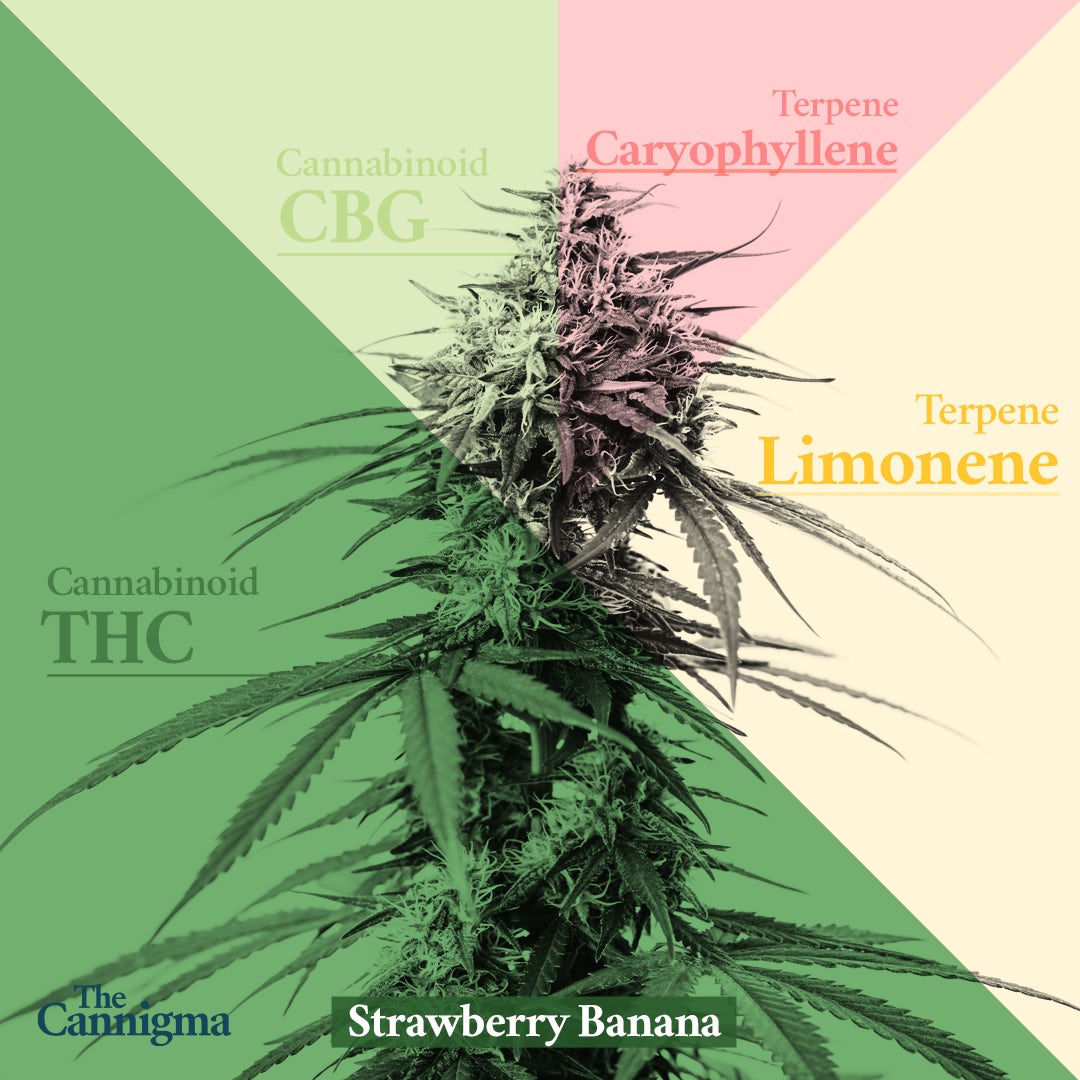 Cannabinoids
THC
CBG
Indica/Sativa/Hybrid
Indica dominant
Day/night
May help with
Terpene profile
Citrus
Spicy
Herbal
Woody
Get Strawberry Banana seeds
Buy Now
Lineage and general info
The creators of the Strawnana strain are Crockett Family Farms — who gave the world Tangie — and DNA Genetics, the Amsterdam-based seedhouse responsible for world-conquering strains like Kosher Kush, Headband, Chocolope, and LA Confidential.
According to DNA Genetics, Strawberry Banana "is a cross of Crockett's Banana Kush and a strawberry pheno we sourced from bubble gum by serious seeds."
The Bubblegum used by DNA Genetics "was such a frosty male that our homie the Guru knew he had to cross it with something special. Guru and Crockett got to work and created the Strawberry Banana!"
They describe Strawnana as "one of the greatest resin producers we have witnessed" and a strain that is great for making concentrates in particular. DNA Genetics say that Strawberry Banana is 70% indica, 30% sativa and produces a relaxing, happy high.
The strain is also known for being especially high in THC, and according to Wikileaf, one variant of Strawberry Banana tested at a staggering 32.61% THC.
You probably won't encounter any Strawberry Banana nugs with THC at that level, but chances are you will experience what users describe as a relaxing, happy high with a sweet and slightly fruity flavor and aroma. And while it isn't typically described as a strictly "couch-lock" strain, Strawberry Banana is best suited for the nighttime, which goes perfect with the high that rocks you into a deeply mellow state.
Cannabinoids and terpenes in Strawberry Banana
There are thousands of cannabis chemovars out there, and no real standards as to how to identify them — basically anyone can grow anything and call it whatever they want. In other words — there are better ways to choose a strain than on the name alone.
The chemical profile you see below is an average of laboratory tests for products called "Strawberry Banana" — so it's just an estimate of what you might find when you buy a Strawberry Banana strain.
Full chemical profile
Cannabinoids
Terpenes
Citrus
Spicy
Herbal
Woody
* The numbers in the tables are averages of data from multiple resources
** Terpenes are of pharmacologic interest at concentrations above 0.05%
How Strawberry Banana affects you
Based on user reports, Strawberry Banana tends to produce relaxation, happiness, euphoria and upliftment. It may also cause dry mouth, dry eyes, and less often- dizziness and anxiety. But really, marijuana affects people in different ways. The two main factors are your own biology (your endocannabinoid system, metabolism, age, weight, etc). and the product you choose (including its cannabinoid profile and terpene breakdown, and the delivery method used).
May help with
That being said, the above chemical profile could potentially help with conditions and symptoms such as:
Reported effects
May cause
Strawberry Banana growing tips
DNA Genetics describes Strawberry Banana as "a medium to heavy feeder" that "can produce big yields!" The breeders state that growers can expect "connoisseur quality herb without having to be an expert grower!"
In general, Strawberry Banana is described as an easy-to-grow strain that is well suited to beginners. It has a flowering time of around 9 weeks, and can produce a very generous yield, especially if grown outdoors.
It can grow high and prefers a somewhat humid climate. It can be grown easily indoors and outdoors and is considered a sturdy and resilient plant. 
When growing cannabis, the right seeds can make even an amateur feel (and look) like a pro. With the naked eye, you'd be hard-pressed to tell the difference between regular seeds and those from a prize-winning strain. This is where buying from a trusted seedhouse comes in.
Yield oz/per plant
Yield (indoors) oz/SQF
Indoors
1.8
Yield (outdoors) oz/plant
Outdoors
23
Harvest time
Harvest time
Mid October
Height (inches)
20-30
30-50
50-70
70-90
>90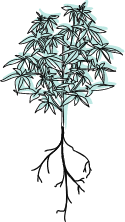 Related Strains
The parent strains of Strawberry Banana are typically described as Banana Kush and a special phenotype of Bubblegum called "Strawberry."
Bubblegum is a well-balanced hybrid that has been a popular strain since the early 90s. It has won multiple High Times Cannabis Cups and is known for being a potent strain that produces a happy and very chill high. Banana Kush is also a well-balanced hybrid, that is typically described as a cross of Ghost OG and Skunk Haze. Many sources describe it as a blend of OG Kush and Banana, though this is also given as the origin of Banana OG, a different strain.
Regardless of the exact, proven parentage of Strawberry Banana, the strain has been used to breed a number of cannabis favorites, including Trueberry (a cross of True OG, Blackberry, and Strawberry Banana), Golden Strawberries (a cross with Kosher Kush), and Banana Joe (often described as either a cross with Tangie or with Sweet Tooth), to name just a few (delicious-sounding) strains.
These combinations can be confusing however, and many strains with "Strawberry" in the name may actually have been bred using strains like Strawberry Cough or Strawberry Lemonade and not Strawberry Banana.
Get Strawberry Banana seeds
Buy now
Thanks for your feedback!
Sign up for bi-weekly updates, packed full of cannabis education, recipes, and tips. Your inbox will love it.