Overview
A banana (OG) a day keeps the doctor away? Probably not, but with a few tokes of this indica-dominant, chill and delicious hybrid you'll probably be feeling better no matter what ails you. Also known as Nana or Nana OG, the Banana OG strain is known for its pronounced banana flavor and tropical, earthy aromas, as well as a strong, creeper high that waits for you around the corner and can leave you splayed out on the couch like a banana split — but in a good way. Banana OG won't boost your potassium levels, but there's more than enough reasons to go bananas over this strain.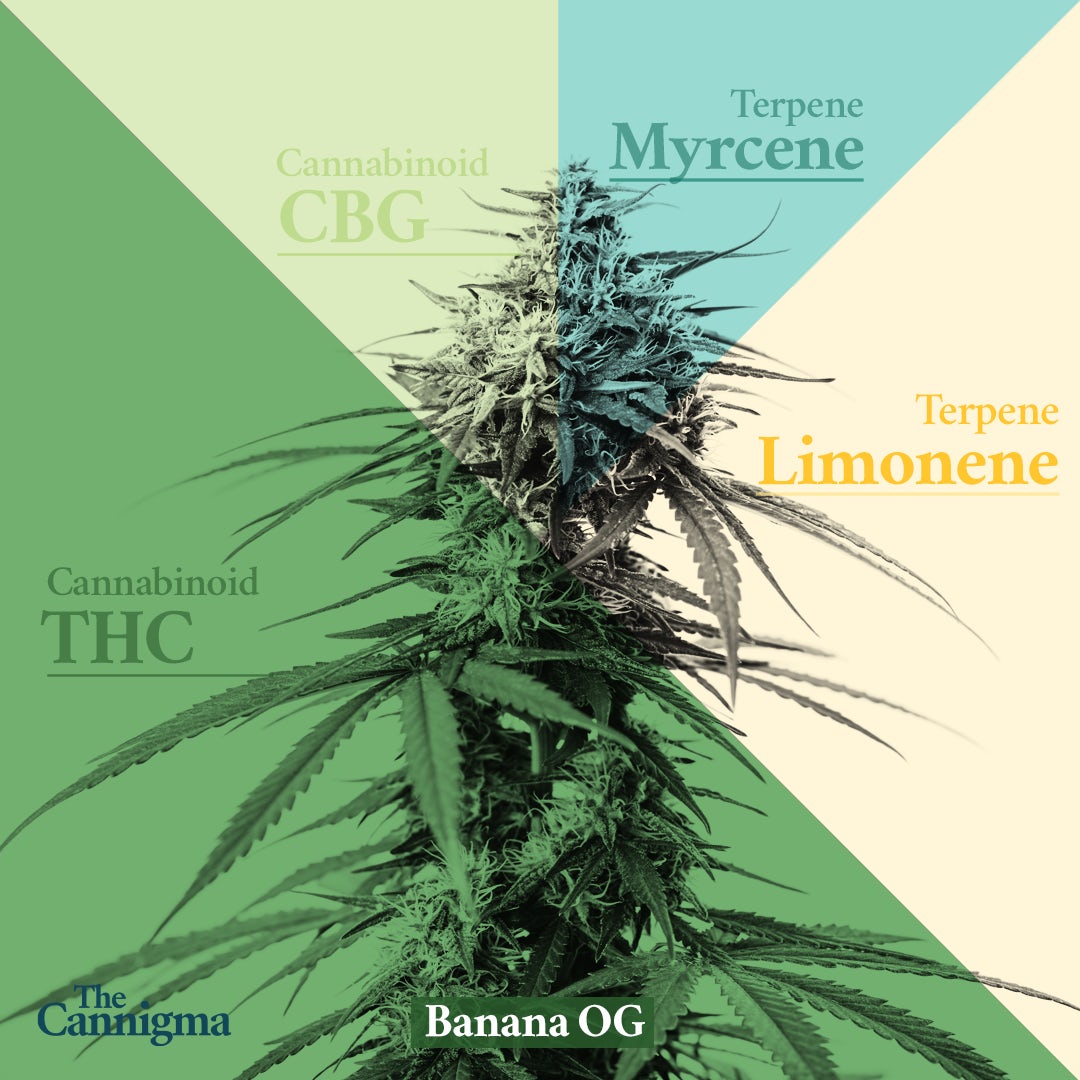 Cannabinoids
THC
CBG
Indica/Sativa/Hybrid
Indica dominant
Day/night
May help with
Terpene profile
Citrus
Herbal
Spicy
Woody
Lineage and general info
The breeder Orgnkid has been named as the original breeder of Banana OG, and this marijuana maven has also been described as "the proto-breeder for the modern generation."
Orgnkid is credited with breeding Ghost OG and Blackberry Kush, and one online post states that "in forum posts he has said that the banana strain was an old school Skunk #1 x Haze he had breed that had an intense banana smell, and this certainly shows in the banana OG with tastes that can only be described as a mix of predominantly candied bananas with undertones of real bananas. This strain is widely sought after in the states and is a true testament to the terpene combinations available to cannabis."
As Weedmaps puts it, "Banana OG is a hybrid cultivated by West Coast breeder OrgnKid, who won a bag of seeds in an auction on Seed Bay, and found the resulting short, stocky plants with ultra-thin branches had a strong banana smell and beautiful taste. OrgnKid crossed one of the male Banana plants with an OG Kush female, which resulted in Banana OG."
For the most part, the lineage of Banana OG is described as a mix of Banana Kush and OG Kush, even as the origin story reportedly given by Orgnkid names it as a mix of Skunk Haze and OG Kush.
But beyond the flavors and aroma, what about people who only care about the high?
Banana OG is typically described as having a strong body high as well as a potent, euphoric and cerebral high that eventually fades into a more relaxing vibe. It's a creeper and can be intense, so if you aren't feeling everything after those first few pulls, wait a couple minutes.
And the appearance? Banana OG weed has dense, sticky buds that can be large and spade-shaped, with a golden yellow tint to them.
Cannabinoids and terpenes in Banana OG
There are thousands of cannabis chemovars out there, and no real standards as to how to identify them — basically anyone can grow anything and call it whatever they want. In other words — there are better ways to choose a strain than on the name alone.
The chemical profile you see below is an average of laboratory tests for products called "Banana OG" — so it's just an estimate of what you might find when you buy a Banana og strain. What we found was that Banana OG is often found to have high THC concentrations (averaging 21%) and is limonene dominant (0.6%).
Full chemical profile
Cannabinoids
Terpenes
Citrus
Herbal
Spicy
Woody
* The numbers in the tables are averages of data from multiple resources
** Terpenes are of pharmacologic interest at concentrations above 0.05%
How Banana OG affects you
Based on user reports from Leafly, Banana OG often causes relaxation, euphoria and happiness, and could cause dry mouth, dry eyes, and dizziness. Interestingly, the most dominant terpene in Banana OG is the stimulating limonene. This discrepancy between user report and results from laboratory tests may be explained by the presence of the sedating myrcene and BCP, though it's hard to say since science is still a bit shy when it comes to how terpenes interact with each other.
But really, marijuana affects people in different ways. The two main factors are your own biology (your endocannabinoid system, metabolism, age, weight, etc). and the product you choose (including its cannabinoid profile and terpene breakdown, and the delivery method used).
Potential treatment:
That being said, the above chemical profile could potentially help with conditions and symptoms such as
Reported effects
May cause
Banana OG growing tips
Banana OG is considered an easy-to-grow strain that can be cultivated with ease both indoors and outside. It prefers a warm climate with a bit of humidity, with temperatures around 70 degrees fahrenheit during the day.
The plant is also manageable in size, growing short and bushy and reaching harvest time in about 8 to 9 weeks. The yield is rather modest, but you can get about 14 ounces of premium herb out of a single outdoor plant regardless.
Yield oz/per plant
Yield (indoors) oz/SQF
Indoors
1.2
Yield (outdoors) oz/plant
Outdoors
14
Harvest time
Harvest time
October
Height (inches)
20-30
30-50
50-70
70-90
>90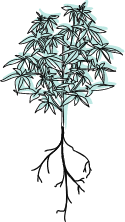 Related Strains
The high produced by Banana OG is similar to the strong, energetic but relaxing one produced by its parent strain OG Kush. The other most often mentioned parent strain — Banana Kush — is a cross of Ghost OG and Skunk Haze, and is a hybrid known for producing a euphoric yet mellow high. Oh, and it's also known for smelling and tasting like bananas.
Banana OG itself is a parent strain of Bandana (a cross with 707 Headband) as well as Banana Puff (a cross with Joseph OG).

Thanks for your feedback!
Sign up for bi-weekly updates, packed full of cannabis education, recipes, and tips. Your inbox will love it.