Overview
An indica-dominant heavy-hitter, Grease Monkey is a richly-flavorful strain that produces a calm, euphoric high that will have you coming back for more. The strain's parentage includes one of the cannabis world's most popular strains — Gorilla Glue #4 — as well as the delicious hybrid Cookies and Cream to produce an especially delightful, stony high that should have you coasting and sleeping through the night — or the afternoon.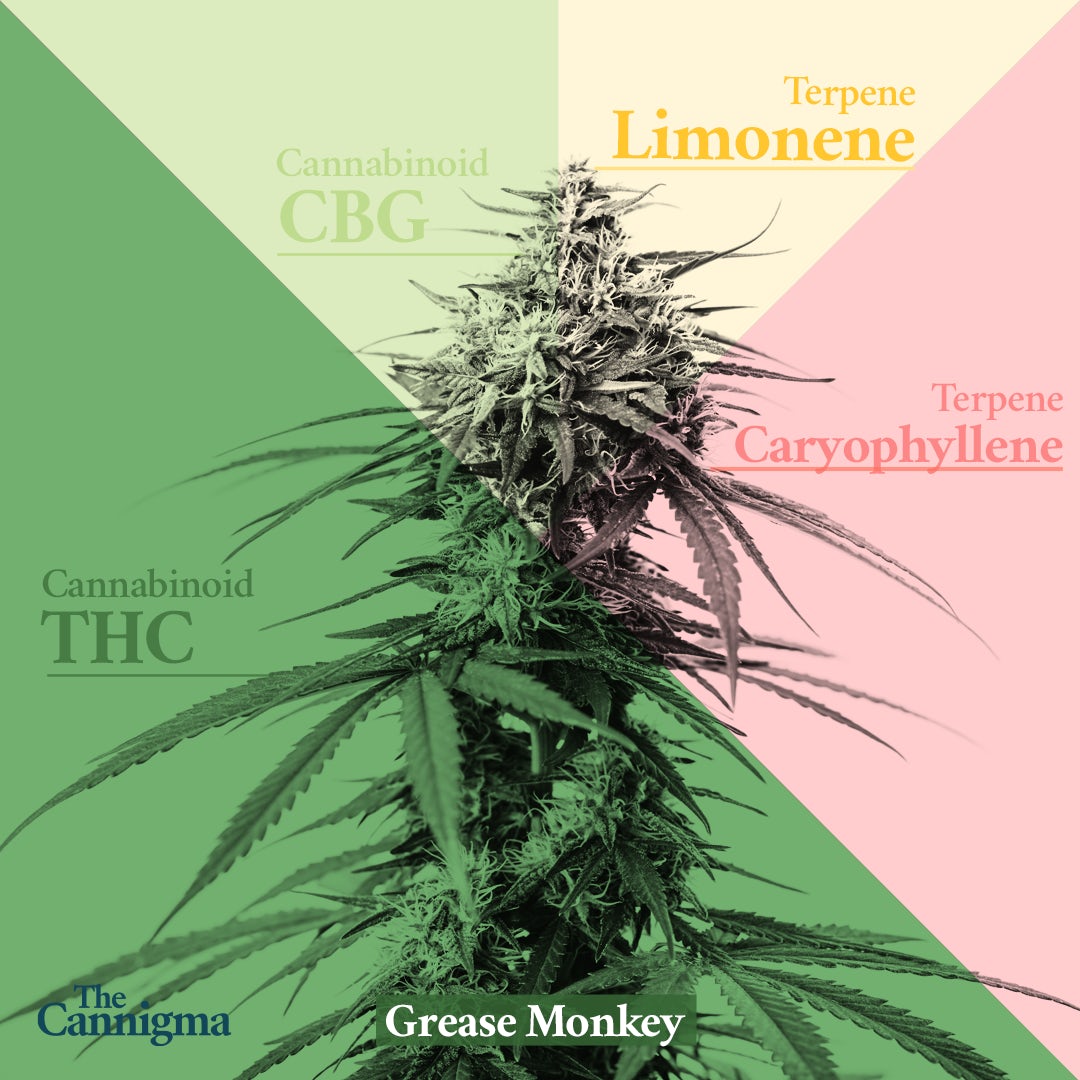 Cannabinoids
THC
CBG
Indica/Sativa/Hybrid
Indica dominant
Day/night
May help with
Terpene profile
Spicy
Citrus
Herbal
Earthy
Lineage and general info
Exotic Genetix, the Washington State growers responsible for strains like Cookies and Cream, Kimbo Kush, and Black Mamba, are the creators of the Grease Monkey strain. Reportedly a cross of Gorilla Glue 4 and Cookies and Cream, this high-THC strain combines the heavy couch-lock sensation of GG4 with the more uplifting hybrid vibe people tend to expect from Cookies and Cream.
The flavor profile is also rather complex, combining the sour and sweet taste of Cookies and Cream with the more diesel flavor of Gorilla Glue. Users have described both the aroma and flavor as being a distinct mix of vanilla and gasoline. But whatever it smells like to you, keep in mind it is pungent and skunky — so people should smell you coming when you're smoking Grease Monkey.
Grease Monkey is a well-balanced hybrid strain, that leans more towards the deep relaxation and stony high of Gorilla Glue.
The flowers are easy on the eyes, with dense, green nugs replete with orange pistils, and a healthy covering of trichomes.
Cannabinoids and terpenes in Grease Monkey
There are thousands of cannabis chemovars out there, and no real standards as to how to identify them — basically anyone can grow anything and call it whatever they want. In other words — there are better ways to choose a strain than on the name alone. 
The chemical profile you see below is an average of laboratory tests for products called "Grease Monkey" — so it's just an estimate of what you might find when you buy a Grease Monkey strain.
Full chemical profile
Cannabinoids
Terpenes
Spicy
Citrus
Herbal
Earthy
* The numbers in the tables are averages of data from multiple resources
** Terpenes are of pharmacologic interest at concentrations above 0.05%
How Grease Monkey affects you
Based on user reports, Grease Monkey strains tend to produce relaxation, euphoria, happiness and sleepiness, and could cause dry mouth, dry eyes, and dizziness. But really, marijuana affects people in different ways. The two main factors are your own biology (your endocannabinoid system, metabolism, age, weight, etc). and the product you choose (the cannabinoid profile, the terpenes breakdown and the delivery method).

May help with
That being said, the above chemical profile could potentially help with conditions and symptoms such as
Reported effects
May cause
Grease Monkey growing tips
The team at Exotic Genetix describe Grease Monkey as a strain that grows medium/tall with a flowering time of 8-9 weeks and a heavy yield.
By and large, growers say Grease Monkey can grow quite tall and thus requires a fair amount of pruning to keep in check. It also is a rather pungent plant, so keep things well ventilated and/or hidden away if you don't want the neighbors to come knocking.
Grease Monkey is a tough plant and resistant to disease and mold, and it produces a generous yield when it's time to harvest.
Yield oz/per plant
Yield (indoors) oz/SQF
Indoors
1.5
Yield (outdoors) oz/plant
Outdoors
21
Harvest time
Harvest time
October
Height (inches)
20-30
30-50
50-70
70-90
>90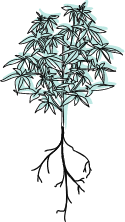 Related Strains
Grease Monkey bears traits that are associated with both of its parent strains — Gorilla Glue 4 and Cookies and Cream. Gorilla Glue 4 is a high-THC hybrid that can make you feel glued to the couch (hence the name) and has a diesel flavor that together leaves a lasting impression. Cookies and Cream is a more upbeat, balanced hybrid, and it comes through in the sensation brought on by Grease Monkey, which is relaxing, but not as much as Gorilla Glue 4.
Grease Monkey has been used to breed other strains, including Monkey Bread (a cross with Girl Scout Cookies), Slapz (a cross with Runtz), Orange Monkey (a cross with Agent Orange), G-Walk (crossed with Florida OG), and Berries and Creme (a cross with Shishkaberry).

Thanks for your feedback!
Sign up for bi-weekly updates, packed full of cannabis education, recipes, and tips. Your inbox will love it.