Overview
A kingdom of sweet adventures awaits with the Candyland strain, and you don't even need to bust out any board games. The gold medalist at the 2012 KushCon in Denver, this sativa-dominant hybrid is replete with beautiful colors and sugary trichomes, and creates a wonderfully upbeat and euphoric high that can make anywhere seem like Candyland.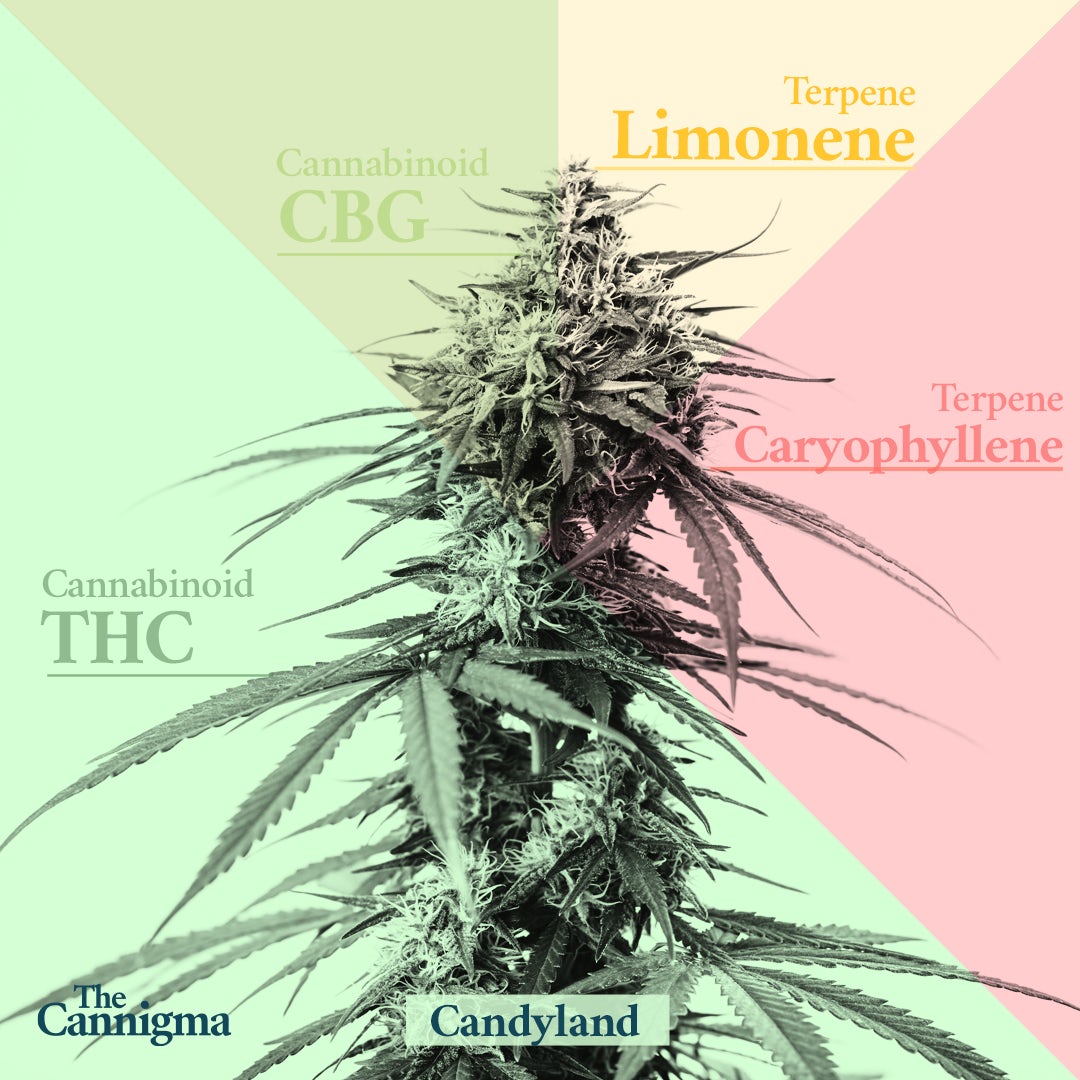 Cannabinoids
THC
CBG
Indica/Sativa/Hybrid
Hybrid dominant
Day/night
May help with
Terpene profile
Spicy
Citrus
Earthy
Herbal
Lineage and general info
Legendary cannabis cultivator Ken Estes is tagged as the brains behind the Candyland strain, which is described as a cross of Granddaddy Purple and a Bay Area Platinum Cookies strain. Estes himself was the original cultivator of Granddaddy Purple which has been popular in California for decades, largely because of its soothing effects.
In a June 2020 interview, Estes said that he was looking for a daytime version of Granddaddy Purple that was less sedative, and also more resistant to mold. He then crossed a male GDP plant with a female phenotype of Bay Platinum Cookies, creating "a sweeter, easier-to-grow, lighter-on-the-head plant striped with nice, deep veins of purple."
And why did he choose the name Candyland? "I had so many crosses I just called that one Candyland. I wasn't crazy about the name. I was trying to find [another name] that nobody could say was attractive to children. We just called it that due to a lack of names. But it was the best strain that evolved, so we stuck with the name."
In other words, it has nothing to do with the board game, but that doesn't mean it isn't a great thing to keep on the shelf in your living room to break out when you have company.
Candyland (at times also referred to as Candyland Kush or Candyland OG) has a sweet flavor with earthy, spicy notes. It produces dense buds that can be dark green with varying degrees of purple.
Cannabinoids and terpenes in Candyland
There are thousands of cannabis chemovars out there, and no real standards as to how to identify them — basically anyone can grow anything and call it Candylandt. In other words — there are better ways to choose a strain than on the name alone.
The chemical profile you see below is an average of laboratory tests for products called "Candyland " — so it's just an estimate of what you might find when you buy Candyland.
Full chemical profile
Cannabinoids
Terpenes
Spicy
Citrus
Earthy
Herbal
* The numbers in the tables are averages of data from multiple resources
** Terpenes are of pharmacologic interest at concentrations above 0.05%
How Candyland affects you
Based on user reports from resources like Leafly and Wiki leafs, Candyland often produces happiness, upliftment, euphoria and relaxation. And could cause dry mouth, dry eyes, anxiety and dizziness. But really, marijuana affects people in different ways. The two main factors are your own biology (your endocannabinoid system, metabolism, age, weight, etc). and the product you choose (the cannabinoid profile, the terpene breakdown and delivery method).
May help with
That being said, the above chemical profile could potentially help with conditions and symptoms such as:
Reported effects
May cause
Candyland growing tips
According to Estes, the Candyland strain is a quick grower that you should be able to harvest and cure at eight weeks. And while it can grow indoors and out, Estes himself only grows GDP indoors these days, so perhaps that's your best bet with Candyland as well. In that same Estes interview, he described Candyland as "a grower's delight" that can consistently yield up to five pounds outdoors. That sounds extraordinarily high, but other sources say it can routinely yield around two pounds per plant outside, and even up to three pounds.
Candyland prefers a dry, warm climate, and it grows tall with dense buds. It is also described as naturally resistant to mold and mildew, which is great if you're growing indoors.
When growing cannabis, the right seeds can make even an amateur feel (and look) like a pro. With the naked eye, you'd be hard-pressed to tell the difference between regular seeds and those from a prize-winning strain. This is where buying from a trusted seedhouse comes in.
Yield oz/per plant
Yield (indoors) oz/SQF
Indoors
1.5
Yield (outdoors) oz/plant
Outdoors
3
Harvest time
Harvest time
Early October
Height (inches)
20-30
30-50
50-70
70-90
>90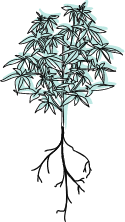 Related Strains
Candyland's parent strain Granddaddy Purple is a legendary indica-dominant chemovar known for its relaxing high. Platinum Cookies on the other hand, is a hybrid breed from Girl Scout Cookies, and counts Durban Poison and OG Kush as its parents, a royal lineage if there ever was one.
What does this mean? It means that Candyland draws a mix of effects and attributes from its lineage that make it a well-balanced strain that can pick you up and have you feeling euphoric and high, without being too speedy.
Candyland itself has been used to breed a number of strains, including Animal Land (a mix of Candyland and Animal Cookies) and Grandma's Batch (Candyland crossed with Cookie F2).
Get Candyland seeds
Buy now
Thanks for your feedback!
Sign up for bi-weekly updates, packed full of cannabis education, recipes, and tips. Your inbox will love it.