Overview
When you hear "Dutch Treat" do you picture a late summer afternoon at a coffee shop next to an Amsterdam canal, a strong cup of coffee, primo weed and nowhere to go and no way anyone can reach you? If so then you've come to the right place.
Dutch Treat is a strain that actually hails from the Pacific Northwest but provides a euphoric, energizing high and a complex taste and aroma profile that can whisk you away to the Netherlands in a heartbeat.
Here's why Dutch Treat is worth writing home about.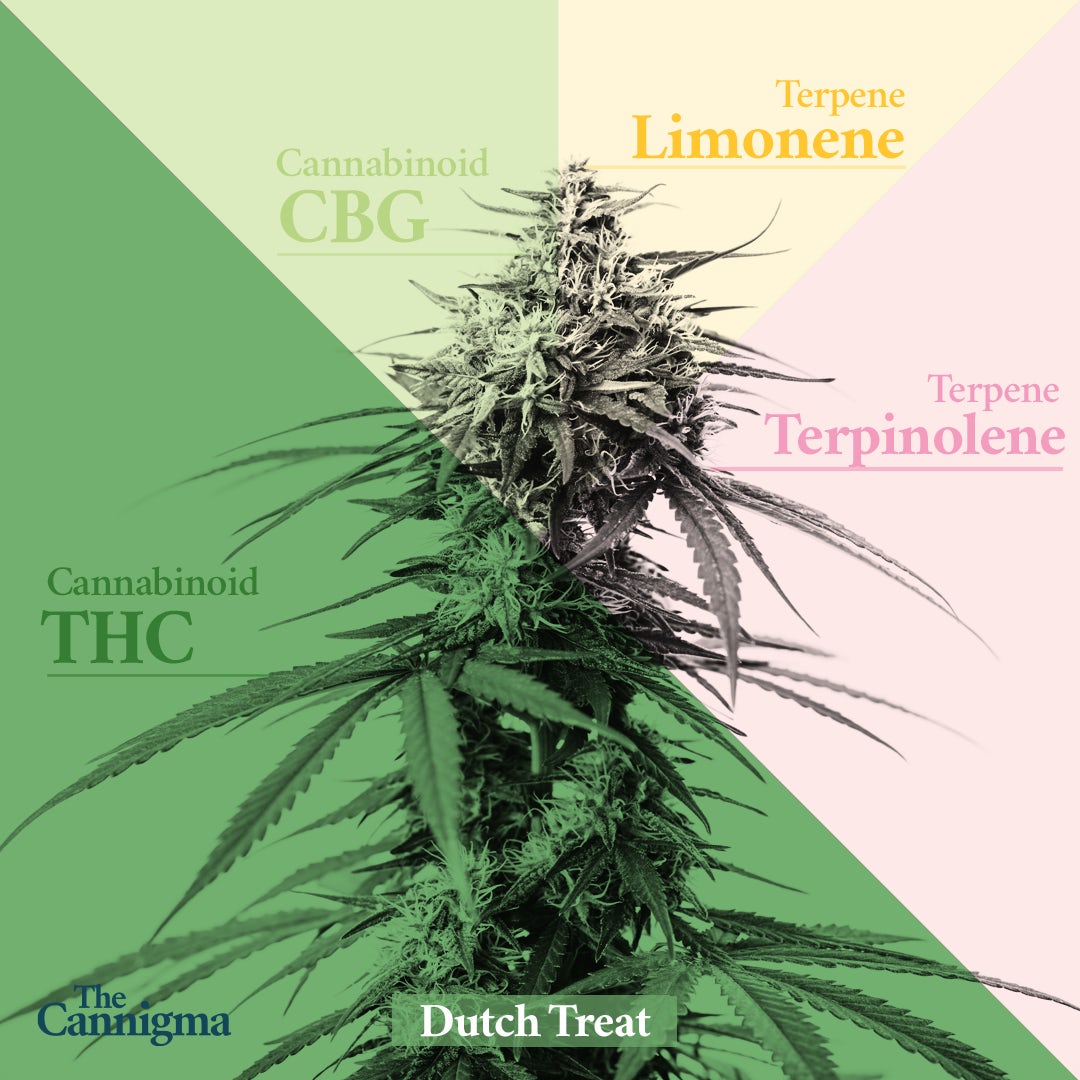 Cannabinoids
THC
CBG
Indica/Sativa/Hybrid
Hybrid dominant
Day/night
May help with
Terpene profile
Floral
Citrus
Floral
Spicy
Lineage and general info
Though it has since become a favored strain in Amsterdam, Dutch Treat first hit the cannabis scene decades ago in the Pacific Northwest. The exact origin story of Dutch Treat weed remains unknown, though many state that the first breeder was the Canadian Jordan from the Islands.
It is also often credited to the growers at the Washington-based "Western Cultured", who describe it as a sativa-dominant strain with conical buds that has a lineage that includes Northern Lights, Haze, and Skunk.
It's hard to go wrong with that mix, and according to Western Cultured, Dutch Treat is an "uplifting and creative high, good for day time advictiies as long as you can handle the strong psychoactive effects." The cannabis producer also describes the strain as one of its strongest strains, with THC levels that can reach up to 32.7%.
However, due to the chemical profile of Dutch Treat, it could be more suited to the evening hours. This discrepancy could also be explained by the variety of chemical profiles of products named "Dutch Treat" as described below.
Regardless, the consensus is that it was first bred in the rich cannabis mecca of the Pacific Northwest, from where it set out to spread the love across the country, to Amsterdam and beyond.
The aromas of Dutch Treat (also known as Dutch Crunch, Dutch Strain, or Dream Catcher Weed), are said to include pine, sweet fruit, lime and eucalyptus. Dutch Treat is smooth on the inhale and has been described as herbal, earthy, and pine-flavored. The strain has green, trichome-laden and sticky dense buds that can really look great in the glass jar and make it an appealing strain to use in breeding.
Cannabinoids and terpenes in Dutch Treat
There are thousands of cannabis chemovars out there, and no real standards as to how to identify them — basically anyone can grow anything and call it whatever they want. In other words — there are better ways to choose a strain than on the name alone. 
The chemical profile you see below is an average of laboratory tests for strains called "Dutch Treat" — so it's just an estimate of what you might find when you buy Dutch treat weed. It's often characterised with very high THC concentrations (averaging 22.3%), modest amounts of CBG (0.95%), terpinolene (0.6%) and limonene (0.4%).
Full chemical profile
Cannabinoids
Terpenes
Floral
Citrus
Floral
Spicy
* The numbers in the tables are averages of data from multiple resources
** Terpenes are of pharmacologic interest at concentrations above 0.05%
How Dutch Treat affects you
Based on resources such as Leafly, Dutch Treat is often reported as producing euphoria, happiness upliftment and creativity. It may also cause dry mouth, dry eyes and dizziness.
But really, marijuana affects people in different ways. The two main factors are your own biology (your endocannabinoid system, metabolism, age, weight, etc). and the product you choose (including its cannabinoid and terpene breakdown, and the delivery method used).
May help with
That being said, the above chemical profile could potentially help with conditions and symptoms such as:
Reported effects
May cause
Dutch Treat growing tips
Dutch Treat is a popular strain with novice cannabis growers and can thrive both indoors and outdoors – though indoor grows may produce a better aroma.
The flowering time for Dutch Treat is 6-8 weeks, and the plant grows rather short and stout, with dense, sticky nugs covered in trichomes. Growers can expect a rather small yield, around 8 ounces per plant if grown outdoors.
Dutch Treat prefers a warm, dry climate, and should be ready to harvest by late September. Growers should keep the bottom half well trimmed in order to increase growth to the main colas.
Dutch Treat is also highly resistant to disease, and while the yields aren't huge, the ease of growing this strain and the joy of smoking it make it a solid choice nonetheless.
Yield oz/per plant
Yield (indoors) oz/SQF
Indoors
1
Yield (outdoors) oz/plant
Outdoors
8
Harvest time
Harvest time
Late September
Height (inches)
20-30
30-50
50-70
70-90
>90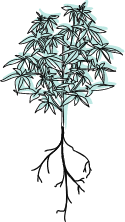 Related Strains
Though we can't determine the actual genetic lineage of Dutch Treat, it has been suggested as the Northern Lights weed strain, Haze, and Skunk – three of the most influential building block strains of all time. Both Skunk and Haze produce more energetic highs, while Northern Lights is a potent indica known for its relaxing, deeply mellow effects. This combination of energetic high and relaxing vibes can be felt in Dutch Treat.
These three strains were also used to breed Super Silver Haze, which creates a long lasting and upbeat high. Super Silver Haze itself has been bred with Dutch Treat to create Dutch Treat Haze.
Dutch Treat is a good-looking, strong strain, with a delicious taste and aroma – so there's no surprise it's been used to grow a number strains. These include Dutch Hawaiin (a mix with Hawaiin Sativa), Electric Treat (a cross with Electric Haze), and Dutch Queen (a mix with Space Queen), among untold others.
Thanks for your feedback!
Sign up for bi-weekly updates, packed full of cannabis education, recipes, and tips. Your inbox will love it.