Overview
Some strain names just sound like what the herb does. Take the Superglue strain for instance, a potent indica-heavy hybrid with high THC levels. Superglue is known for its strong, tranquilizing high that can leave you, well, glued to the couch. And this glue is actually safe to sniff, with an aroma that's sweet, skunky, and with hints of pine and even caramel.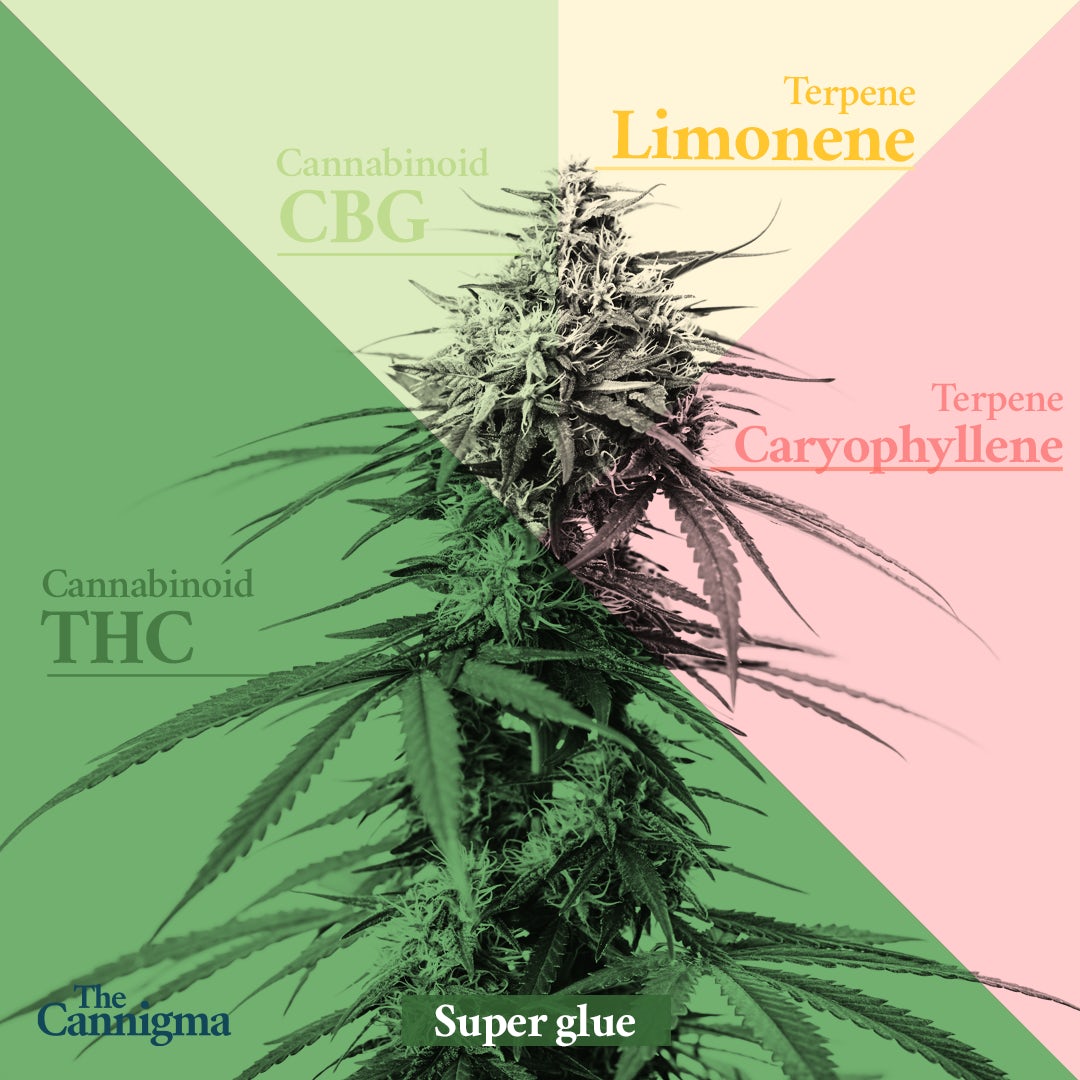 Cannabinoids
THC
CBG
Indica/Sativa/Hybrid
Indica dominant
Day/night
May help with
Terpene profile
Spicy
Citrus
Herbal
Earthy
Lineage and general info
Two of the most famous and acclaimed old-school indica strains are cited as Supeglue's parent strains, and that alone should be reason enough to give it a try.
The Seedism Seeds collective is regularly credited with first breeding Superglue, which is described as a mix of Northern Lights and Afghani – which could explain its deeply chill high. Of course, the often quite high THC level of this strain surely plays a role in the powerful high it can produce.
Seedism seeds describes the aroma of Superglue as a "balance between pine and caramel" and the strain in general as a medium strength hybrid with "a relaxing, social after effect." Others describe it as having a more sour-sweet and skunky bouquet mixed with pine. Much like Afghani, it can produce thick heavy smoke on the inhale.
Superglue has a very solid bag appeal, with dense, compact buds replete with orange hairs and covered in icy, sticky trichomes.
The high is typically described as beginning with a head rush, followed by physical relaxation that's best for the couch and a binge-watching session.
Cannabinoids and terpenes in Superglue
There are thousands of cannabis chemovars out there, and no real standards as to how to identify them — basically anyone can grow anything and call it whatever they want. In other words — there are better ways to choose a strain than on the name alone. 
The chemical profile you see below is an average of laboratory tests for products called "Superglue" — so it's just an estimate of what you might find when you buy a product named Superglue.
Full chemical profile
Cannabinoids
Terpenes
Spicy
Citrus
Herbal
Earthy
* The numbers in the tables are averages of data from multiple resources
** Terpenes are of pharmacologic interest at concentrations above 0.05%
How Superglue Strain affects you
Based on user reports, Superglue strains can produce relaxation, happiness and euphoria, and cause adverse effects such as dry mouth, dry eyes and dizziness. But really, marijuana affects people in different ways. The two main factors are your own biology (your endocannabinoid system, metabolism, age, weight, etc), and the product you choose (including its e cannabinoid profile and terpene breakdown, and the delivery method used).
Potential treatment:
That being said, the above chemical profile could potentially help with conditions and symptoms such as
Reported effects
May cause
Superglue growing tips
Seedism Seeds says "ruined scissors and many hours of trimming make the Superglue a strain to be prepared for. The sheer size of the colas produced by this baby require adequate airflow to prevent issues later in her flowering cycle."
Seedism states that the strain is ideal for "cash-crop growers who desire both yield and quality and don't mind investing in new scissors every harvest." The breeders also stated that despite the stickiness and the distinctive aroma of Superglue, "this strain does not stink too much during her flowering period making her suitable for growers who prefer to keep the smell down."
Superglue seeds can be hard to find online, but if you do get your hands on them, you'll find a strain that isn't difficult to grow, doesn't take up too much space, and should produce a hearty harvest of strong, aromatic weed to take you through the months that follow.
Yield oz/per plant
Yield (indoors) oz/SQF
Indoors
1.5
Yield (outdoors) oz/plant
Outdoors
22
Harvest time
Harvest time
Late October
Height (inches)
20-30
30-50
50-70
70-90
>90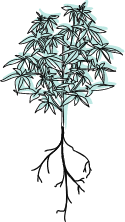 Related Strains
Superglue's parent strains – typically named as Afghani and Northern Lights – are among the most influential and well-known indica strains of all time. Afghani genetics have scattered across the cannabis world over the past several decades, and just like Northern Lights, it has a distinctive, relaxing high that wraps you in its embrace.
Countless people surely would compare it to Gorilla Glue (aka GG4), which is also known for producing a chill, sticky and deeply relaxing sensation, though the parentage is quite different (a mix of Sour Diesel, Sour Dubb, Chem's Sister, and Chocolate Diesel).
Seedfinder also has an entry for Super Glue (also referred to as Mammut) a hybrid bred from Gorilla Glue #4 and Starfighter, which would be a relaxing, strong high, but still a strain quite different from Superglue.
Thanks for your feedback!
Sign up for bi-weekly updates, packed full of cannabis education, recipes, and tips. Your inbox will love it.