Overview
Get your mind off your money and your money off your mind, with this powerfully potent and relaxing strain named after rapper and weed icon Snoop Dogg. Bred from what are reportedly Snoop's two favorite strains — Blue Dream and Master Kush — Snoop's Dream is a high-THC strain befitting a weed and hip hop veteran. And while some say weed ain't no fun if the homies can't have none, Snoop's Dream is a classic nighttime strain, perfect for those relaxing hours at home alone on the couch, long after you woke up and splashed on the Johnson Baby Powder and Cool Water Cologne.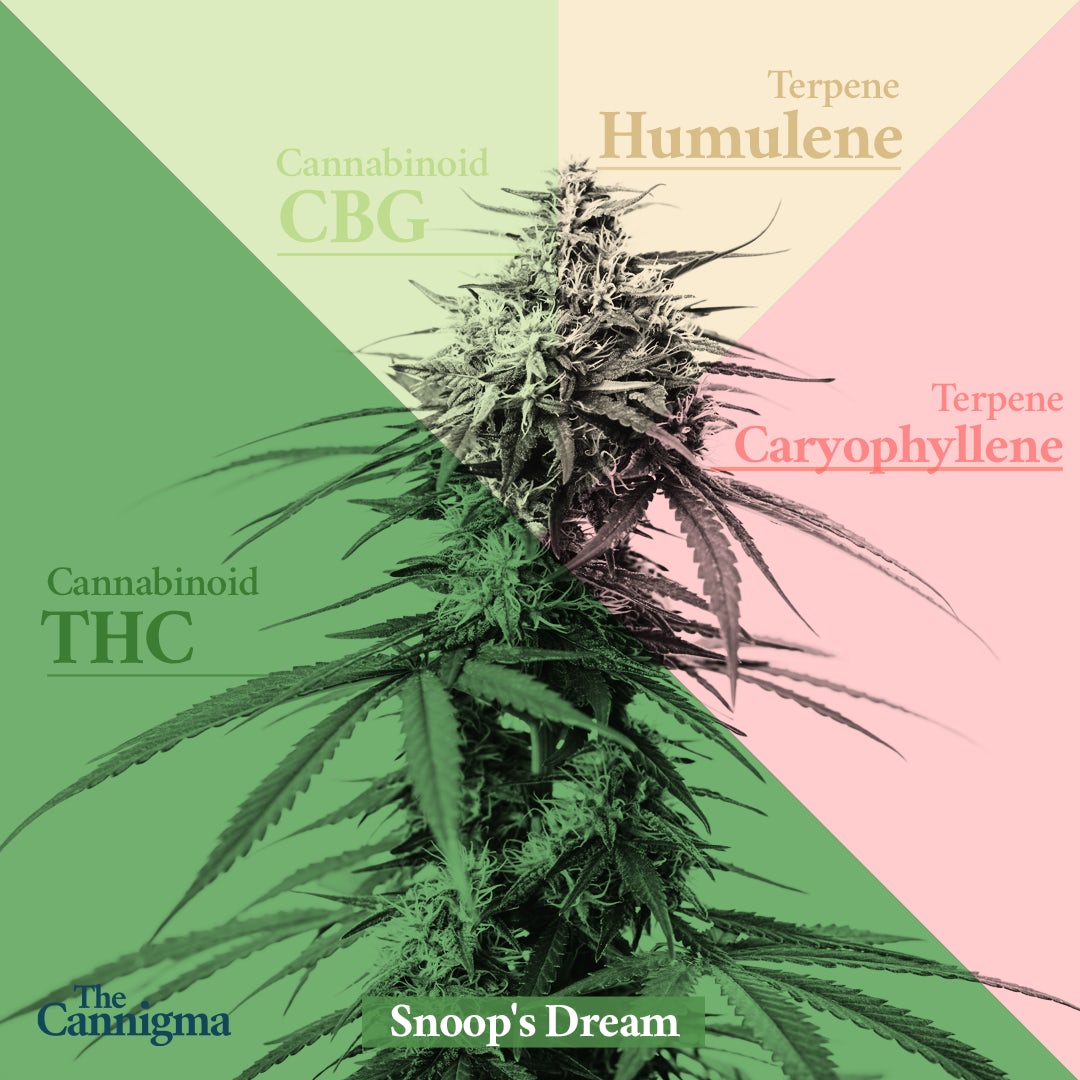 Cannabinoids
THC
CBG
Indica/Sativa/Hybrid
Hybrid dominant
Day/night
May help with
Terpene profile
Spicy
Earthy
Herbal
Woody
Lineage and general info
Also known as Snoop's Master Kush, Snoop's Dream is the indica-dominant combination of two unfadeable strains that you should not try to fade — Blue Dream and Master Kush. And while Snoop himself has said that he loves Green Crack (and reportedly gave it its name), it makes sense why the world's most famous living Crip would love Blue Dream, not to mention Master Kush.
But where and when did Snoop's Dream come together like Compton and Long Beach? It is unclear who first created the strain, and if it was Snoop himself then he's keeping Deep Cover on the whole matter.
What we do know is that it is a potent and popular chemovar with medium to large, dense buds with tons of orange hairs. Snoop's dream has a sweet flavor that evokes blueberry and pine, while the aroma is also similar to blueberry with sweet and spicy notes. 
A well balanced hybrid much like Blue Dream, this strain is known for creating a deeply relaxing body high that doesn't glue you to the couch, and a stimulating head high that won't have you climbing the walls.
Like its namesake, this is a strain that is guaranteed to have crossover appeal and stand the test of time.
Cannabinoids and terpenes in Snoop's Dream
There are thousands of cannabis chemovars out there, and no real standards as to how to identify them — basically anyone can grow anything and call it whatever they want. In other words — there are better ways to choose a strain than on the name alone.
The chemical profile you see below is an average of laboratory tests for products called "Snoop's Dream" — so it's just an estimate of what you might find when you buy Snoop's Dream.
Full chemical profile
Cannabinoids
Terpenes
Spicy
Earthy
Herbal
Woody
* The numbers in the tables are averages of data from multiple resources
** Terpenes are of pharmacologic interest at concentrations above 0.05%
How Snoop's dream affects you
Based on user reports, the Snoop's Dream strain tends to produce relaxation, happiness, euphoria and upliftment. It may also sometimes cause dry mouth, dry eyes, and less often- paranoia and anxiety. But really, marijuana affects people in different ways. The two main factors are your own biology (your endocannabinoid system, metabolism, age, weight, etc). and the product you choose (including its cannabinoid and terpene breakdown, and the delivery method used).
May help with
That being said, the above chemical profile could potentially help with conditions and symptoms such as:
Reported effects
May cause
Snoop's Dream growing tips
If you live in a state where marijuana cultivation is legal or you aren't afraid of a mission with the boys in blue, then you should be happy to know that Snoop's Dream is typically described as an easy-to-grow strain with a flowering time of just about 8 to 9 weeks.
Snoop's Dream doesn't grow tall and it has a natural resistance to mold and mildew. It doesn't have the highest yield by any means, but it shouldn't give you too much trouble, even if you're a novice grower. You should make sure that it has a dry, temperate climate, though.
Yield oz/per plant
Yield (indoors) oz/SQF
Indoors
1.2
Yield (outdoors) oz/plant
Outdoors
10
Harvest time
Harvest time
Mid October
Height (inches)
20-30
30-50
50-70
70-90
>90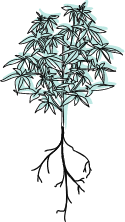 Related Strains
Snoop's Dream parent strain Blue Dream is known for being a well-balanced hybrid crafted from Haze and the legendary and flavorful indica strain Blueberry. Master Kush is a blend of landrace indicas of Hindu Kush origin, and is known for its relaxing, euphoric high. Combine the two and you can imagine why Snoop's Dream has built such a reputation.
Thanks for your feedback!
Sign up for bi-weekly updates, packed full of cannabis education, recipes, and tips. Your inbox will love it.