Overview
If you've listened to rap music lately then you might be wondering why so many rappers are talking about dessert. The hybrid strain Gelato has been having a moment at the top of the cannabis world and the rap game for the last few years — and with a delicious fruity flavor and a high-THC content, it's easy to see why. Gelato is a full-flavored, high-THC hybrid that works for day or night, but is also known for producing an uplifting, energetic high that's perfect for when you want to eat dessert first.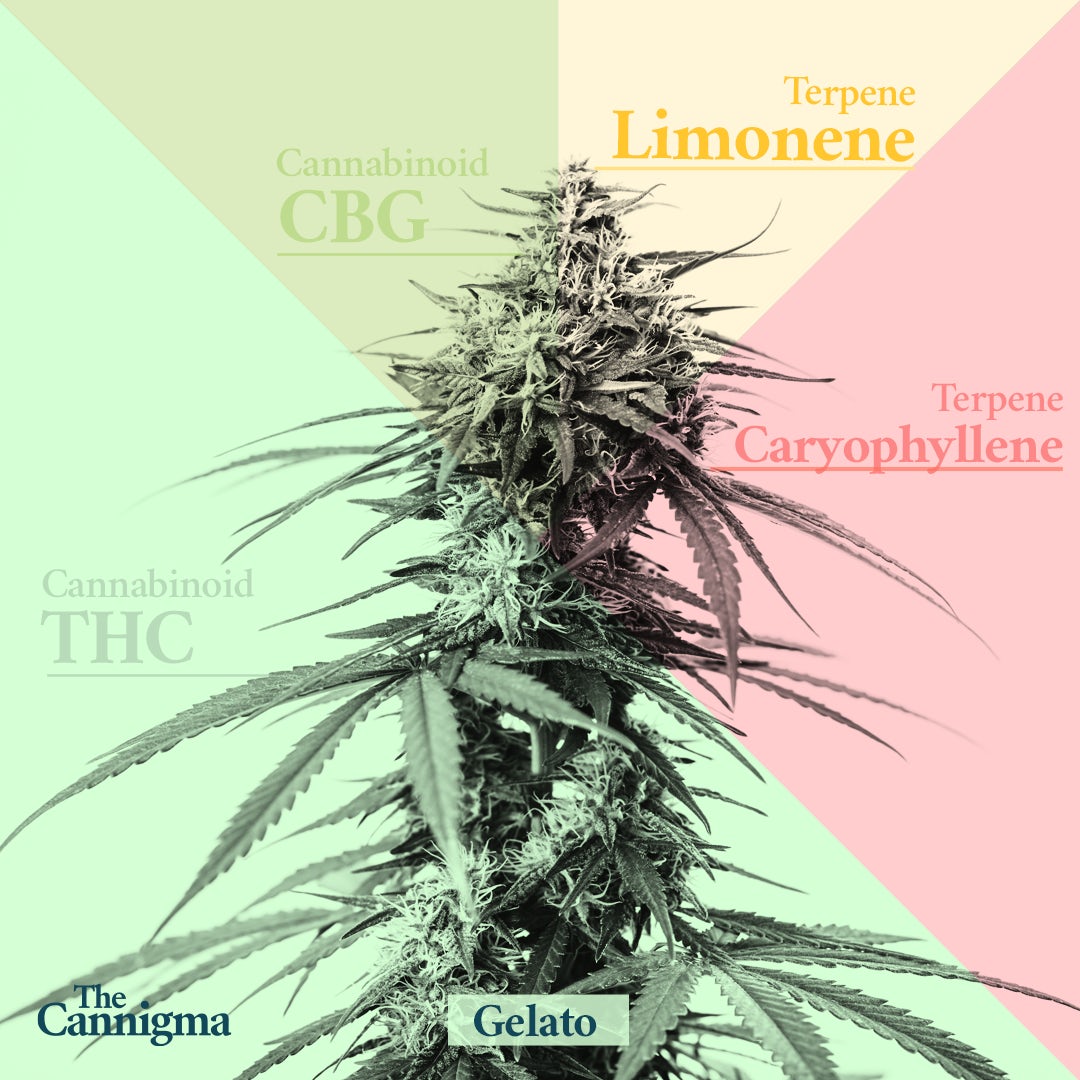 Cannabinoids
THC
CBG
Indica/Sativa/Hybrid
Hybrid dominant
Day/night
May help with
Terpene profile
Spicy
Citrus
Herbal
Floral
Lineage and general info
Is there a more consistent hit-maker in the cannabis world lately than Cookies Fam? Working together with Bay Area cannabis growers Sherbinskis, the power duo created the Gelato strain — a potent mix of Sunset Sherbet and Thin Mint GSC (a phenotype of Girl Scout Cookies) — two blockbuster Cookies Fam creations.

In a 2017 interview, breeder Mr. Sherbinski said "everybody likes the desserts, and we wanted to come up with a gelato. We were going for an international vibe." But rewind back to 2014, and the Sherbet strain was born in the Bay Area after Sherbinski accidentally pollinated a Girl Scout Cookies plant at his grandma's house with a male Pink Panties plant.

"That was not planned parenthood," Sherbinski joked in the interview, adding "I was mad and still didn't understand the blessing that it was at the time."
Crossed with Thin Mint GSC, the strain produced a number of popular phenotypes, including Gelato #33, popularly known as "Larry Bird." Don't let the name fool you — it wasn't first harvested in French Lick, Indiana and it never stole an inbound pass from Isaiah Thomas. Rather, it's an homage to Bird's jersey number 33.
Like Bird though, Gelato is a legend in its own time, a proven winner that's a household name to anyone in the [cannabis] game.
Gelato is most commonly described as a slightly indica-dominant hybrid, and its uplifting, energizing, and euphoric effects are more in keeping with what most people would expect from a balanced hybrid, even one with a slightly more sativa lineage. That said, scientifically speaking the fact that a plant is more indica or sativa is not proven to determine how it will make you feel.
The flavors bring to mind a fruity sherbet, or a delicious berry or citrus-flavored gelato. The aroma can be nice and citrusy, perhaps owing to the high levels of the terpene Limonene, which is also known for producing cerebral and euphoric effects.
Cannabinoids and terpenes in Gelato
There are thousands of cannabis chemovars out there, and no real standards as to how to identify them – basically anyone can grow anything and call it whatever they want. In other words – there are better ways to choose a strain than on the name alone.
The chemical profile you see below is an average of laboratory tests for products called "Gelato" – so it's just an estimate of what you might find when you buy Gelato.
Full chemical profile
Cannabinoids
Terpenes
Spicy
Citrus
Herbal
Floral
* The numbers in the tables are averages of data from multiple resources
** Terpenes are of pharmacologic interest at concentrations above 0.05%
How Gelato affects you
Based on user reports, Gelato tends to produce relaxation, happiness and euphoria. And could cause dry mouth, dry eyes, and dizziness.

But really, marijuana affects people in different ways. The two main factors are your own biology (your endocannabinoid system, metabolism, age, weight, etc). and the product you choose (the cannabinoid profile, the terpenes breakdown and the delivery method).
Reported effects
May cause
Gelato growing tips
Gelato is not an easy chemovar to grow so it's really not well-suited for beginners. That said, those who manage to bring this strain to harvest will be rewarded with an above average yield of dense, beautiful buds.
Due to its indica-heavy nature, Gelato tends to grow short to medium. It prefers warm and humid surroundings and needs to be attended to closely. It's known for producing a pungent smell when growing, so make sure to keep your grow space well ventilated.
Gelato can be grown outdoors and indoors, though if you're growing indoors you may want to use a grow tent so you can better control the conditions of this fickle plant.
When growing cannabis, the right seeds can make even an amateur feel (and look) like a pro. With the naked eye, you'd be hard-pressed to tell the difference between regular seeds and those from a prize-winning strain. This is where buying from a trusted seedhouse comes in.
Yield oz/per plant
Yield (indoors) oz/SQF
Indoors
2
Yield (outdoors) oz/plant
Outdoors
15
Harvest time
Harvest time
Mid-October
Height (inches)
20-30
30-50
50-70
70-90
>90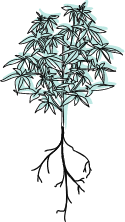 Related Strains
Arguably no other growers have had a bigger impact on the cannabis scene in recent years than Cookies Fam, and there are countless strains that have been bred with Girl Scout Cookies, Sherbet, Pink Panties, and other strains that led to Gelato.
The high it produces should be familiar to anyone who likes well-balanced, citrus and fruity-flavored hybrids that aren't too "couch-lock" or too "energetic," and that hit the spot just right like a perfectly-portioned bowl of gelato.
Get Gelato seeds
Buy now
Thanks for your feedback!
Sign up for bi-weekly updates, packed full of cannabis education, recipes, and tips. Your inbox will love it.