Overview
It's a good rule of thumb that if a cannabis strain takes its name from the alter-ego of a radioactive super strongman powered by his own anger, then chances are it probably packs a serious punch. That's definitely the case with the Bruce Banner strain, a sativa-dominant hybrid that has routinely tested at THC levels of around 30%, enough to make other strains green with envy. But while people might not like you when you're angry, you don't need to worry about that with Bruce Banner weed, which despite the name, is known for producing a euphoric head high and a potent body high, as well as an energetic boost that should have you looking to embrace the world – and not SMASH it into smithereens. So without further ado, let us Marvel at the Bruce Banner strain.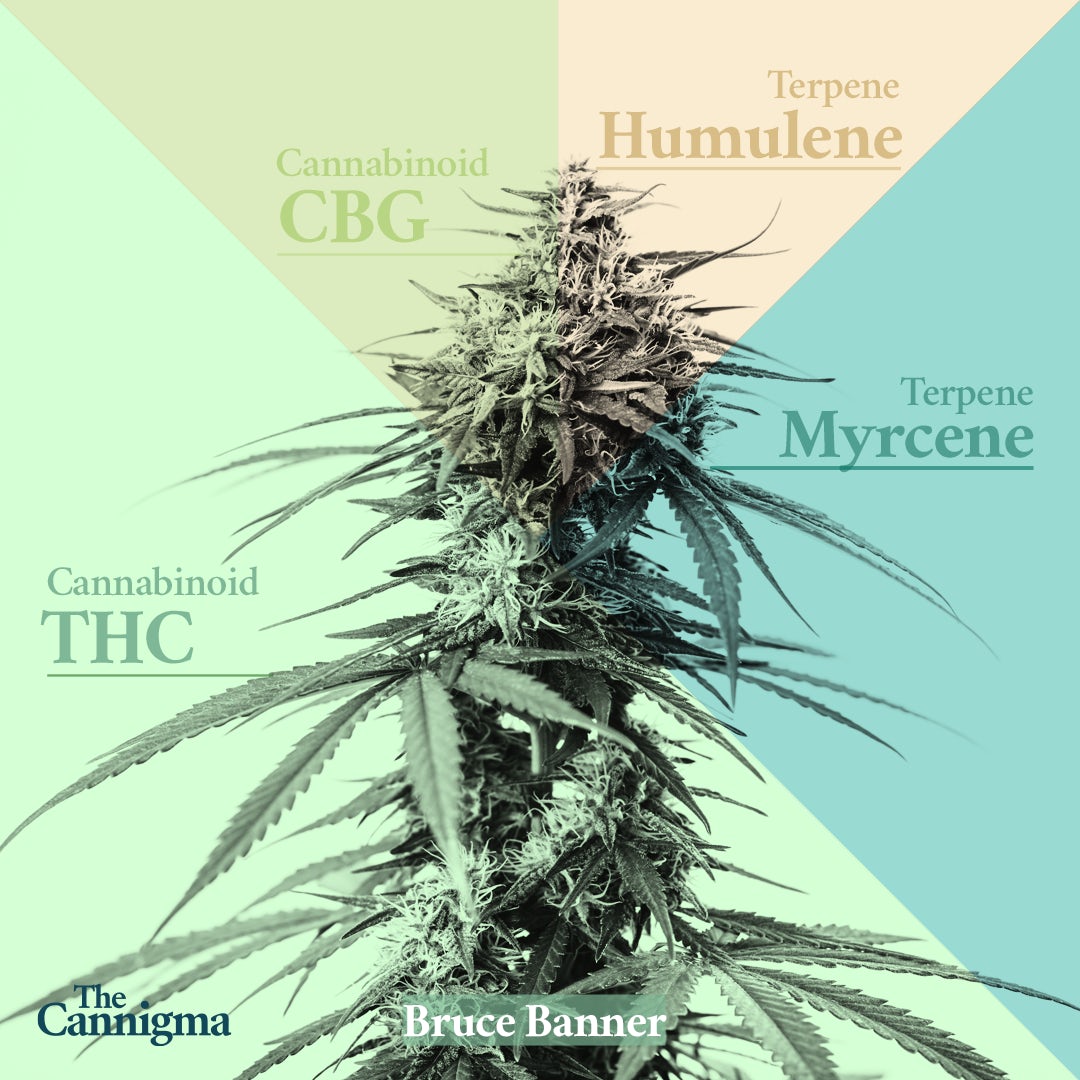 Cannabinoids
THC
CBD
Indica/Sativa/Hybrid
Hybrid dominant
Day/night
May help with
Terpene profile
Herbal
Earthy
Spicy
Floral
Lineage and general info
Though arguably many youths don't need much convincing to try a cannabis strain, In 2016, the Oregon Liquor Control Commission added Bruce Banner weed to a list of banned strain names, arguing that the name could potentially appeal to children. This came as a bit of an annoyance to the breeder of the Bruce Banner strain, Jason Holck (aka OG Iron Lung, cannabis alter ego name if ever there was one), the founder of Dark Horse Genetics, who said "the name Bruce Banner wasn't meant to appeal to children. It was a joke based on my last name."
Holck (the breeder, not the Incredible) stated in a 2016 interview that in the mid-2000s he scored some Strawberry Diesel seeds and crossed them with Cold Creek Kush (a phenotype of LA OG, according to Cannabis Now), creating Strawberry Kush #1, #3, and #5. This superhero origin story was far from complete though. Next Holck apparently went to a concert of the jam band the String Cheese Incident, where a new acquaintance from Texas took to calling him Bruce Banner "in a continuous hunt for more of that dank Strawberry Kush."
In 2008, Holck opened Delta 9 Alternative Medicine in Denver, one of the state's first 20 dispensaries, where he unveiled Bruce Banner as one of his first 12 strains.
"There were lines of people, we called them Bruce Banner drop days. Usually twice a month, we'd do it on Friday. We'd have people out front Thursday night at midnight with a lawn chair. There was a quarter ounce limit, and lines of hundreds of people around the block. This was all in Denver while things were still really grey, I was very nervous."
Many sites online list the parentage of the Bruce Banner strain as Strawberry Diesel and OG Kush, which perhaps explains the strong diesel aroma and the sweet flavor when you pull.
This award-winning strain has a fanbase befitting a superhero, and in 2014, High Times placed it at 9 on their list of the top 25 strains of all time, saying that Bruce Banner #3 was "the most potent strain ever tested in the history of the High Times Cannabis Cup."
High Times added that the phenotype Bruce Banner #3 "exhibits a nose-crackling, rocket-fuel aroma that scores high in flavor profiles — including a tall order of the much-favored terpenoid limonene."
A strain that makes the editors of High Times bow in appreciation of its potency might not be tailor-made for every situation, but if you're looking for a potent, flavorful strain to illustrate your world with colorful word bubbles of euphoria, you might want to try Bruce Banner weed.
Cannabinoids and terpenes in Bruce Banner
There are thousands of cannabis chemovars out there, and no real standards as to how to identify them — basically anyone can grow anything and call it whatever they want. In other words, there are better ways to choose a strain than on the name alone.
The chemical profile you see below is an average of laboratory tests for products called "Bruce Banner" — so it's just an estimate of what you might find when you buy Bruce Banner.
Full chemical profile
Cannabinoids
Terpenes
Herbal
Earthy
Spicy
Citrus
* The numbers in the tables are averages of data from multiple resources
** Terpenes are of pharmacologic interest at concentrations above 0.05%
How Bruce Banner affects you
Based on user reports, Bruce Banner tends to produce happiness, euphoria, and relaxation and could cause dry mouth, dry eyes, and dizziness. But really, marijuana affects people in different ways. The two main factors are your own biology (your endocannabinoid system, metabolism, age, weight, etc). and the product you choose (the cannabinoid profile, the terpenes breakdown, and the delivery method).
That being said, the above chemical profile could potentially help with conditions and symptoms such as pain, inflammation, insomnia, and arthritis.
Reported effects
May cause
Bruce Banner growing tips
Bruce Banner is considered a moderately-difficult plant to grow, largely because it requires careful attention to climate control when grown indoors. The plant prefers warm, dry climates, and if grown outside it should flower in around 9-10 weeks, by early October.
Now the good news: Bruce Banner is highly resistant to mold and bugs, and is known for producing very high yields of large, bright green buds frosted with trichomes, especially when grown outside. One note though, this plant grows tall, so if you're growing outside keep in mind it might not be the most discrete plant. This also may require some careful positioning in an indoor grow.
When growing cannabis, the right seeds can make even an amateur feel (and look) like a pro. With the naked eye, you'd be hard-pressed to tell the difference between regular seeds and those from a prize-winning strain. This is where buying from a trusted seedhouse comes in.
Yield oz/per plant
Yield (indoors) oz/SQF
Indoors
2
Yield (outdoors) oz/plant
Outdoors
35
Harvest time
Harvest time
Early October
Height (inches)
20-30
30-50
50-70
70-90
>90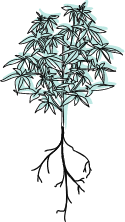 Related Strains
The Bruce Banner strain will be a familiar one to people that enjoy high THC, sativa-heavy hybrids. The strong diesel aroma is similar to those in other diesel chemovars, though this strain's parentage also gives it sweet and floral tones, as well as a fruity, berry flavor. The energetic and euphoric high brings to mind strains like or SFV OG or Chemdawg, while its terpene profile is one similar to strains high in myrcene, beta-caryophyllene, and delicious limonene. And while it probably goes without saying, the strain bears similar effects, flavors, and aromas to its parent strains, Strawberry Diesel and OG Kush.
Get Bruce Banner seeds
Buy now
Thanks for your feedback!
Sign up for bi-weekly updates, packed full of cannabis education, recipes, and tips. Your inbox will love it.